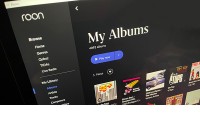 The recent skirmish with Neil Young and his bandmates has brought a new round of discussion about ethics surrounding streaming and streaming services. I'm not interested in re-kindling that argument.
I respect Young, CSN, and Joni Mitchell for all taking a stand. They were some of the original musical protesters, and their songs still ring true today.
However, this is just about the act of streaming. And why I enjoy it so much. If you've been reading our pages for a long time, you know we jumped on board with this concept when the original Sooloos music server was a $15k buy in. To stream your own discs and files. Crazy, but the Sooloos, now Roon interface is still the gold standard for my world.
I miss the interaction
As much fun as it used to be spending a day at the record store, combing through all the new and used records, how many times did you go to your favorite record store(s), and not find what you were looking for? Not that you probably didn't still buy twice as many records as you planned on – way guilty as charged here.
For those of you lucky enough to frequent incredibly friendly and financially viable record stores, you might have gotten turned on to new artists by the staff, or by in-store performances. Sure I miss concerts, but I really miss going to Music Millennium here in Portland and seeing a new band up close do four or five songs right in the store. It's gonna be a long time before that's happening again, if ever.
How much is convenience worth?
The fun yet frustrating part of record shopping is being enough in the know to buy records you want to keep. Back when new records were under $10, and used records well below that, a few bad choices were merely absorbed in the ever growing record collection.
I wish I was at a point in time where I could just spend endless hours in the record store crate digging. Nah. I don't. I've always had too much on my plate to spend a whole day to find a couple of albums. I don't like camping either. And so it goes.
Once ROON came along, and then integrated itself with Qobuz, Tidal, and whatever other streaming service you might use, finding more music became interesting again. ROON remains the key to musical enjoyment, especially if your musical enjoyment is heavily weighted by musical exploration. I don't care how old or young you are, once a few thousand albums (regardless of format) pile up, it gets harder to keep them all straight.
The video and radio stars are both long dead
Some of us of a certain age discovered new music via FM radio, and still others with MTV. Often, you had to stay up late with either format, but that's where the treasure was buried. But now with ROON, it's an absolute blast to select one track, no matter what the genre or artist and let ROON go from there. Their random playback algorithm beats everyone else when it comes to staying close to the original groove you started with. It's eerie at how the machine reads my mind at times.
You may enjoy music for different reasons than I do – it's all good. But if you share my love for musical exploration, and reminiscing, you really should consider making ROON, Tidal, and/or Qobuz part of your world. Much like the way the original Sooloos found tracks in your collection that you hadn't heard in ages, combining this with the entire catalog at Qobuz and Tidal is wonderful. I enjoy nothing more than working away and hearing a track that was off my radar for some time. Which can often lead to digging through the virtual crates and adding another 30 or 50 albums to my library. Some will make it to physical media, others will be like movies – experiencing them once or twice will be enough.
I truly hope vinyl will always be with us. But that's another movie and a different script. And I can say without question, with the last two years being fairly discouraging of close social interaction, the ability to easily explore a ton of new music has truly saved my sanity.