RIP, Eddie VanHalen
October 6, 2020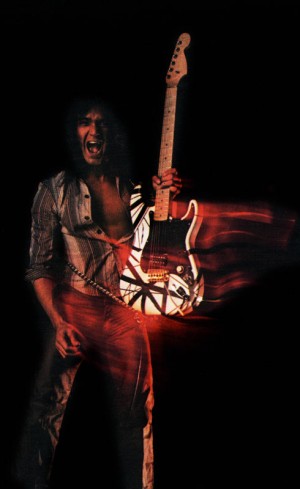 Can't believe I just heard the news that Eddie VanHalen, co-founder of legendary heavy rock band, VanHalen is gone.
Where were you when you heard "Eruption" for the first time? I was working at Southridge Mall in Milwaukee, Wisconsin in a little record store called Galaxy of Sound. We were hanging out at the counter, price guns in hand when the rep from Warner Brothers walked through the door with one white promo album in his hands. He walked up to the stereo, and took the record that was playing off and looked at us with a slightly drug-induced smile (it was the 70s you know), put the record down on the platter, and just before he dropped the needle, said: "You little fuckers will never hear anything like this, again. This is coming out on Friday and I'm giving you a glimpse of history."
We heard "Eruption" and freaked out. The next 30 minutes flew by, and though we begged him to leave the record with us, he would not. It was Wednesday, February 8th, and true to his word, the world of rock was changed forever two days later.
It was cool to be there first. Many have been influenced by EVH, and though he had his demons, there's never been another Eddie VanHalen on the scene.
Rest In Peace.