A Heartfelt "thank you" to Cardas Audio
December 6, 2020
We're going on about 10 months of this now…
As we put the finishing touches on our yearly "Awards" issue, and everyone in the audio industry is deciding which great audio products are the best of the best for whatever reason, I'd like to spotlight some genuine human kindness. I've had the privilege to get to know a lot of people in the high end, but I admit to a soft spot for the people at Cardas Audio, for a number of reasons.
I really appreciate the consistent positivity of Angela Cardas, and her husband Josh.
The saying goes, that actions speak louder than words, and this certainly applies here. Very early in March, the Cardases sent a bunch of goody boxes out with a big red tag (If you know Angela Cardas, you know that beyond the signature blue that covers nearly all of their cables, her favorite color is bright red) that said in big, bold letters, "Keep calm and carry on."
Inside the box were assorted snack treats, a great bottle of gin, sourced locally, and some Cardas swag. And why not?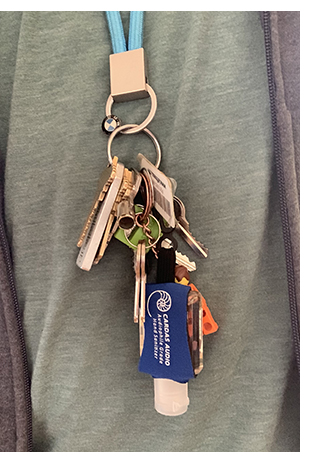 But the thing that I thought was the coolest, especially in a time where there was no hand sanitizer on the store shelves, and you couldn't get a roll of toilet paper to save your life, they enclosed a small bottle of hand sanitizer that you could attach to your key ring. As someone who constantly loses their keys, wallet and phone on a regular, I've taken to wearing the most important keys in my life around my neck. My wife Pam jokes that I should have a "don't feed sugar, and don't medicate" tag on that key ring, but that's another story for another time.
Needless to say, I've worn that Cardas hand sanitizer bottle around my neck every day of my life, since the day it arrived, and I can't tell you how many times it's been refilled. Though it's looking a little bit worse for the wear and tear, I can't help but think perhaps that one small act of kindness may have saved my life this year. I'm 60, had asthma as a kid, and could stand to lose 20 pounds, thanks to the lack of activity over the last year. In short, I'm probably a prime candidate for Covid complications.
As much as I've minimized interaction with the outside world in the last 10 months, there have been a number of times that I went to the gas station, or FedEx, or whatever, that I forgot to take a pair of latex gloves. That squirt of hand sanitizer may have been just the thing that's kept me out of the ER.
Looking back on a recent scare this week, fearing that despite my efforts to self quarantine, I may have contracted this damn virus anyway, my test results came back negative yesterday, and I exhaled a major sigh of relief. So, for now, you're still stuck with me.
So, I say to all of our readers, and friends in this industry, this is a great time to reflect on everyone that's gone just a little bit out of their way to make sure we're all still standing. More than ever, I really look forward to when we can all hang out in person, at a show or a dealer event, have a beer and a few good laughs. Who knows? Maybe we won't even take some of the arguments so seriously…
Again a big thanks to Angela Cardas for the thoughtful gift.