Vinyl Madness
February 1, 2021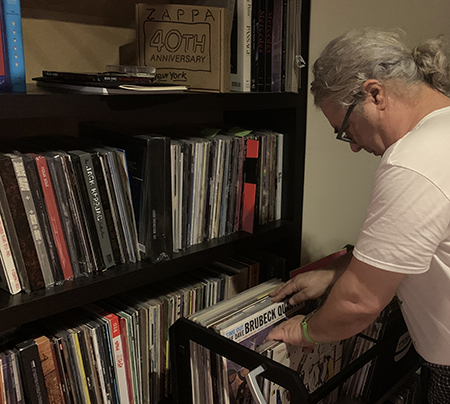 I have a confession to make. There are multiple records in my record collection that I have bought but still haven't listened to.
And there are records in my collection that I no longer love. As part of the ongoing new year's resolution to de-clutter, The LP collection here is getting another round of sort and dispose. This may sound heretical to some of you but about four years ago, Pam helped me go through my collection of about 11,000 LPs and see what I didn't listen to anymore. So we're all clear, this was not my wife on my case about having too many records, it was me pondering someday having to move all that vinyl.
It took us a week to go through, sort, re-catalog, and decide what would go and what would stay. A few days later, I had about 3500 LPs in my collection. Erik at Gig Harbor Audio was kind enough to take them all off my hands and give me a fair price for them. (If you bought some cool records at GHA in the last few years, chances are high, there's a little bit of me in your record collection!)
However, with promos coming in, purchasing some records over the last two pre-COVID years and general entropy, the force is telling me that another round of cleanup needs to happen. Years ago, we picked up the WaxRax RC-2 record cart, and it remains a fantastic tool in the listening room.
So, here's how it's breaking down:
The RC-2's 300 record capacity will hold the top 300 records I hold dear. This will make it easy to roll those records between rooms 1 and 2 for easy equipment evaluation. As I've been collecting vinyl from MoFi since day one, an entire bank of shelves will be devoted to MoFi. Everything else will be in alphabetical order for somewhat easy access, and I'm removing the shrink wrap from anything that's gotten away.
A pair of road cases make the perfect storage space for all of the 45rpm maxi singles in my collection, placed conveniently next to the Technics SL-1200 Mk. 5 with Shure M44 cartridge. But there will be no scratching. Sorry, I just can't go there.
Finally a new pile of "records that haven't been listened to" in one crate will be placed front and center to get on top of immediately.
Next, it's time to get all the CD's and SACD's in order.
So far I haven't found anything that has to go.  :).