Bowers & Wilkins Partners with Maserati
June 10, 2013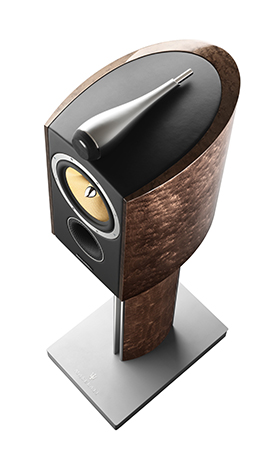 The two European manufacturers get together for the audio system in the new Quattroporte sedan, a dressed-up pair of 805 speakers, and a global DJ tour.
Maserati is far from the first luxury carmaker to market with a premium sound system in its cars—but pair that with the new 805 Maserati Edition speakers from B&W, which provides the stereo for the Italian carmaker's 2013 Quattroporte sedan, and a DJ throw-down at a hanger in Hollywood, and you've most certainly got our attention. (The Hollywood event in early June was part of the global Seven Notes tour. For these events, DJ/producer Howie B, who has worked with Björk and U2, among other acts, spins music inspired by the seven tones of a Maserati engine in action, with B&W delivering the chest-thumping sonic goods. Click here for more details on the tour: www.sevennotes.com)
The Quattroporte audio system is no mere car stereo, and I've heard similar systems from
Naim (for Bentley), Bang & Olufsen (for Audi and Aston Martin) and Burmester (for Porsche). The B&W system in Maserati's roughly $130,000 Quattroporte easily holds its own in this competitive market. With B&W drivers and tweeters and Harman-sourced electronics, the 15-speaker, 1,280-watt stereo produces an audiophile-grade listening experience from any of the car's four seats. The system offers a big display panel in the dash with intuitive touchscreen control, and easy synchronization with your digital-music device of choice.
B&W's 805 Maserati Edition speakers aren't too shabby either. The stand-mounted monitors are basically B&W's flagship 805 Diamond speakers dressed up with the same materials used in the cabin of a Maserati, including bird's-eye maple veneer, black Italian leather, and the Maserati trident symbol. The cost of the speakers, which will be available this fall, are likely to come at a premium over the $5,000 price tag of the standard 805s—but if you're paying well over six figures for a Maserati, you might as well throw in a few extra bucks for matching speakers.
-Bailey S. Barnard