REVIEW: Sonus faber Lumina 1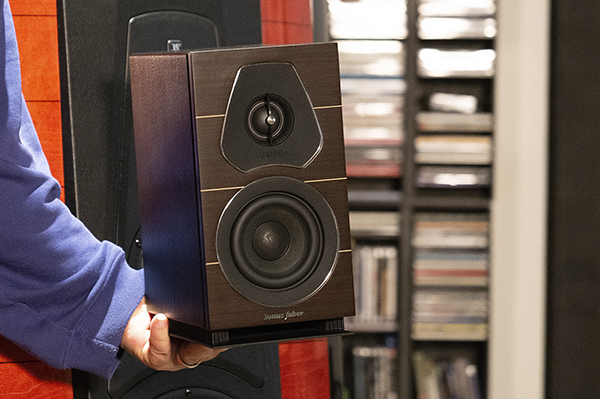 Wow, a Sonus faber speaker you can pick up with one hand. Cool.
One of the biggest parts of evaluating high end audio gear, is a lot of lifting. A lot of lifting really heavy stuff. It's ok, just part of the job, but when something arrives at the door in a small box, both the FedEx guy and I both share an exhale. We've had the same FedEx guy for about 12 years now, and ironicalliy, he's an audio lover. Reads us, TAS, Stereophile, HiFi +, everything – so he knows what's in the boxes.
"Did Sonus faber forget to ship you an accessory box?" Good one. We have a nice, socially distanced conversation about Sonus faber and other things Italian (like Ducatis) and he goes away anxious to hear what we've all got to say about the Lumina 1s. "Can't belive I missed this." But we can only keep on top of so much. In case you missed it too, the new Lumina series stands for LU-luxury, MI-minimalist, and NA-natural.
Sonus faber's vertical manufacturing integration is what makes these Italian beauties so awesome at the low price of $899 a pair. The front panels are exquisitely finished, as you would expect from Sonus faber, however the cabinet sides are wrapped in leather – a move saving countless hours of cabinet finishing. I wouldn't be the least bit surprised if Sonus faber makes the cabinets out of scraps left over from making the big speakers. Though the company is known for their beautiful, rounded cabinets, the more straightforward rectangular box used here is much easier to produce while keeping costs down. And keeping the Luminas made in Italy.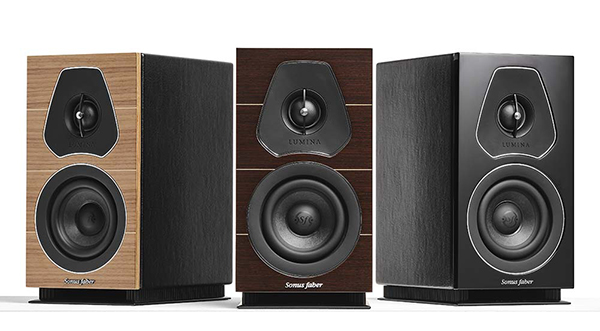 What makes the Lumina 1 a Sonus faber, is the attention to detail and level of finish. This is part of what sets them apart from other like-priced products. The three speakers in the Lumina range all share the same tweeter, giving the small Lumina 1 a distinct advantage. This is really a pair of $900 dollar speakers with the tweeter used in the $2,100/pair Lumina III floorstander – so the degree of smoothness and resolution that you hear in the big ones is still here. They just have less low frequency output.
Thanks to Sonus faber's slot loaded front/bottom firing port for the 4-inch woofer, you can cheat physics a little bit and place your Lumina 1s pretty close to the wall to pick up on some room gain. I suspect a tiny mid-bass bump, much like that mega famous LS3/5A. So at the end of the day, the Lumina 1s don't sound as bass shy as the spec sheet suggests.
The driving bass line in Saults "I Just Want to Dance" holds your attention, and when used in this manner, delivers way more bass than you might expect these tiny speakers to deliver. Sonus faber also offers their Gravis line of subwoofers, and I suspect any one of these will blend perfectly with your Lumina 1s to serve up full range performance. Though one was not available for this review, we did have the new REL TZero ($599) extending the performance of the Lumina 1s substantially. Your Sonus faber dealer will easily be able to hook you up with a Gravis sub should the need for more low frequencies be on your agenda. The modular concept certainly allows your music system to grow with your space and wallet. Should you ever move to a Lumina based theater system, you can move your Lumina 1s to the rear channels with ease, and flesh out the system with a Lumina CI center channel ($699) and some Lumina III floorstanders for the front speakers. Or some Palladio's for in-wall use, but that's a story for another day.
Using the Lumina 1s in a more traditional "audiophile" setup, they deliver what you expect from the pedigree: open, natural sound. In a 13 x 15 foot room, listening fairly nearfield, via the VAC i170 tube integrated and a dCS Vivaldi One as a source, these little speakers are not only stunning but sound much bigger than their small footprint suggests. I don't say that lightly, my personal reference speakers are Sonus faber Stradivari Homage. These are Sonus fabers through and through. Not even half way through the review, the phone call was made to purchase these babies – they're staying as a permanent reference for what can be accomplished in a compact system.
The wild saxophone runs in Ebi Soda's "Duhrenger" float all about the listening room, and well beyond the speaker boundaries. Fun. These little speakers create a huge sound field in the 13 x 15 foot room they are being auditioned in. They still satisfy moving them to the larger 16 x 26 foot room, but you might prefer a pair of floorstanders or adding that sub in a room this size.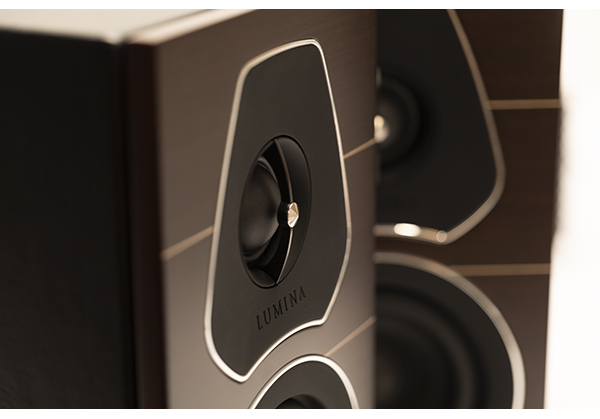 The luminas sound great right out of the box, though the tweeter does smooth out slightly after about 100 hours of play. All of the current small speaker protocols apply. Find high mass speaker stands, use a dab of blu-tack or similar to maximize the mechanical interface between speaker and stand, and pay close attention to setup. The Lumina 1s provide room filling sound with about 20 watts per channel (or more), yet like most mini monitors are even more enjoyable in a smaller room, in a relatively nearfield configuration.
Experimenting with stands suggests a 30" inch stand to get those tweeters up closer to ear level. Initial listening was done with 24" stands, but this produces a somewhat dull sound, no matter what we did for placement. Keep this in mind, should you be placing your Lumina 1s on a bookshelf. If you have more audiophile sensibilities, you'll probably want them closer to ear level, if not, the tweeter does have a wide dispersion pattern, though you will not get the ultimate detail they are capable of placing them too far off the horizontal access.
Should you pair the Lumina 1s with a bookshelf style system and plan on playing records as part of your musical repertoire, make sure and find a way to either isolate the turntable from said shelf, the speakers from the shelf, or both if possible. Setting the Luminas up on a 48-inch long IKEA shelving unit, (full of books and records) with a ProJect turntable and the PrimaLuna amp without isolation made it fairly easy to excite low frequency related feedback in the system when listening to vinyl. Putting a pair of Iso-Acoustics ISO-130 stands underneath the Luminas eliminates the problem and you can find a pair right here.
Three different integrated amplifiers were used to put the Lumina 1s in perspective. Nearly all of the listening for evaluation was done with the PrimaLuna EVO 100, (30wpc – vacuum tubes) The Luxman L-550AXII (20wpc – class A solid-state), and a vintage Sansui AU 717 (85wpc-solid state).
The Lumina 1s have more than enough resolving power to reveal the characteristics of each amplifier, yet is easy to drive with whatever you have on hand. As many Sonus faber dealers are McIntosh dealers, the MC252 might be a perfect thing to combine a pair of Lumina 1s with to make a compact, premium sound match up.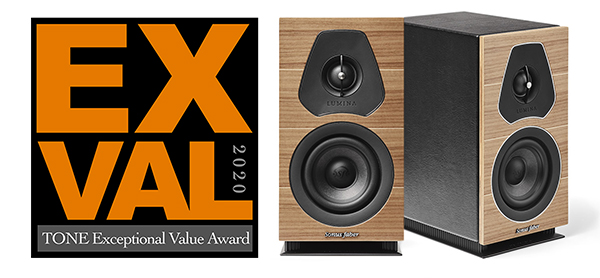 Regardless of what you choose to power your Lumina 1s, these are a perfect way to start your journey with Sonus faber. As 2020 comes to a close, these are the last product to receive one of our Exceptional Value Awards.
EPILOGUE:  Upon reading this review, Sonus faber's Livio Cucuzza (the head of their design team) said, "In Italy we say Il Buon vino sta nella botte piccola." Which means, "In the small barrel, there is good wine." I think that says it all.
Please click here to visit the Lumina page on the Sonus faber official site…