The Naim Mu-So 2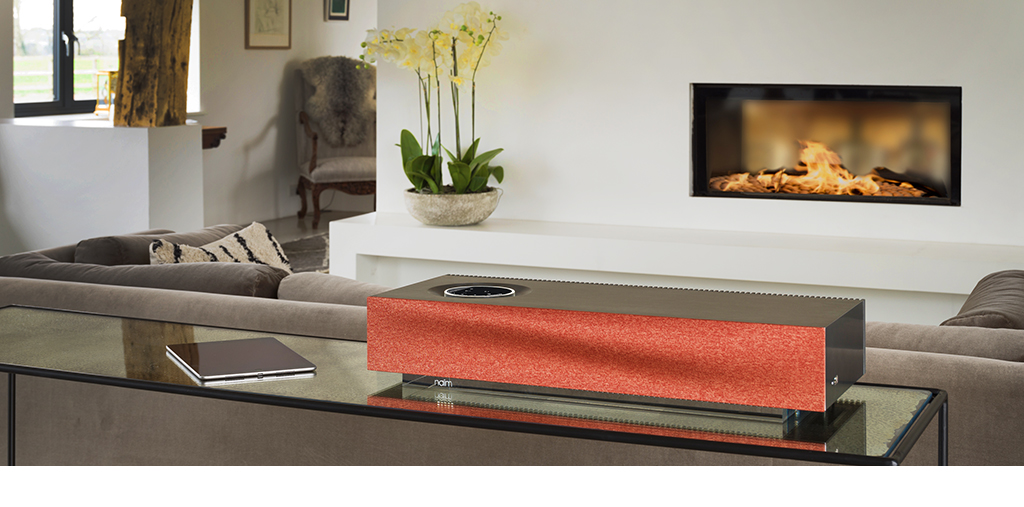 Time flies when you're having fun, the saying goes, and Naim's Mu-so is an incredibly fun way to enjoy music.
The initial launch of the Mu-so at the Munich High End Show a few years ago raised the bar – dramatically for what can be called a desktop audio system. And a gorgeous one at that. As someone who's been listening since the Mu-so arrived, this was a mega product to begin with. We've been living with the original Mu-so QB since the review. Pam looked at that, and just said "mine."
And what's not to love? Both Mu-so's offer powered speakers, incredible industrial design, massive digital connectivity, and stunning sound. Thanks to their partnership with Focal, the Naim engineering staff has been able to leverage Focal's expertise to produce a second-generation product offering true high-end sound in a box taking up a smaller form factor than a sound bar. If you've been thinking about a top sound bar for your TV, forget about it – buy a Mu-so.
Compact yet majestic
Don't let the compact (about 12 x 24 inches, and only 5 inches high) form factor fool you. The new Mu-so packs 450 watts of power, into this enclosure, via a pair of DSP controlled, three-way speakers. When the original Mu-so was introduced, this was its most impressive feature – it could play loud, and with authority.

Nothing's changed. After all of 8 seconds to pair up the Mu-so 2 with my iPhone, I'm rocking out. Robert Plant's "Little by Little" has a solid bass groove, and about 20 tracks of Robert Plant later, this tabletop system is massively engaging, even using Spotify as a source. Fortunately, this is the lowest quality setting of which the Mu-so 2 is capable of.
With DAC and streaming circuitry derived from the flagship 500 series (which, incidentally, is also our cover story) the Mu-so 2 is able to decode PCM files up to 24/384khz PCM files and DSD 128.
Different, but the same
The new version of the Mu-so looks nearly the same externally, but Naim says (with their typical wacky sense of humor) that the new model is "95% different." This means nearly everything has been gone over, optimized, and improved. It may look the same, but Naim has taken a class leading product and improved every aspect of it except one (and maybe that's the 5%) the amazing volume attenuator. This is one of those works of engineering art that should be in museums everywhere. It feels just like the control in Naim's top of the line Statement preamplifier. And when you power up the Mu-so, the backlit ring around the control dial glows in a circular fashion for about 20 seconds until warm up, revealing the unit's control panel/main menu. It's so beautiful to behold, you just might find yourself dimming the lights to see it more than once.
Again, with every aspect of the Mu-so 2s performance upgraded or tweaked, this is a component that is way more than the sum of its individual parts. Thanks to analog, USB, digital, and network inputs (wired and wireless) you can connect anything to the Mu-so 2. We tried everything, because again, Mu-so 2 is so much fun.
Connects to everything
First: old school analog. Thanks to the standard analog input, you can connect a turntable and phono preamplifier to the Mu-so 2. What better than a Technics 1200, fitted with a Denon 103 cartridge and a Naim Stageline phono? Should you hook a turntable up to your Mu-so 2, we suggest not placing the turntable on the same shelf, as the extended bass response of the Mu-so 2 will cause acoustic feedback. If you have no other way to go, investing in some kind of isolation platform or perhaps a wall shelf directly above the Mu-so 2 so you can keep cabling to a minimum. This was our approach, and it was fantastic.
Next: new school analog. As we have Cambridge Audio's new Alva Bluetooth turntable, this seemed it might make the perfect fit for someone in close quarters, that needs to put their Mu-so 2 one place and a record player all the way across the room or pull it out and put it on a table somewhere for a night of record playing. The two paired effortlessly, and within 60 seconds we were playing records. Even though this is not a Naim piece, it makes a perfect complement for the Mu-so 2.
Streaming: via iOS device (or other). Just like the Alva, the iPhone synched with the Mu-so 2 in a heartbeat and proves easy to control. All of our listening was with Spotify, and because of this relatively low-quality stream, does not show off all that the tabletop Naim is capable of. Compared to CD and high-resolution digital files, there is a lack of resolution, which causes a smaller, less defined soundfield to expand in the room. In all fairness, it's still pretty damn awesome.
Connecting the Mu-so 2 to our wired ethernet network via a CAT 6 cable and making it a ROON endpoint really shows off what this baby can do. When streaming a combination of 16/44, 24/96. And 24/192 files, the Mu-so 2 disappears in the room like a full blown hifi system. Naim got this right the first time, and it's only better now. When comparing it to a few premier soundbars, or our Zeppelin wireless – the Naim is miles ahead in terms of dynamic range, and optimization of the DSP. Eyes closed; it really sounds like there are a pair of speakers on stands in the room.
When listening to heavy rock tracks and electronica titles with substantial low bass output, the Mu-so 2 digs in and goes deep. Thanks to a friend that lent us his original Mu-so (and we still have our Mu-so Qb) this is where you really feel the differences. Highs are cleaner, more defined, and have better, more anchored placement. As are the lowest frequencies – the new model goes down deeper and with less effort. Naim's collaboration with Focal really shows itself to excellent result here.
All of the other major streaming services are compatible with the Mu-so 2, but if you happen to be a ROON user, this is such an exquisite pairing, and almost makes the Naim app useless. However, if you are not streaming with ROON, the Naim app allows you to control nearly every parameter of the Mu-so 2, so take your pick. This also comes in handy if you happen to be streaming your music collection via ripped CDs and a UPNP network. Again, we had great luck linking the Mu-so 2 to our Naim Uniti Core, with 2TB internal drive. Brilliant.
Finally: Television/movie sound. As I mentioned at the beginning of the review, don't even think about buying a so called "soundbar," when you can have a Mu-so 2. Out in the living room, using a projector to get about a 14-foot image on our main wall, putting the Mu-so 2 on a small table, about 18 inches off the ground, provided room filling sound.
Again, what impressed us the most, especially in this context is the Mu-so 2s sheer ability to play loud musical passages and its ability to handle gun shots, and various other cinema related crashes and booms. Streaming Netflix from a MacBook Pro, going to the Mu-So 2 via the Mac's USB output was the best way to go here, but again, you have options, as this version also offers an HDMI input.
Fantastic, from beginning to end
As lovely as the Mu-so 2's packaging is, it really should have confetti spray out when you open it. This is a party in a box, waiting to enjoy. Regardless of how you might engage Naim's Mu-so 2, it's up to whatever music related tasks you can give it. We tend to pooh-pooh all in ones, but this one is true to its heritage and worthy of an Exceptional Value Award for 2021.