REVIEW: The Naim Uniti Star
Everything you Need in a Single Chassis
By Rob Johnson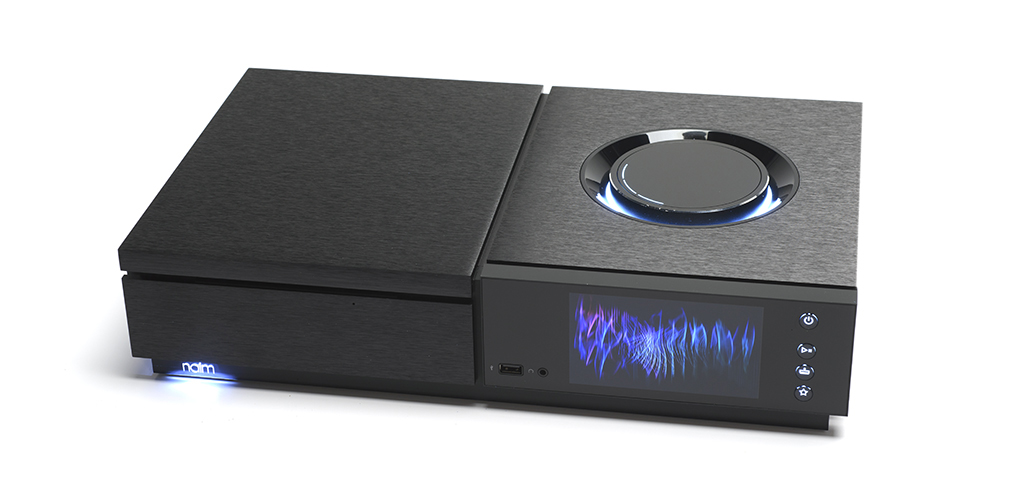 Naim's audio gear legacy extends a half-century, starting with their original amplifier design. From those humble beginnings, they've continued to create durable and great-sounding components.
While the company makes excellent single-purposed standalone components like amplifiers, they have branched out their product lines to offer multi-purpose audio solutions, too. The Uniti Star resides among these all-in-one packages. The Star includes an excellent amp, a linestage preamp, headphone amplifier, CD player, and high-resolution DAC. That combination pulls together everything a digital audio fan needs to enjoy their favorite tunes.
Form and function
In comparison with the process of configuring and connecting many individual components, the Unity is almost comically simple to set up. Just connect your speakers using banana plugs — spade terminations are not compatible — and plug the Star into an electrical outlet. An internet connection enables many features – including all of the Uniti's music streaming functionality – so you'll want to make use of the Naim's Ethernet port or set it up for wireless capability. From there, you can start playing a CD or streaming music right away.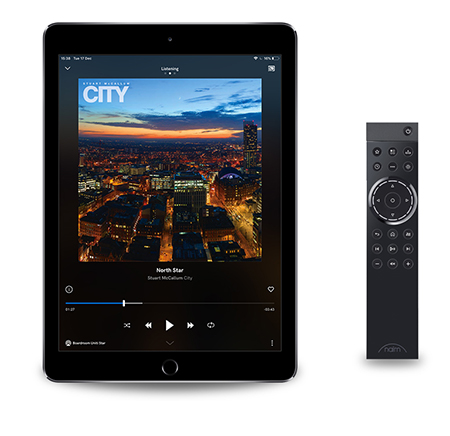 The Naim does include a full-function remote control. However, the iPhone and Android apps offer a great deal of flexibility – and they are fun to use. A Uniti owner can use the app to connect to Qobuz, Spotify, and Tidal directly or utilize its "radio" functionality to stream from external sources. This convenient capability gives a user the ability to control the Naim from a different room. You certainly can't do that with a typical remote! To adjust the volume manually, give the gigantic, lighted wheel on the top of the case a spin.
The Star is surprisingly compact for all the inner workings it offers. It's 17 inches (432mm) wide, 10.5 inches (265mm) deep, and 3.75 inches (95mm) tall. For such a little guy, though, its substantial 29 lb (13kg) weight is primarily due to the toroidal transformer supporting the built-in amplifier's 70 watts per channel into eight-ohm speaker loads.
Making connections
On the back panel, owners have many options to connect external components. The Unity offers two pairs of RCA jacks for analog inputs. It offers multiple digital inputs too, plus AirPlay integration, allowing owners to make use of the Star's inner DAC. The Unity includes two standard USB ports for those wanting to attach additional external storage space for digital music. From there, the Naim can access those files for playback. An owner can also rip CDs automatically and have the resulting digital files stored for easy access.
If you need a phono stage, though, you're out of luck. While the Naim offers a ton of capability under the hood, it's for digital music, not vinyl.
The Uniti Star features a lot more than meets the eye – and far more capability than we can cover in a single product review. For more information about all its functionality, download the Uniti Star manual on Naim's website.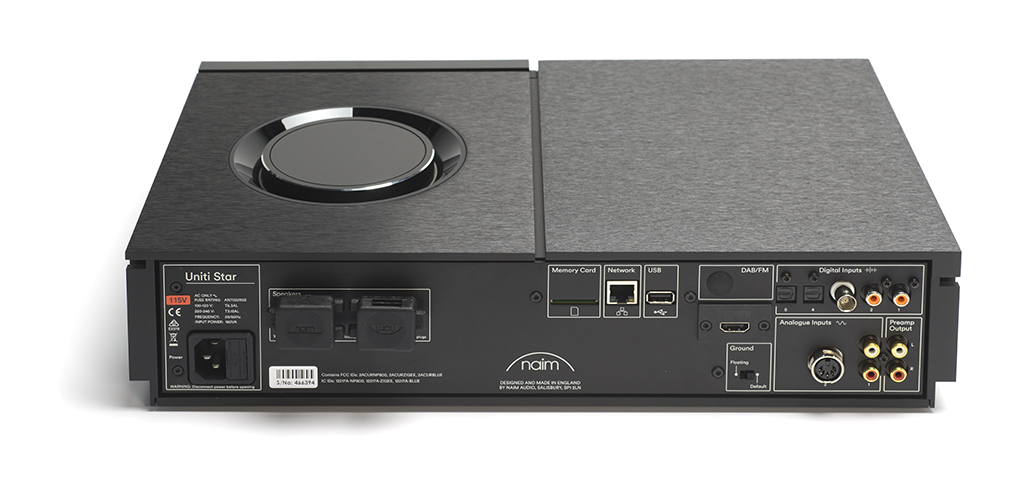 Listening
The Naim sounded quite good right out of the box, but owners should expect some improvement with a bit of burn-in time. Regardless of the music type thrown at the Uniti, its built-in componentry worked wonders for sound quality without harsh digital artifacts. The combination of internal components purposely selected by Naim synergize well and unleash energy, drive, and subtlety as recordings dictate.
While there's a lot of detail retrieval, the Uniti's overall sonic character leans to the warm and forgiving side. This voicing choice lets listeners melt into their seats and immerse themselves in glorious music. For my preferences, this is an excellent characteristic. However, every listener is different. If a prospective owner prefers audio components with a cooler, super-detailed interpretation of their favorite music, the Naim's sonic flavor might be a bit polite for their taste.
Streaming well-recorded albums like Imelda May's Life Love Flesh Blood in high resolution offers beautifully rendered vocals with both delicacy and growl that draws in a listener. Even when using the CD player with a lower 16 bit / 44.1 kHz sampling rate, vocals, guitars, and cymbals come through without ear-twitching stridency. However, it took a while to figure out how to get the Star to eject the CD partway through playing. Neither the front panel nor the remote have an eject button. You need to do that via the app.
At 70 watts, the Star has plenty of power to drive reasonably efficient speakers with authority across the frequency range. Those using monitor-sized speakers with limited low-frequency handling capability may appreciate the Uniti's subwoofer output to dig out those low notes. Those driving big, full-range speakers might find the power rating a bit mild. For this reason, auditioning the Star at home is a great idea to hear for yourself if it mates well with your chosen speakers.
Soundstage-wise, the Star also does a very good job. Instruments appear in their specifically engineered locations, and vocalists maintain a solid image in the front-and-center as they should. Musical elements can also exceed the speaker bodies' physical locations to creating an immersive listening experience.
Summing up
With an MSRP of $4999, the Naim is an investment in your audio happiness. While some might consider that price tag steep, consider this: To acquire the number of high-quality components built into the Uniti as separates would cost far more. Plus, you won't need extra interconnects with the Star, which saves even more money.
The Naim Unity Star is a turnkey, marvelous-sounding audio solution. If you are considering scaling down your system or simply want to start with an excellent piece of gear that you'll enjoy for many years to come, the Naim Unity Star might be your perfect solution.
Additional Listening:  Jeff Dorgay
I have to confess being a huge fan of the Naim Uniti products. They offer so much value and performance in a relatively compact chassis, it's the perfect spot for the music lover wanting a high-performance system without huge footprint. If you're an all-digital music lover, just add speakers. As a vinyl lover, I had to add a turntable to the mix, in this case a Rega Planar 3, and just to keep it all British, pulled out the Naim Stageline phono. Sitting on top of a Herman Miller Nelson Bench, this all looks smart as hell, while delivering the goods.
I ran the Star with everything from the $149k/pair Focal Stella Utopia Ems down to a pair of LS3/5as. Personally, I really enjoyed this system with the Focal Kanta no.1s. You can order this as a combo from your Focal/Naim dealer and live happily ever after. As long as you choose a pair of speakers with about an 86dB/1watt rating, you should be just fine. The Star makes a lovely match with a pair of Harbeth C7s too.
Here's to Naim proving again, that performance and style can peacefully coexist.

Naim Uniti Star
MSRP $4999
PERIPHERALS
Digital Sources: Roon Nucleus, Simaudio MOON 780D DAC, Oppo BDP-103, Synology DiskStation 415 Play, Tidal and Qobuz streaming services.
Amplification: Conrad-Johnson ART150, Pass Labs X150.8
Preamplification: Coffman Labs G1-B
Speakers: GamuT RS3i
Cables: Jena Labs