REVIEW: The Emerald Physics 600.2 SE Amplifier
Packs a major punch
By Jeff Dorgay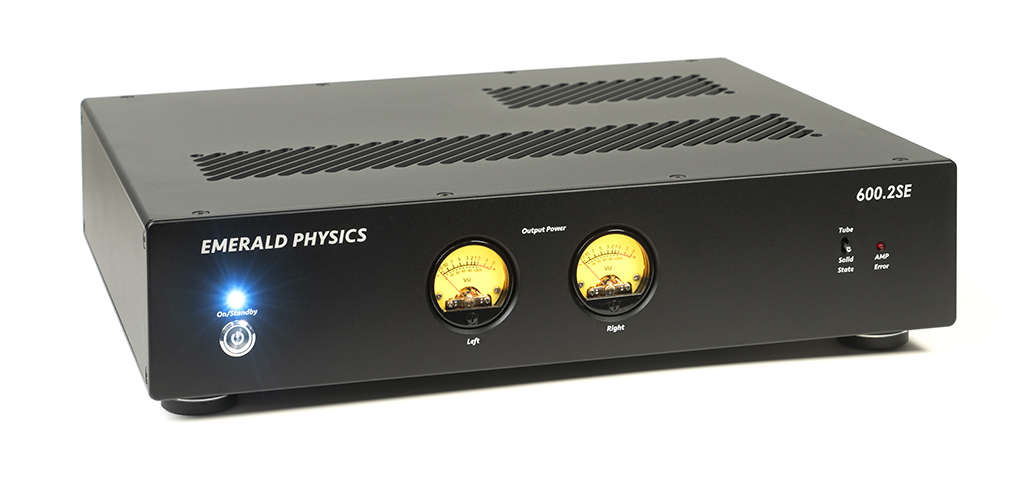 Driving a pair of vintage Acoustat 2+2 full range electrostatics to panel rattling volume while listening to the new Stones album, the yellow circular power output meters on the 600.2SE power amplifier are barely bouncing mid-way up the scale. Staying in the 80s groove with a couple of tracks from Cameo ("Word Up" and "Single Life") push the power meters go all the way up, but the stats are in serious damage of being blown up. Swapping speakers for the current Martin Logan ESL9s in for review, with their dynamic woofers take full advantage of 600 watts per channel.

You heard right, 600 watts per channel in a nice compact chassis that is about 17 inches wide, 14 deep, and just over 4 inches high, weighing about 15 pounds. The matte black finish is punctuated by a power switch, those power output meters, and a tube/solid-state switch for the buffer stage. It's the essence of simplicity, and bravo to the EP team for not making the logo as big as the box.
Plenty of power on tap means no speakers are off limits. Auditioning the 600.2SE with about a dozen pair of speakers from the inefficient Acoustats, a pair of Magnepan 1.7s, some Harbeth speakers (easy to drive but relatively inefficient) as well as the YG Acoustics Hailey 3s ($63,800/pair) and Peak Consult Sinfonias ($55,000/pair) it was easy to find the performance envelope. Ultimately, most of the critical listening was done with the Martin/Logan ESL 9s, a vintage Levinson no.36 preamplifier, and the Naim CD5si disc player. Some streaming was done with the dCS LINA, for Qobuz and Tidal tracks.


Super simple setup
The 600.2SE arrives with a pair of ECC88 tubes already installed, which are used as a buffer stage. That switch on the front panel gives you the option of using a solid-state buffer, featuring a pair of high-quality Texas Instruments OPA 1637 fully balanced driver op amps. These or the ECC88s in tube mode deliver a fully balanced signal to the 1200SA2 ICE power amps. Designer Dr. Viet Nguyen makes it clear "that no transformers are used to achieve balanced operation, this is a full balanced amplifier."

He also goes on to mention that though the RCA and XLR inputs are switched automatically by an internal relay, the amplifier favors XLR, and will switch to XLRs when installed. This also protects the amplifier from both sets of inputs being active at once.

The ability to switch gain internally between 0dB, 6dB, 14dB, and 20dB. Set at 6dB from the factory, this combines with the 22dB gain of the ICE modules for 28dB overall. As my Levinson preamplifier has substantial gain, removing the top and resetting to 0dB keeps the no.36 in its sweet spot longer. It also allows for a longer range of volume control. Should any of you be using a passive linestage/attenuator, you may even take advantage of the higher gain settings, especially if you have inefficient speakers. EP gets an A+ on this level of versatility.

The 600.2SE sounds excellent out of the box, requiring no more than 24 hours of constant play to being all it can be. As with any component, decent cables will add a bit more to the presentation, but you don't have to go nuts. With some Audience StudioTwo cables in for review, this makes a perfect combination, offering high performance, and doesn't break the piggy bank.
The sound
As mentioned, Class-D amplifiers are continually improving, but specs aren't everything. This amplifier delivers a high level of musical involvement, not just high power. On many levels, Class D is turning into a "best of nearly everything" way to deliver the goods, because dynamic range is just as important as the other factors that music lovers and audiophiles enjoy. Recently I've had the chance to listen to a couple of incredible amplifiers that only deliver 25 watts per channel, and sometimes you just need the power.
Yet when listening to acoustic music, the 600.2SE still offers plenty of delicacy – especially when compared to a lot of other amplifiers that are similarly (or higher) priced. Tracking through the usual favorites reveals an amplifier that does an excellent job rendering acoustic guitars, female vocals and percussion instruments, which leads us to that switch on the front.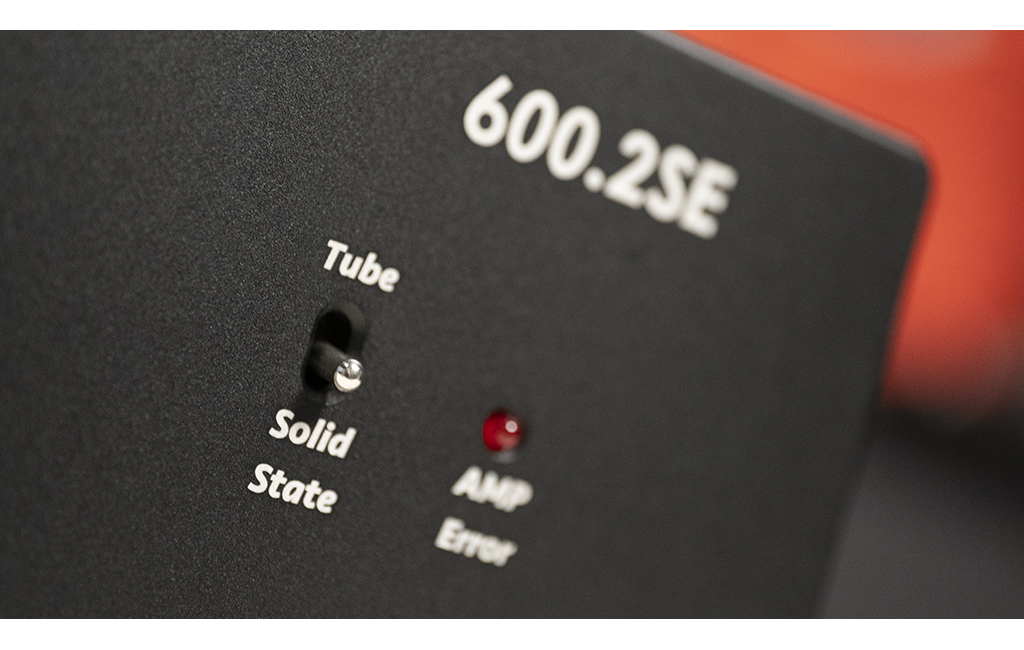 Much like my PrimaLuna EVO 400 tube amplifier, that offers triode and ultralinear mode, switching between the tube and solid-state buffer stages gives the 600.2SE two distinct personalities. Think of the solid-state section as "just the facts," and the tube section as a kinder, gentler presentation. You might prefer one overall, or perhaps use the tube section when listening at lower volumes in a more acoustic/female vocal mode. It's plenty of fun to experiment with, and you might even want to jump off the cliff and get a great pair of vintage NOS ECC88s to go further down that path.

If Class D amplifiers excel at anything, it's bass extension and grip. Most subwoofer companies use massive Class D amplifiers, so that's a clue. Listening to a long playlist of bass heavy tracks instantly showcases this aspect of the 600.2SE. If you love house, hip-hop, electronica and the like, this is an amplifier to raise the roof with. Even with the panels, the level of control and extension this amplifier provides is indeed impressive.

Similarly speaking, the one area of musicality that Class D amplifiers fall down on a bit, is the ability to provide a massive soundstage in all three dimensions. But again, A: we're talking about a $2,500 power amplifier (and nobody's $2,500 amp produces a massive 3D soundstage) and B: you have 600 watts per channel. Dynamics are the fourth dimension, so what the 600.2SE lacks in soundstaging abilities, it more than gives back in dynamic contrast. If you really want to cheat this, put your paws on a nice, vintage, all-tube preamplifier. Switching the 600.2SE back to all solid-state and swapping the Levinson for the PrimaLuna EVO 100 preamplifier, or a vintage ARC SP-3 gives a lot of that back. Remember, audio is a journey.
A definite winner
Class D amplifiers keep improving across the board, and you ignore them at your own peril, especially if you're trying to create a powerful system on a tight budget. The Emerald Physics 600.2SE is the perfect example. Taking advantage of a small company profile, efficient manufacturing overseas, and going dealer direct, makes for high value and high performance for $2,500. In typical Underwood HiFi fashion, they are "introductory pricing" the 600.2SE at $1,999 until they don't feel like it anymore, so perhaps buy yourself an early holiday present and take advantage of the savings?

As the anchor of a high performance, reasonably priced system, the Emerald Physics 600.2SE has nothing but check marks in the positive column. And is more than worthy of one of our Exceptional Value Awards for 2023. You might even say really exceptional value. Tell them we sent you! Please click here to go directly to the Underwood site.