Luxman L-507Z Integrated Amplifier
The Next Generation of Awesome
By Jeff Dorgay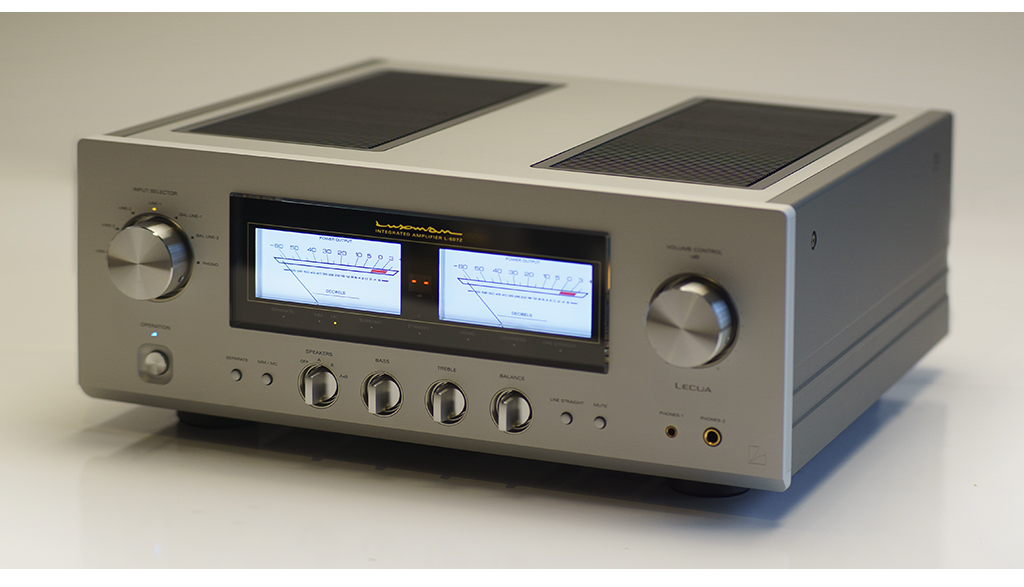 Relaxing with Elvis Costello's Painted From Memory on the turntable, it's almost tough to believe that the source is an integrated amplifier, not a $100k rack full of separate components and a $30k loom of mega cables. When music lovers that want high performance yet do not want a rack full of gear, a pile of cables, or the inconvenience of vacuum tubes, ask me what to buy, my answer is always Luxman. There are a few others I'm very fond of, but if you want the phono on board and prefer to keep your DAC as a separate component, Luxman is my personal favorite. And Luxman offers a few incredible digital boxes to keep it all in the family.
I enjoy a few other excellent brands as much, but the combination makes Luxman integrated amplifiers so unique. The combination of every section, performing at an equally high level, to be precise. Coming up on its 100th birthday in a few years, Luxman is a company of constant refinement and engineering excellence. Everything they improve is purposeful, and the new products always outperform the old, leaving you thinking, "how did they do that?"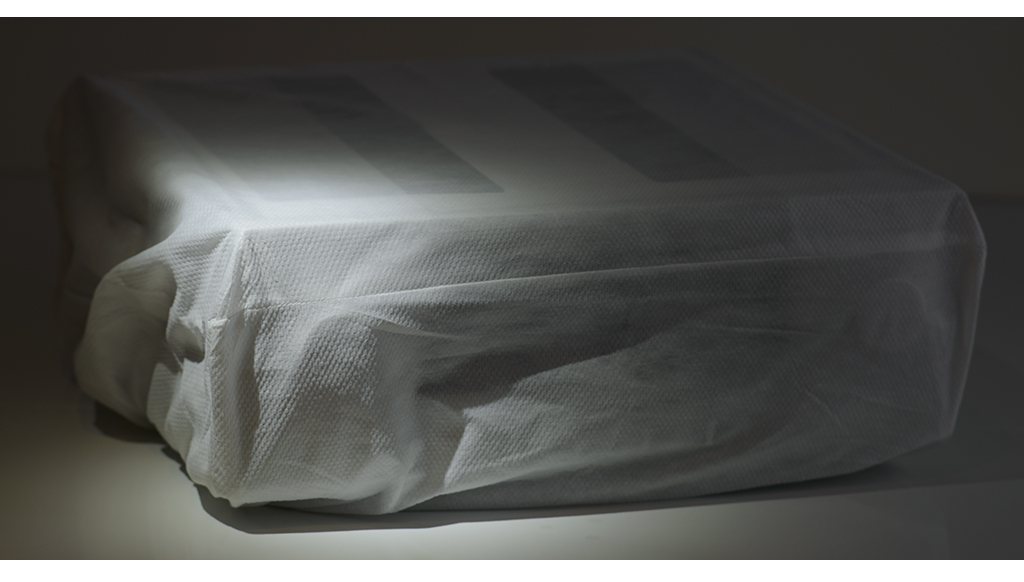 External beauty
Weighing 25.4kg/60 pounds makes the L-507Z big but not unyielding for a single person to unbox and carry. I suggest some gloves; just because that front panel is finished to such a high standard, you wouldn't want to scratch it. As with every other Luxman piece that's been through here, you don't realize just how lovely this amplifier is until it's sitting on the shelf/rack of your choice. It's much like examining a high-resolution photo captured with a high-quality digital camera. The more you zoom in, the more you can see the fine details and level of finish. Perhaps it's my imagination, but it seems like Luxman has refined their already excellent level of finish on the L-507Z.
This product is beautiful to behold and contributes significantly to the pride of ownership and happiness with writing the check. I've only seen this level of fine finish on Burmester and Boulder gear – both cost a lot more than Luxman.
All the usual controls you expect from a Luxman amplifier are here and in the same place they always reside, so the level of familiarity is a great thing. However, a few new features are clearly apparent. In between the output level meters, a seven-segment LED numeric readout resides, letting you know at a glance from across the room how high the volume level is.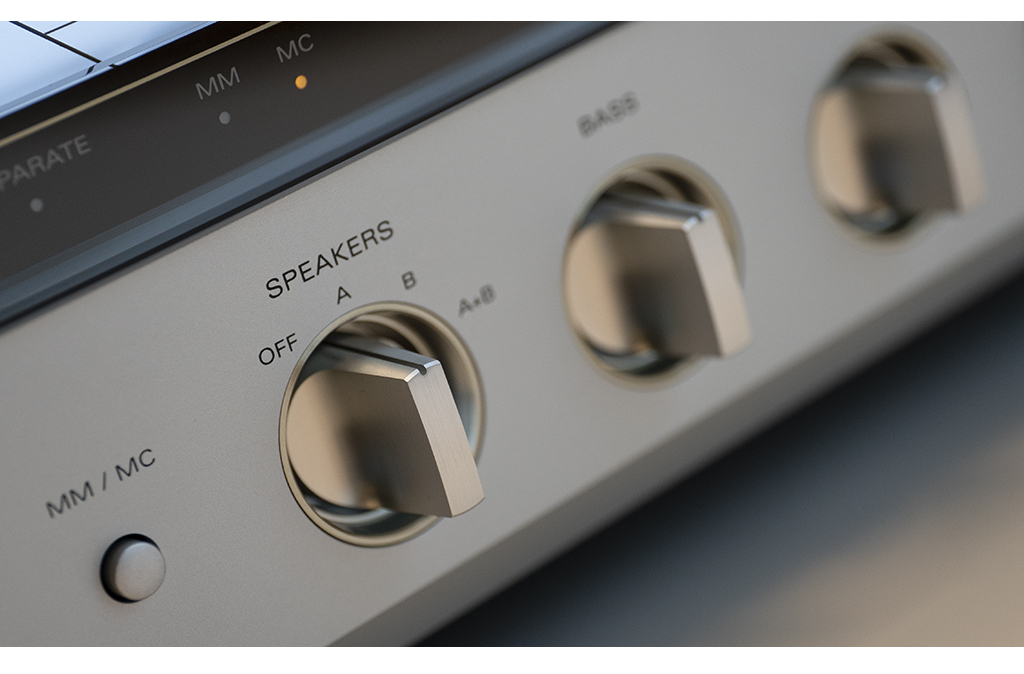 The tone controls are still present; if you're a complete purist, ignore this paragraph. However, if you've longed for a bit of boost or cut at the frequency spectrum extremes, Luxman's implementation is perfect. The bass and treble controls are gentle in their effect but very handy on a somewhat flat or tinkly record. It's also convenient for headphone listening – especially if you have a collection of headphones. The tone controls go a long way at adjusting minor differences to make your personal listening that much more enjoyable. There is also a new 4.4mm "Pentaconn" jack on the front panel that Luxman says allows "quasi-balanced" operation because of its separate right and left channel grounds, resulting in better left to right separation. Unfortunately, we didn't have a pair of phones wired this way, so we were unable to fully investigate. Here is some more information about the Pentaconn connector:
However, our usual stable of phones from Audeze, Grado, Sendy, HiFi Man, and Focal all worked well, indicating a substantial amount of current drive from the 507Zs headphone amplifier section.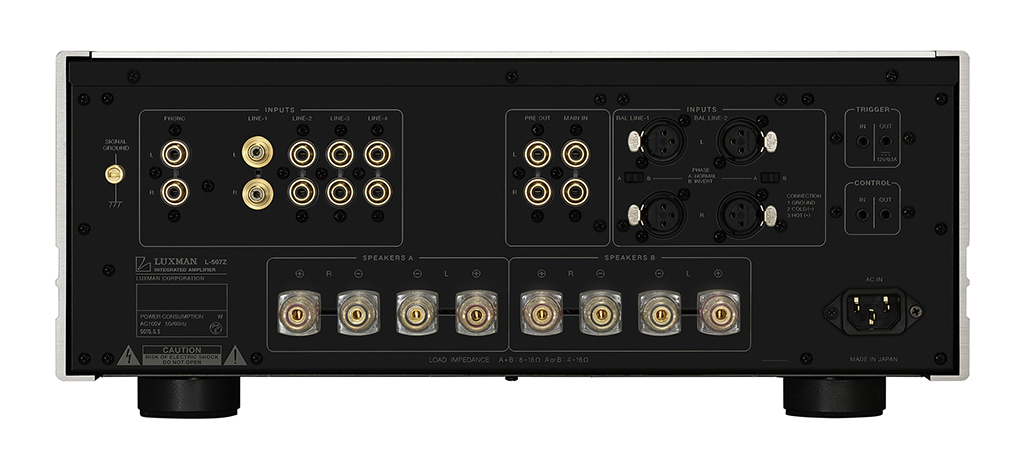 Around the back, in addition to the analog phono input, there are four RCA, line-level inputs, and two balanced XLR inputs. Luxman allows you to invert the phase of these inputs in case you have an external source (like Burmester and a few others) that doesn't use the standard pin configuration. For the first time, 12V trigger and control jacks are also available for anyone needing to blend their L-507Z with home automation.
Subtle smoothness
With only one class-A amplifier in the lineup (at least for now), Luxman is further embracing class-AB topologies, no doubt, in an effort to be more green. Yet, the level of smoothness and refinement always associated with their class-A amplifiers is here at a nearly equal level. The class-A Luxman amplifiers, particularly the L-590II, is slightly warmer but also somewhat less dynamic. A fine distinction but one to be aware of.
Connected to a pair of Dynaudio Confidence 20 speakers and a six-pack of REL 510 subwoofers, the combination is stunning. Because the REL subwoofers perform their best when connected to the speaker level connections, the Luxman's L-507Z's front panel speaker switch is incredibly handy. Being able to switch the subwoofers in and out like this makes setting them up that much quicker. It also made A/B comparisons here very easy to get on with.
With 110 Watts per channel (into 8 ohms, and 210 per channel into 4 ohms), precious few speakers are off limits. Trying them with everything from the (86dB/1-Watt) Harbeth Monitor 40XDs, to a pair of (96db/1-Watt) Heretic 614s, Magnepans, and vintage Acoustat ESLs was a breeze. Everything on the list was able to be played as loud as I'd ever need to listen to music. Even the notoriously power-hungry Magnepans deliver an excellent performance.
The lower octave, with or without subs, is solid, with texture and finesse. Starting with the Supreme Beings of Leisure's 11i (which has notoriously floppy, whumpy bass) and transitioning to Kruder & Dorfmeister, finishing up with some Neu! all were engaging and powerful.
Subtle details
Luxman products personify the "greater than the sum of their parts" philosophy. Building on the technologies that have made their components so well known in the first place with a new 88-step LECUA 1000 attenuator circuit (also used in their top separate components), along with improvements to power supply design and even the circuit board layout all adds up to higher performance.
Where most of the technological improvements will be apparent the minute you turn on your L-507Z, most of them are inside, where you can't see them. The new LIFES (Luxman Integrated Feedback Engine System) replaces the previous ODNF circuitry and cuts the low amount of distortion in half of earlier models. Again, the technology from their separates is converging in the L-507Z – there's a level of musicality here that you might associate with a much higher price tag.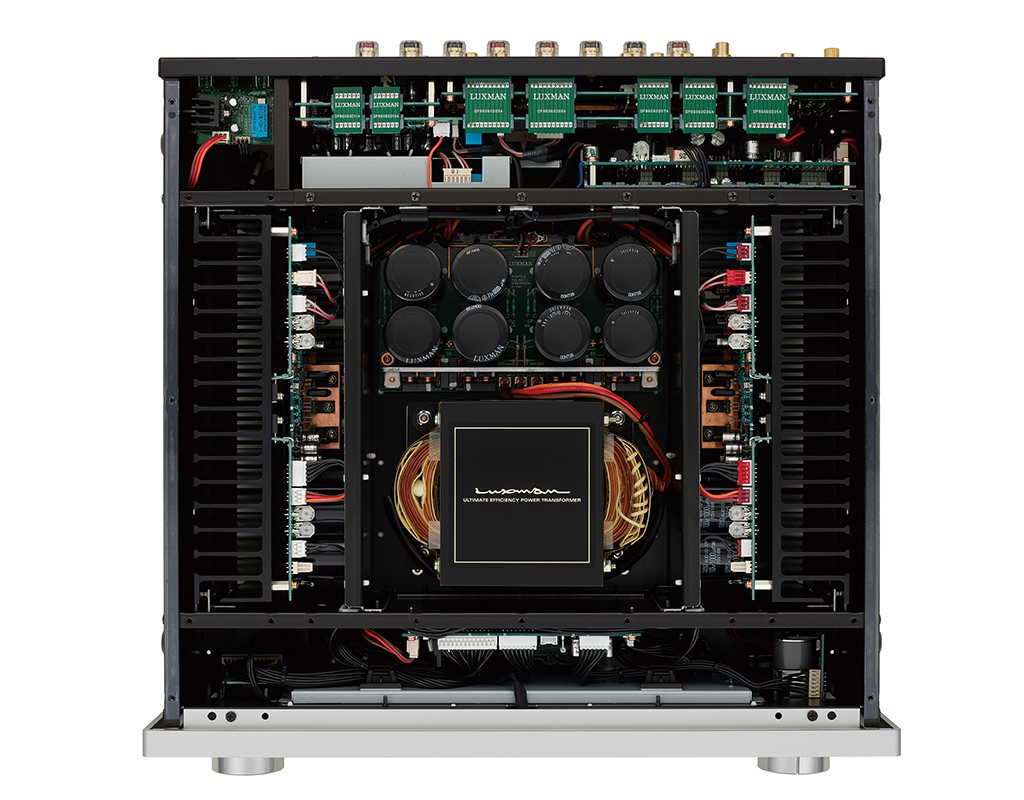 You don't notice this quite as much when pushing the power output needles into the red playing Slayer, but it's instantly obvious when switching the faire to something more subtle like acoustic instruments. A few reasonably long listening sessions comprised of solo piano, violin, and acoustic guitar had me wondering if this was not a class-A amplifier after all. Good as this amplifier is, the level of midrange integration with acoustic instruments is tremendously good.
The most significant difference is in the shadows or the quiet passages. Where the outgoing L-507uX also produced 110 Watts per channel, this amplifier is not only more silent, it has more low-level resolution. Fine details fade more gently into the backgrounds, with a greater sense of the information at your disposal. Whether listening to analog or digital sources, you'll hear more.
Fantastic phono
Luxman claims an improved phono section in the L-507Z, and again, I can't help but agree. With a .3mV/100 ohm spec, the Luxman integrateds have always been perfect for a Denon 103R cartridge, as well as the Dynavector 17DX Carat. Both proved to be a great matches. It's also a perfect match for Luxman's new LMC-5 MC cartridge. We'll have a full review shortly. Setting the stylus of the Dynavector down on Al DiMeola's new Saturday Night in San Francisco is breathtaking. Hearing these three guitar virtuosos come to life in front of me again has me wondering if I'm really listening to an integrated.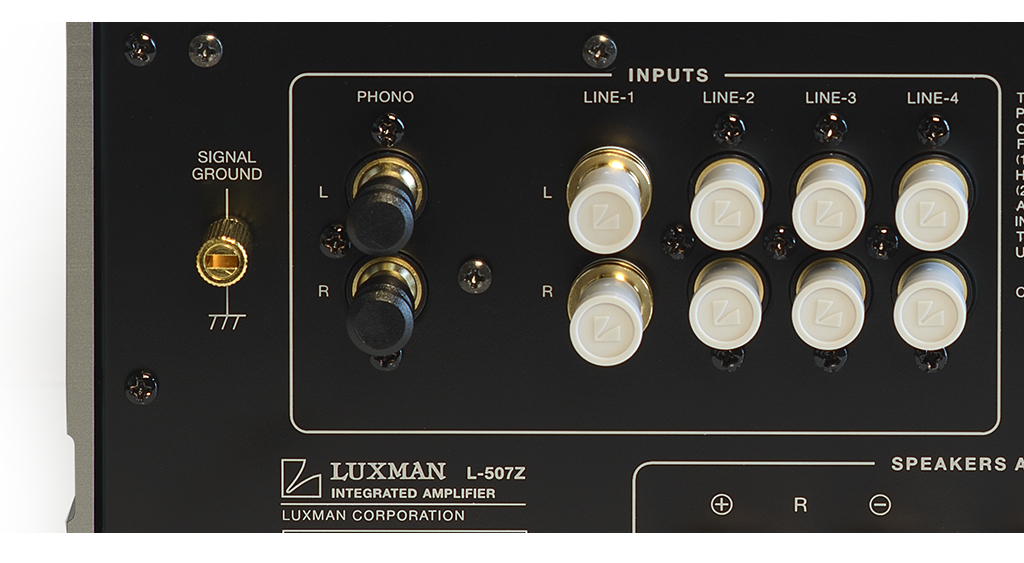 Good as past models have been, this is another step up. Again, putting this amplifier in the context of a $20k – $50k (or even maybe a little more) system as its hub, I could easily see pairing this with an excellent $3-10k turntable and calling it a day.
Always a joy
In nearly 15 years, I never tire of unboxing a Luxman product. The care in the build that extends all the way to the packaging is a wonderful thing, in this age of ambivalence we live in. The balance of cost, features, aesthetics, and performance are top shelf. Just as McIntosh and Naim have feverishly dedicated to the brand supporters, Luxman is no different. If the combination provided by the 507Z ticks all the boxes on your list, there's no better choice.
I only have one complaint about the 507Z; it's both selfish and personal, so it probably won't apply to most of you. Since Luxman offers an MM and MC phono option, I truly wish they would offer two phono inputs – one MM and one MC. Come on, there are two headphone outputs on the front panel. That would truly make a 99.9% product 100% perfect.
Keep in mind this is the first of the new "Z Series" integrateds from Luxman, so it will be interesting to see how they rollout the rest of the lineup. Based on the past Luxman models we've owned and reviewed, I'll bet they will be equally fantastic. Stay tuned.

www.luxmanamerica.com