The Harbeth 40.3 XD Speakers
Paradoxically Great!
By Jeff Dorgay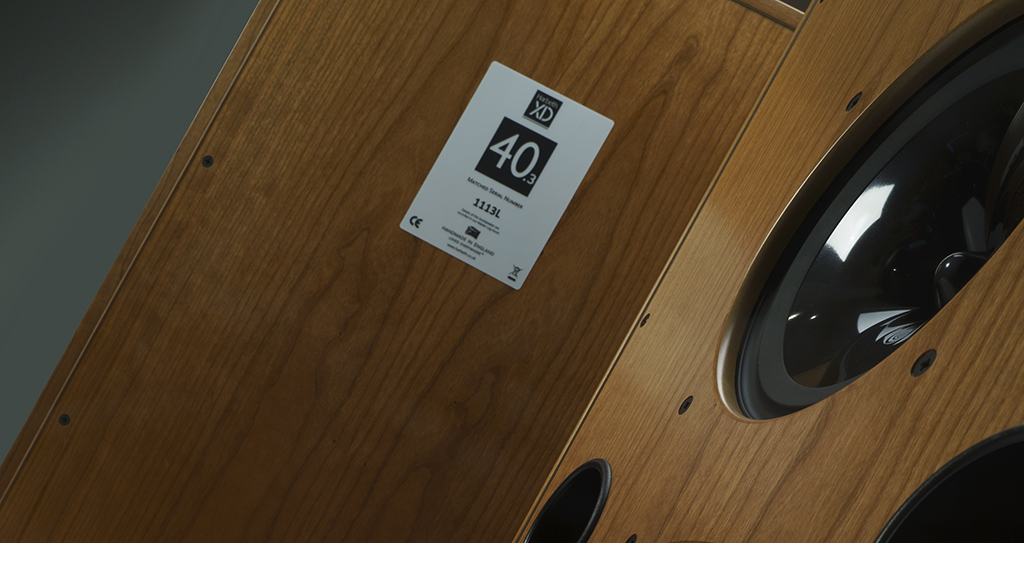 Enjoying music and audio is almost a spiritual journey. Some will even tell you it is. Your musical taste, hearing, budget, and where you are on your journey will determine how you will voice your system, and what components you will most likely gravitate to.
Past experience with the smaller Harbeth speakers has always played to smaller music. You can't crank up Led Zeppelin, or Tool on a pair of C7s to the point where it is convincing. As a Harbeth owner, honestly, I'd rather play "The Rain Song" on my JBL L-100 Classics than my C7s, good as they are. Switch it up to Crosby, Stills, & Nash, or Joni Mitchell and the Harbeths prove more engaging. Much more engaging. Choices, choices.
The big Harbeth, the Monitor 40, now the M40.3 XD is an entirely different experience. The top Harbeth speaker has the weight and the depth to play any kind of music, at any volume level you need. You can play Tool loud – and get into it. But these speakers do so much more.
Forget all the audiophile stuff – for a minute
Walter Swanbon owner of Fidelis Distribution, the US distributor for Harbeth tells me the current 40.3 XD "is much more tube friendly," and we talk about our mutual friend, the late Art Dudley. Hanging up the phone, wacky as it seems, the 40.3 XDs start their audio journey here with a pair of vintage Cary 805 SET monoblocks in the living room system. Maybe I was being possessed by Art for a little while, maybe I was having a wacky free will moment of the most counterintuitive kind. But this is a glorious combination.
Damn, if this doesn't sound fantastic. The 40.1s were never tube adverse, but it was definitely a more diffuse perspective with a lack of bass control, that wasn't worrisome, unless listening to someone like Jaco Pastorius or Stanley Clarke who plays a bass guitar as a lead instrument. Yet the new 40.3 XD is a more modern sound, even with these vintage 50 Watt per channel vintage SET monoblocks. Swapping the 300B driver tubes for a set of the new Western Electric 300B (review in process) tightens up the presentation even further – to a point that if you were building a serious chill out system, you'd love the combination for the win. At least at modest  to medium volume levels.
Going further in this direction, our PrimaLuna EVO 400 monoblocks, fitted with KT150s (normally a bit snappy for my liking) are just right with the big Harbeths. These amplifiers turn the 40.3 XDs into serious rock and roll machines, with close to 200 watts per channel of tubey goodness. Going through the classics from Led Zeppelin, Van Halen and some Who tracks is almost too much fun. The combination of tonal accuracy combined with a touch of saturation from the tubes makes the 40.3 XDs feel like they are the size of a Marshall stack.
The fun doesn't stop there.
Switching to a high-current solid state amplifier made all the difference in the world with this kind of program material. Back when the 40.1s were here, my reference amplifier was the Conrad-Johnson Premier 350, and it really took control of those big woofers, creating a more modern sound. Even with the new found tube friendliness, the 40.3 XD is a different speaker entirely with a high quality solid-state power amplifier.
Unplugging the PrimaLunas and plugging in the Nagra Classic Amp brings a different perspective entirely. Listening to the bass line in the Beatles' "Baby You're a Rich Man," is an entirely new groove. Through the tube amplifiers, it's powerful and pleasant, but it becomes present with the Nagra in the system. Ditto for the Pass and Parasound amps. The extra grip from a large solid-state amplifier gives up about five percent of the midrange saturation, but adds about 200% in texture through the low frequency range.
All of this sonic intoxication leads to a day long binge listen of the Beatles. There's so much resolution going on in the current XD version, you might just find yourself discovering information you missed previously. The extra punch in Paul's bass, those Ringo fills you kinda heard before, and those harmonies.
Handle with extreme care
Many manufacturers of fine speakers include soft, cotton gloves to unpack them. Harbeth does not, and for good reason. The ultra-smooth finish on the Monitor 40.3 XDs are tough to get a grip on. They are just large enough (15 x 17 x 29.5 inches) and weigh just enough (84 pounds each) that you really want a pair or rubbery gloves with the grippy texture on the fingers. And a pair for the friend that helps you move them.
Normally, an 84-pound speaker isn't the end of the world, but these are just large enough in girth, that they are a little awkward to move. Because the Harbeths have such a nice finish, and relatively thin wall cabinets, you need to handle them like a big, British, Faberge egg, that's kind of square-ish.
Should you use the exceptional TonTräger stands that Fidelis Distribution imports from Germany and retail for this model at $1850/pr and suggests (and I do too), unless you have King Kong sized paws and Kung Fu grip, get a friend to help you unbox these and gently lower them into position on top of the stands. Keep said friend around for positioning them once on the stands too, one false move and they will tumble off the stands. Gravity's a bitch when you watch your 23-thousand-dollar speakers tumble to the ground. Maybe this is why the 40.1s I received for review back in 2008 were less than pristine by the time I got them. Hmmm.
The Paradox of the Monitor 40.3 XD
These speakers play like massive Compact 7s, with more dynamics, more detail, and much more bass. However, like a C7ES-3 XD, these are still somewhat nearfield speakers. (Like all of the Harbeth speakers, they both feature the unique patented RADIAL2TM cone material in the midrange drivers for low mass and controlled resonance.) But… they sound their best in a large – ish room, so they can have room to breathe on their sides. Sure, you can put the Monitor 40.3 XDs in a small to medium room and they will sound great, but much like a pair of big electrostats, if you can do your best to minimize the side wall boundaries, you'll enter a completely different world. And what a nice, inviting world it is.
Great as all this is, as hinted at the beginning of this evaluation, the Monitor 40.3 XDs really rock. Alan Shaw will probably spit out his afternoon biscuit at tea when he reads that I've been playing AC/DC, Van Halen and Aerosmith at punishing levels, but it's so much fun. The 40.3 XDs move serious air, yet keep their composure. The big Harbeths not only play loud, they do it with grace, and in a linear fashion. Where some speakers have a sweet spot in terms of volume level, the 40.3 XDs don't change their overall tonal balance going from whisper soft to brain damage loud. Yet they grab you again at the end of "Janie's Got a Gun"  as Joe Perry's backing vocal wafts in and out of the track – did I ever hear that before?
As we said in our awards issue, as great as the smaller Harbeths are, the 40.3 XD is Alan Shaw's masterpiece. You should hear them.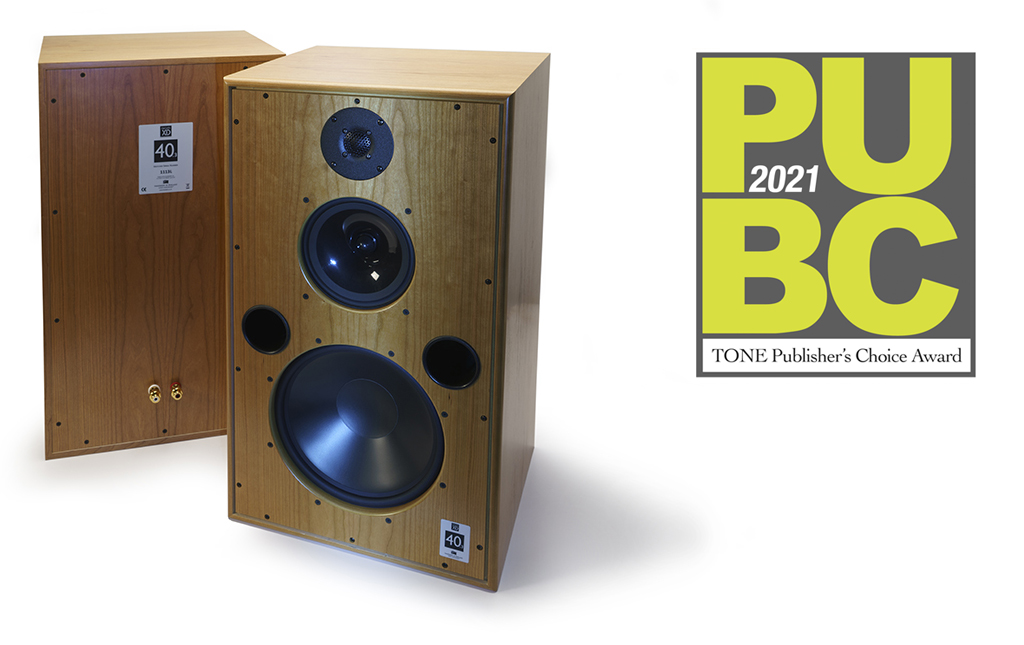 The Harbeth Monitor 40.3 XD
Cherry – $22,500/pr.
Walnut / Rosewood / Exotic Ash – $24,500/pr.
Peripherals
Analog Source Rega P10/Apheta 3
Digital Source dCS Vivaldi ONE
Phono Pre VAC Renaissance
Power Amp PrimaLuna EVO 400 Monos

Cable Cardas Clear and Clear Reflection