The FYNE 500SP
Where Are They Hiding The Rest?
By Jeff Dorgay
Small speakers can rarely energize a good-sized room with full-range sound. This is always the magic that is FYNE.
Featuring the coherence that usually only comes with electrostatic speakers, the time-aligned, coaxial driver of the FYNE speakers delivers a seamlessness that you might expect from a pair of vintage Quads, with a serious dynamic punch as well. Without the inherent graininess that plagues the other small speaker darlings – i.e., KEF and ELAC. (I say that with all respect, as a former Blade and LS50 owner) And it comes in an enclosure that isn't even a cubic foot. At $1,995 a pair, these speakers are a mega value. The FYNE speakers are in a league of their own.
Tracking through Aphex Twin's Syro album, the 500SPs generate a vast sound field in all three dimensions in our 15 x 26-foot main listening room. Only about 6 feet apart and 4 feet from the rear walls (with about 10 feet to each side), the small FYNEs open up, rendering layer upon layer of musical detail. Perhaps this isn't the absolute sound, but music with a dense, atmospheric vibe needs this kind of presentation to engage you thoroughly.
Similarly trippy records from Yes, Art of Noise, and Steven Wilson are just as compelling. If you are a music lover who craves a spacious, dynamic sound at this price point and form factor, the FYNE 500SP should be at the top of your list. The toy piano in Gruppo Sportivo's "Blah Blah Magazines" jumps way out in front of the speakers, showing how immersive the 500SPs are.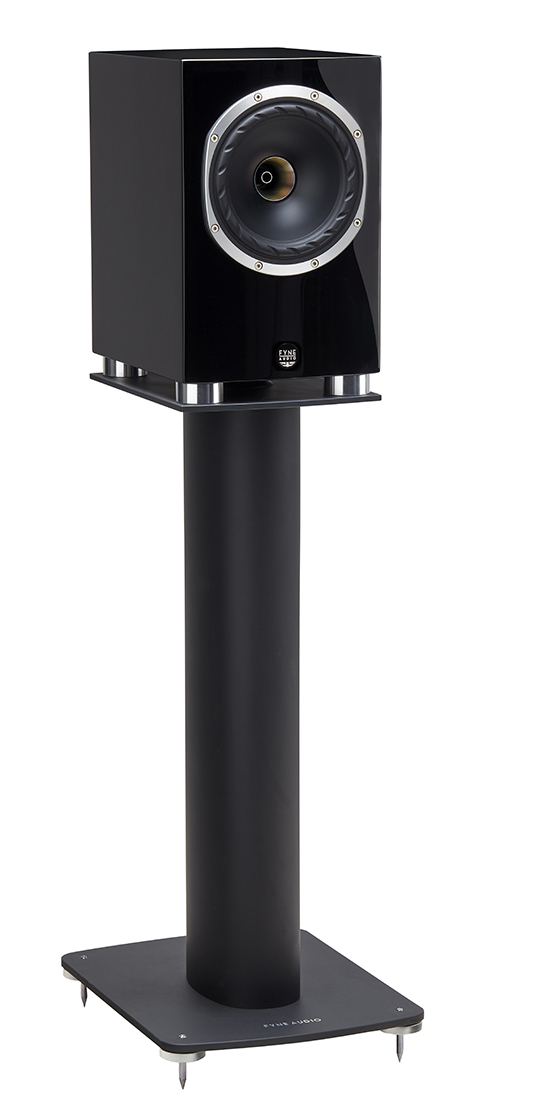 Superb standards
Switching it up, The Ginger Baker Trio's Going Back Home reveals more insight into the level of nuance the SP500s deliver. Combining Baker's powerful yet airy drumming, Bill Frisell on guitar, and Charlie Haden on bass, these speakers prove their prowess with acoustic instruments. There's so much texture here in Baker's drumming, and Haden's runs up and down the neck of the acoustic bass, you'll swear you're listening to a much larger (and much more expensive) set of speakers. The extension and resolution of the lower frequencies are stunning with the SP500s.
Female vocal lovers will be equally delighted with the resolution the SP500s deliver. A long playlist of current and classic vocalists reveals the FYNE speakers are equally competent here. Though audiophiles have a tendency to lean on female vocals to judge speaker character, switching to male vocals is where many speakers fail to deliver. Johnny Cash's "Delia," from his original American Recordings, is always a go-to track because of his husky vocal delivery. Speakers lacking low-end reinforcement make Cash sound like a busboy with a lightweight character. The 500SPs allow this character to be the menacing executioner that the song portrays.
Again, our favorites fall to just about anything by Tom Waits or Buddy Guy. I'm sure you have your favorite demo tracks to see how well these speakers work in this context.
Finally, the 500SPs can play loud when the mood strikes. Watching the meter needles on the 100 Wpc Nagra Classic Amp hit 0dB on peaks made a thunderous presentation indeed when listening to Mott The Hoople's "All the Young Dudes." FYNE suggests amplifiers in the 30 – 120 Watt per channel (60 Watts, continuous), and we agree.
In a moderately sized space, you may never explore the upper reaches of these speakers' dynamic capabilities. Your only limitation will be with bass-heavy material. The big drums in Peter Gabriel's "The Rhythm of the Heat" are able to bottom the woofers at high volume, and this kind of punishment will probably be frowned upon should you return your damaged speakers to FYNE for repair.
This is the double-edged sword of the 500SP. In addition to their impressive tonal characteristics, this is a very low-distortion speaker as well. It makes for fatigue-free listening, but approach high sound pressure levels slowly at first, so you can find the overload point for your system and your ears. You will be surprised at the high sound pressure level the 500SPs can produce.
Choose your voice
Overall, the SP500s are a touch forward in their presentation but not harsh or strident. Thanks to a 90db/1-Watt sensitivity, they don't need a massive power amplifier to make music at adequate listening levels. A well-designed crossover network, with a first-order slope going up from the 1.7kHz crossover frequency and a second-order slope going downwards, is a massive contributor to the smooth vocal character and lack of artifacts in the crossover region. However, their high level of resolving power allows them to shine with higher quality components. This leaves the music lover a wide range of options. You may find yourself pairing the FYNE speakers with more expensive components than you initially thought practical.
Rega's Brio-R remains one of our favorite high-quality integrated amplifiers for just under $1,000 and is our starting point for this review after the initial break-in. A Prima Luna ProLogue 1 and the Luxman N-150 Neo Classic rounded out the picture for vacuum tube amplification choices. The T+A Caruso R and Cyrus Cast ONE both feature Class-D amplification, though the digital amplifiers start to become too much of a good thing.
The 500SPs resolving ability makes them less than perfect for older vintage solid-state amplifiers and receivers only because they tend to expose the flaws in the components upstream. Giving them a go with a re-capped Marantz 2270 feels a little dull, though putting them in a system with a set of freshly rebuilt Nakamichi 600 components (a distinct step up back in the day) made for a charming overall effect.
However, we all like something different. But, if you have a digital amplifier, you've been warned. The 500SPs relative neutrality gives you a wider range of options than most speakers at this price level to fine-tune the voice of your system, a definite plus.
Because of their wide dispersion and a downward-firing port between the cabinet base and bottom, these are incredibly easy speakers to place in your room. They are top performers in an environment where the speakers can't always go in the optimum spot for perfect sound. If you don't opt for the FYNE stands, go for the most massive, rigid ones that make sense for your wallet and décor. Flimsy stands will compromise bass extension and quality.
One thing unique to the FYNE speakers is their fifth ground lug on the back of the speakers. FYNE claims it will "ground the driver chassis and eliminate amp or cable born RF interference." While the TONE studio is a big, metal building (essentially a Faraday cage), we don't usually have this problem. However, in the house's unshielded environment, taking advantage of this did make a slightly noticeable – and positive effect. A nice touch, indeed.
While the review set arrived in gloss black, gloss white, and gloss walnut is also available. The finish quality is exquisite. The 500SPs are designed and built in the UK. It shows. If you've spent any time at all with modestly priced speakers that hail from China, you'll notice that the fine details are not executed as well as they are here.
Should you put a pair of 500SPs in your system, the only thing you might consider after you're used to the speakers is a pair of high-quality jumpers to connect the woofer and tweeter, if you aren't using bi-wired speaker cables. Jumpers from Tellurium Q and Cardas both added another margin of HF smoothness that is worth exploring.
It's easy to give the FYNE 500SPs one of our Exceptional Value Awards for 2022. Every aspect of these speakers is flawlessly executed within the price point.
www.soundorg.com (US distributor)
www.fyneaudio.com (Manufacturer)