YG Acoustics Cairn Speakers
Distilled High Performance
By Jeff Dorgay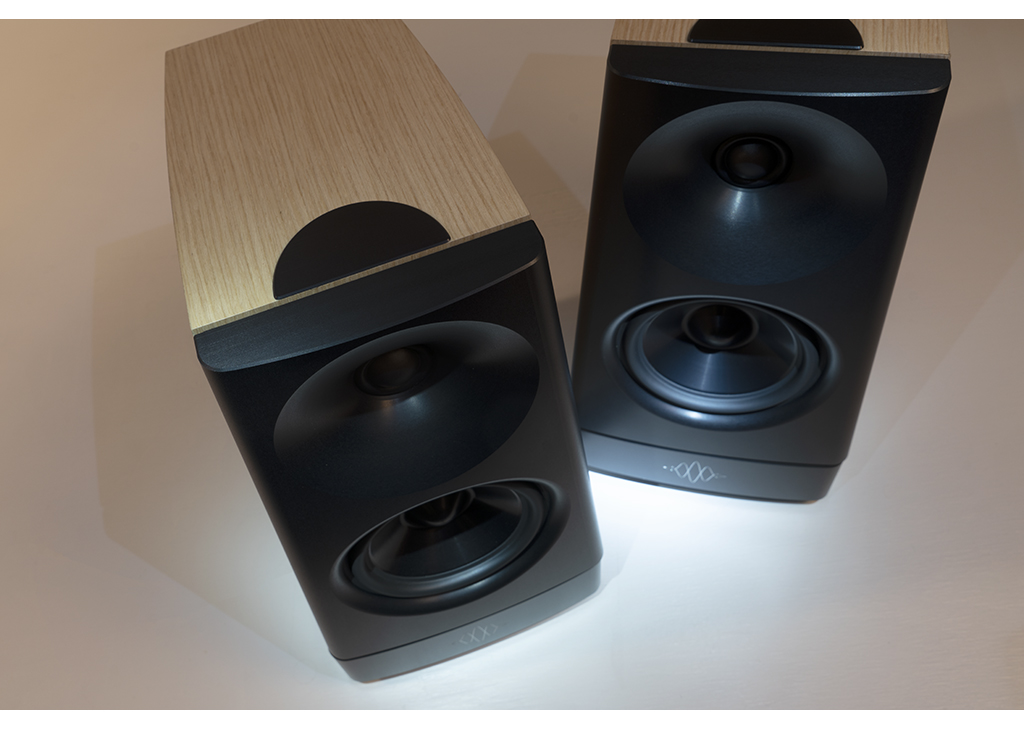 Listening to the expansive sound field created by the tiny YG Cairns, with a pair of 8-foot tall electrostatic speakers in the background is really impressive, but not surprising.
The opening of Tears For Fears "Woman in Chains" is big and broad – paying homage to some of the best studio craft the 80s had to offer, with stuff panning around everywhere. Switching to Lou Reed's "Vanishing Act" is equally exciting, with his voice and solo piano sounding larger than life. It's almost hard to belive that all this music is coming from a pair of diminutive (14.6 x 7.6 x 10.3″) monitors on 24" tall stands.
I had the good fortune to visit the YG factory in Colorado at the beginning of April, to experience the entire Peaks line of speakers. In their purpose-built room, everything on display not only sounded incredible, but clearly illustrated where the increases in performance occur between the entry level Cairn and the top of the range Summit at $25,000/pair.
Duncan Taylor and Steve Huntley were even kind enough to put up with my quirky musical tastes, but that made it very easy to get a quick read on what their speakers can accomplish. If you only remember YG for their exquisitely machined aluminum enclosures, the new Peaks have wooden cabinets, that retain the thick, inert aluminum front face. Though the precision machined waveguide for the tweeter in the Peaks series is quite different than the reference series, the look makes them instantly recognizable as a YG.

Taking care of business

Listening to the Cairns in my 24 x 36-foot room, which is at least similar in volume, provides equally engaging results. While Taylor is a master set up person, even just plopping them in my room for an initial listen is still excellent. The wave guide giving the patented YG ForgeCore tweeter a wide dispersion pattern, not only helps to make these speakers easy to set up, they provide a large enough sweet spot that everyone can enjoy the music. As with any great hifi speaker, the best seat will always be right in the middle, but the Cairns deliver an expansive enough experience that they sound great off axis, and even sitting on the floor as a casual observer/listener.

In the big room, final placement ends up being about ten feet apart and about four feet out from the rear wall, with about 7 feet on each side. This makes for an incredibly open sound, and even in this size room, the amount of LF energy these small (6") woofers can generate is truly impressive.

Speaking of stands, the machined 24" tall aluminum stands that will put the Cairn tweeters at the perfect height will set you back another $1,500 – but they are worth every cent. Machined at the same level of the rest of the YG lineup, they include small dimples on the speaker platforms, so you never need worry about a perfect speaker/stand interface. And you never need to worry about bumping them out of alignment. This is the only quandary with the Cairn, do you spend $10k for speaker and stand, or go all out and invest $14,200 in a pair of Talus floorstanders, taking up about the same amount of space? Great as the Cairns are, someone with little ones might just want to get the floorstanders.  

(Lack of) sonic signature

The original YG speakers were billed as the "world's greatest speakers," and to be fair, they were indeed very good, but a bit on the overly analytical/harsh/fatiguing side. We enjoyed their stay, but they were only lovely on your best recordings. Everything else felt over-caffinated. (or something a little less legal, if you know what I mean) So much time and effort have been put into all of the current YG speakers, forget everything you remember about the past.
The result is a speaker that is both highly resolving, yet not fatiguing. Tonally, they are extremely natural, so you can leave the final system voicing to your taste. While the Cairns sound different with tube amplifiers than they do with solid-state, both are pleasing, and it's up to you to decide the ultimate flavor of your audible experience. You don't notice immediately just how uncolored these speakers are until you go back to something else. And then it hits you.
YG does not mention the Cairns crossover frequency, but the sheer seamlessness between the woofer and tweeter is pure success. There's no beaming, cutoff, or the sense that you are listening to a separate woofer and tweeter. Tracking through numerous female and male vocalists is enjoyable, without anomalies of any kind. Stringed instruments sound correct – as well as violins and pianos, my favorite torture tests.

Final voice is up to you
Trying the Cairns with everything from a 8-Watt/channel SET amplifier (The ampsandsound Black Pearl, with WE 300B tubes) up to the mighty Pass XA200.8 monoblocks is a fruitful endeavor. Thanks to an unobtrusive crossover network, these 86db/1-Watt speakers sound absolutely engaging, even with the 8 Watts per channel the Black Pearl has to offer. At least to a certain volume level.

While 8 Watts per channel is somewhat shy, 30-50 will serve you well in all but the largest rooms. The PrimaLuna EVO 400 power amplifier in stereo mode with EL34s delivers a warm, yet resolving groove. Substituting KT150s offers more mid to top end snap. The versatility that the YGs offer is so much sheer fun, you might get lost in the experimentation! And isn't hifi supposed to be fun? Even with warmer tube amplifiers, the sheer resolution that the Cairns provide allow you to re-examine your music collection. The only danger with the big Pass amplifiers was watching the volume control when listening to music of a more electronic or hip-hop groove. A six-inch woofer can only move in and out so far. And the Cairn exhibits so much raw ability, it's tempting to keep twisting the volume control.(and damage the woofers)
YG has promised to send us their Descent subwoofer from the Peaks lineup for a second listen with the Cairn, but for now, bringing a REL Carbon Special into the mix, confirms how much a topnotch subwoofer can flesh out the sound of these incredible speakers. Thanks to the dynamic, punchy nature of the Cairns, the last bit of LF reinforcement from a sub expands their already large soundfield.

Editors note: since we originally published this review, YG has sent us their matching Descent subwoofer and it's the perfect match. We'll have a full review very soon.

The details
From a performance standpoint, the YG Cairn speakers are a true bargain. Closer examination reveals an attention to detail usually reserved for Formula 1 cars. The sophistication of their machine shop where the aluminum cabinet parts, the woofer cones and other parts are an exercise in top level design and implementation.
The YG team doesn't miss a single thing. Even the binding posts are shipped with threaded protectors to keep the posts from being snapped off in shipping. Ask me how many times this has happened over the 20 years of TONE reviews? What a considerate thing to do.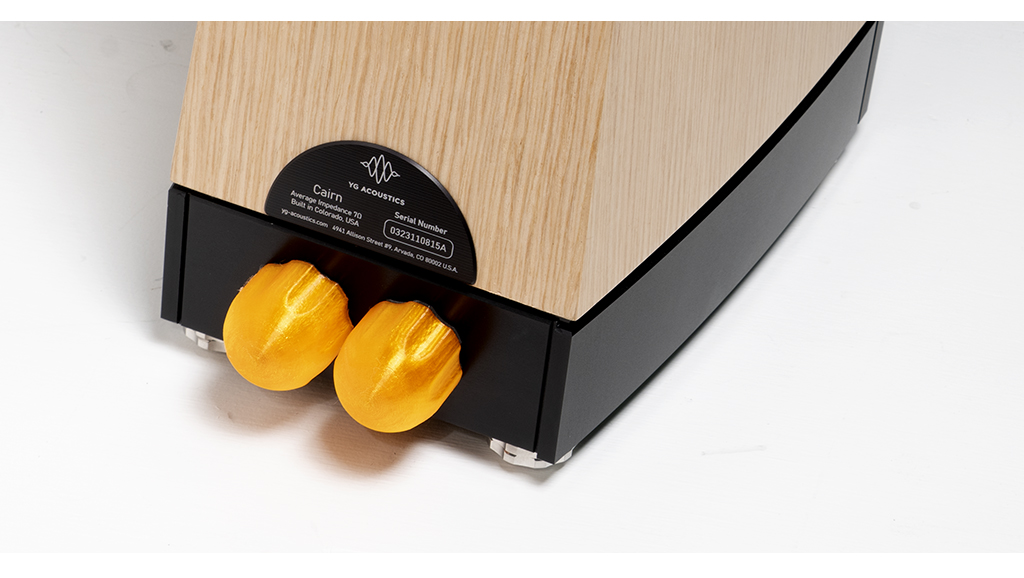 As an admitted technology geek, I pretty much freaked out at how attentive YG is to every single aspect of their design and manufacturing. Company principal Dr. Matthew Webster is a Stephen Hawking smart kind of guy and told me about how much time and money they spent on Amazon's supercomputing network to not only optimize speaker design, but modeling how their speakers would work in every possible environment with different components. This level of engineering just isn't done in audio. It's a wonderful thing when the technology serves the music like this.

Raw tech just for tech's sake isn't worth diddly if it doesn't work. The YG speakers succeed on every level and are one of the easiest to set up and integrate into a wide range of cables and components I've yet experienced. That's worth a lot, especially to those entering the realm of high-end audio, as their capability for some of the fussiness that seasoned audiophiles take for granted hasn't developed yet.

The YG Cairns offer an exceptional amount of performance for the most demanding music enthusiast, and so we are more than happy to award them an Exceptional Value Award for 2023. These speakers are the most thought-out product I've had the chance of using, ever.

Please click here for more info on the YG site…


Peripherals

Preamplifier Pass XS Pre
Phono Stage                            Pass XP-27, Nagra Classic, Backert Labs Rhumba 1.1
Analog Source                        SME 20 w/Hana Umami Red
Digital Source                         dCS Vivaldi ONE
Cable                                       Cardas Clear