The XSA Labs Vanguard – a new paradigm.
In case you're wondering, XSA stands for "eXtremely Sexy Audio," and the Vanguard monitors you see here, done up in bamboo are certainly that. Those of you that work with wood on a regular know how hard bamboo is to work with and get it to look right.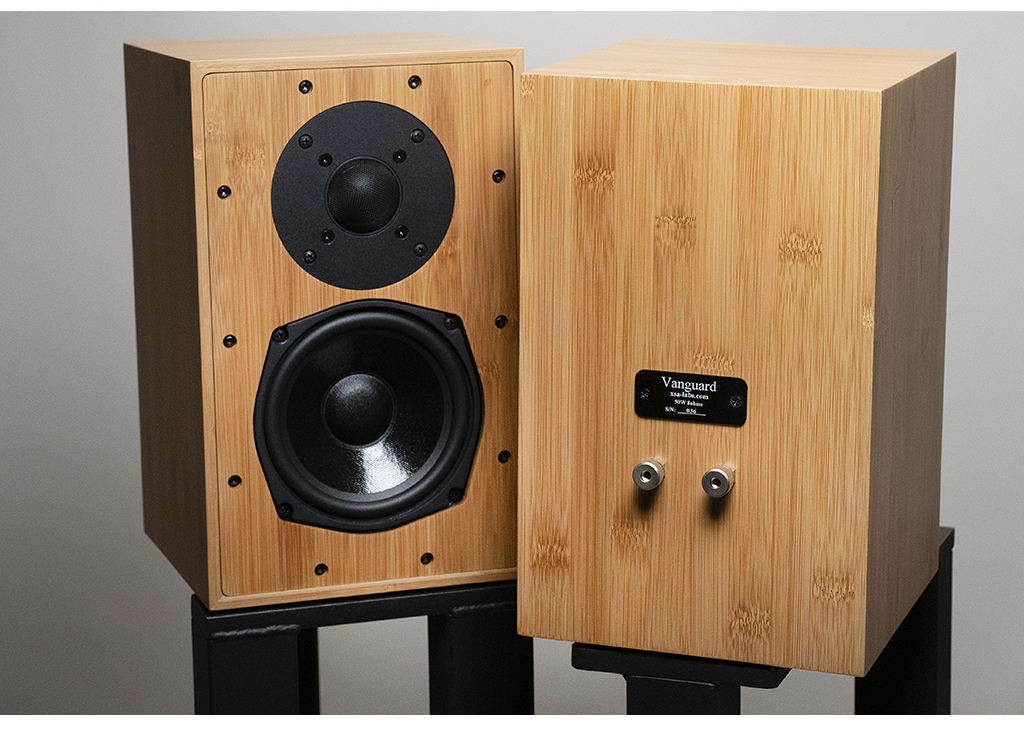 Bamboo is the carbon fiber of woods – it's hardness is much tougher to cut and machine to tolerance – one mistake and you've blown it. Careful inspection of the cabinet corners and the cutouts for the drivers is a real work of industrial art. Sexy indeed.

Listening to the rich vocal harmonies in Crowded House's Woodface brings the capabilities of this great little speaker immediately. They deliver a huge sound field, that is deep and wide. Top to bottom is pretty good for such a small speaker as well. With grilles removed, it's easy to see the homage to the LS3/5a, but I suggest that this is a different beast. And for $799 a pair, a beast you just might want to welcome into your home.

The Vanguard is about an inch and a half deeper than the LS3/5a cabinet; designer Dr. Viet Nguyen makes this choice to get a bit more bass extension from the 5.25" treated paper cone woofer. Moving from boomer rock to 90s obscurity, with Crash Test Dummies' "Just Chilin'" reveals where the bass rolloff is – but again, this is an impossible feat for any small speaker. However, in a smaller room the fundamental is still there. Moving back almost a decade to the Dummies' "Superman's Song" is where the Vanguards shine. They keep lead singer Brad Robert's deep voice perfectly blended with the light background vocal of Ellen Reid.
Playing music that doesn't push the Vanguards out of their sweet spot is a revelation. Winding up this listening session with Elvis Costello and Burt Bacharach's "I'll Never Fall In Love Again," from the Austin Powers soundtrack is truly groovy baby.
A Bit of back story
The BBC LS3/5a monitor has been a staple of small room audiophilia for decades. This diminutive monitor, in a small-ish room with the right electronics does such a fantastic job achieving a natural sounding midrange, you forget about what it doesn't do. Because the BBC engineers were using it as a location recording monitor, their goal was to get the voices right. I'll bet they had no idea their creation would become such a cherished thing. Measurement geeks will complain to the stars about a lack of bass and treble extension, and rolled off highs – yet when you sit in the chair and listen, it's hard to not come away amazed and smiling.
There have been a number of BBC licensed LS3/5a variations over the years, all with a somewhat different sound. Several manufacturers like Harbeth, have done their own updated variation on the theme, and while not following the design exactly, keep with the spirit. Most of these speakers run in the $2,500 – $3,500 range and are all well-crafted. Just as we can have a heated discussion about which version of the 12AX7 tube is "the best," the same can be said for the LS3/5a and the speakers it's inspired.
Back to the future
While it's always fun to respect the past, drivers and crossover components have improved dramatically over the years, and what used to cost megabucks is now much more approachable. Dr. Nguyen's hard work came to the attention of Mark Schifter, (an industry vet  who's influenced a number of great brands over the years) who is not only a main collaborator on this speaker, but the LSA 50, 60, and 80 – another group of speakers offering tremendous performance and value.

If you'd like a little bit more tech perspective on the Vanguards, there's a lively discussion over at Superbestaudiofriends.org, illuminating more of Dr. Nguyen's design decisions, and of course, measurements. However, measurements don't tell the whole story, and they don't speak to the natural tonality that these speakers deliver. Just as most reasonably priced EL-34 tube amplifiers deliver a slightly warm overall sound with a slight bump in the upper bass/lower midrange (to great effect I might add), all of the LS3/5a speakers I've heard are goosed in a similar manner. Some not so much, yet it's always there if you listen for it.

The Vanguards don't have this pronounced effect, delivering what is arguably a slightly more transparent midrange. I admit to being biased towards a warmer sound, mating the Vanguards to a tube amplifier is more my cup of than a budget solid-state amp. Where the LS3/5a's combined with a tube amplifier can be too much of a good thing with certain pairings, the Vanguards are lovely. Of course, you must be the final judge.

A quick peek inside the Vanguard reveals high quality crossover components, and less of them. Where the BBC licensed speakers use 11 components, Dr. Nguyen's design makes do with 6. Claimed sensitivity is 84.5dB/1-watt, but thanks in part to this reduced parts count, the Vanguard is incredibly easy to drive. 25 Watts per channel will get you rocking.
Running the gamut
You've probably seen massive amplifiers powering small speakers at hifi shows to deliver higher than expected performance. You might consider this "cheating," yet it does reveal just how much a budget speaker can deliver. Taking this approach, listening began with the dCS Vivaldi ONE-Apex, Pass Labs XS Pre and a pair of Pass XA200.8 monoblocks, all connected with Cardas Clear cable.
I'd be lying if I didn't say this was pretty awesome, albeit unrealistic. After trying several different amplification choices, the two I settled on for most of this review were both realistic matches. The $1,299 LSA VT-70 (EL-34 powered), and the ($4,100) T+A Caruso R (solid-state, all in one) delivered great performance, and both make great partners for these speakers. While the T+A Caruso R is three times the cost of the LSA amp, it does feature an integrated tuner, DAC, CD player, streamer and MM phono stage. Together with the Technics SL-1200G, we are awarding this combination one of our two system of the year picks for The Audiophile Apartment.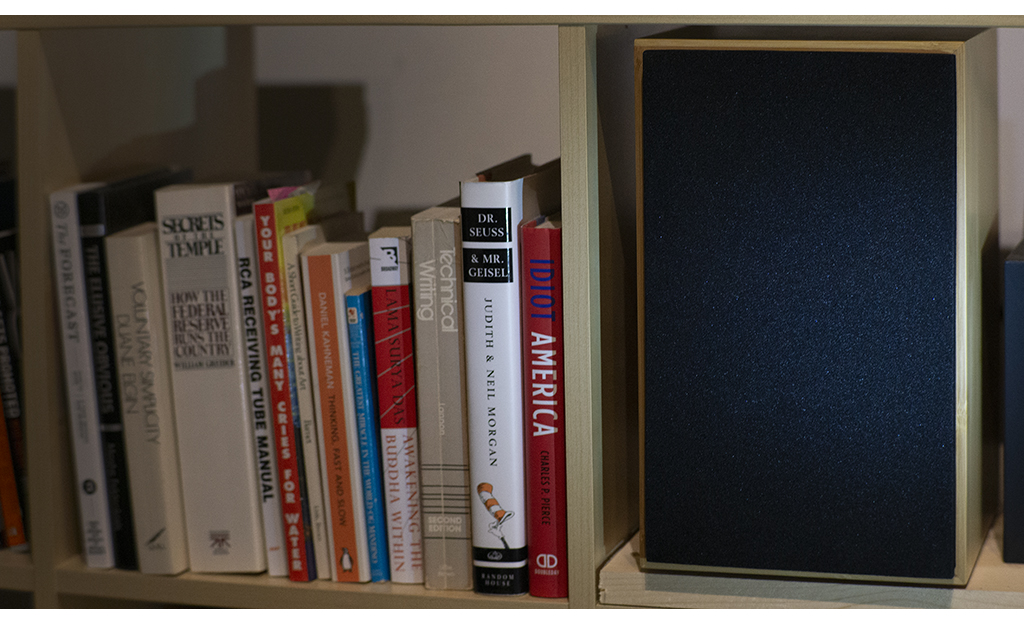 Investigating the vintage path, the Vanguards also work well with the vintage components we have on hand from Sansui, Marantz, and Nakamichi, though keep in mind these speakers resolve enough detail that you will detect a bit more "wooliness" with older gear.

Substitutions

Many audio enthusiasts love mating mini monitors to a small subwoofer to extend total system response. Most listening was done in an 11 x 13-foot room and a 12 x 18-foot room. As you might suspect, the larger room benefitted more from a bit of LF augmentation, though with careful setup, it worked in the small room as well. However, resist the urge to combine the Vanguards with a budget subwoofer. The detail that they do resolve in the lower register will be lost in the lack of transient speed that always comes along with a cheap subwoofer.

That being said, the SVS Micro ($899) and the REL Tzero MKIII ($499) both make an excellent match for these speakers, but that's another movie. You do not need to have a subwoofer to enjoy these speakers.

In Perspective

In a day where some speaker manufacturers charge more to custom paint a speaker cabinet than Porsche charges to paint your car a unique color, no one at XSA is getting rich building these speakers. Even if these cabinets were made from MDF (and they wouldn't sound nearly as good) $799 would be an incredible bargain. To keep it a fair fight, because these speakers are only sold factory direct, they should be compared to speakers costing twice as much – yet they still deliver superb performance.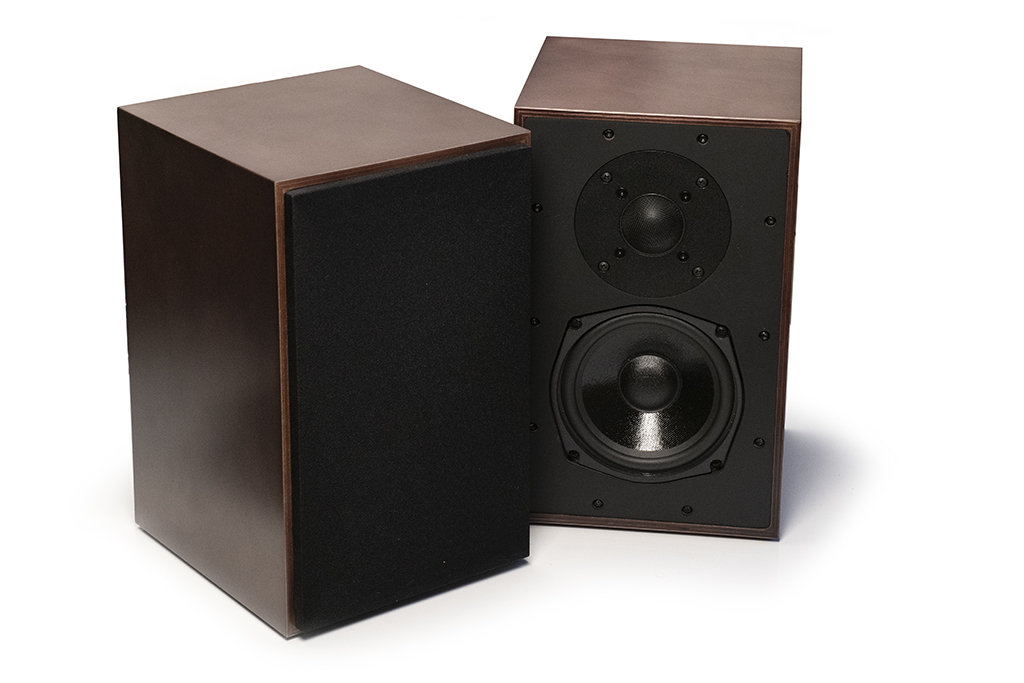 As a reviewer, it's easy to lose your way, trying to convince the audience that they need to spend more, more, more, and if you don't, you can't play. It's also easy to lose sight that anything beyond a pair of wireless buds for your smart phone is a luxury on one level, because that's all you really need to be a music lover. Investing more than that in your hifi system is still a luxury, no matter what level you are engaged.

Some of the most passionate audio enthusiasts I've encountered over the years have been those that put a $2,000 – $10,000 system together with extreme care, working hard to achieve the maximum value with every component.

Whether you are putting together your first major system, downsizing from a big system, or putting an additional system together in another part of your living space, the Vanguards are a great pair of speakers that are more than worth the price asked. Should you purchase a pair, I hope you enjoy them as much as I do – they are staying.
$799/pair