The Technics OTTAVA-SC-C70MK2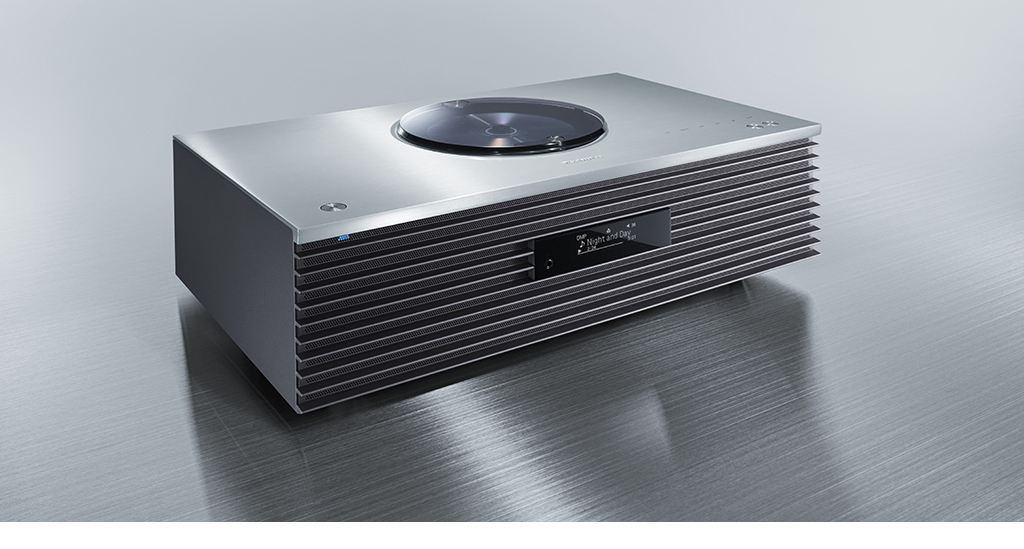 Pushing the play button on the new Technics OTTAVA SC-C70MK2, with a MoFi copy of the Superfly soundtrack fills the room with a big, broad soundfield and a solid bass line. Technics has hit nothing but home runs since they re-entered the high-end audio world with a passion about five or six years ago. Their depth of manufacturing and engineering expertise is without peer, and the products they've built have heavily leveraged their heritage, while being fashion forward at the same time. It's a great combination.
As desktop/tabletop music systems continue to evolve in functionality and performance, the OTTAVA certainly qualifies as a music player that even the most fanatical audiophile will engage. Regardless of how you consume your music, this player can accommodate your needs, whether you strictly want to have an all-in-one component, stream your favorite music, or connect a turntable via the analog input. (or dare we say, a cassette deck!)
Gorgeous from the inside out
The mid-century modern aesthetic of the OTTAVA begs inspection and interaction. This approximately 18 x 9 x 4 -inch enclosure will be a smart addition to wherever you decide to place it in your home, office or other environment. Seriously, I'd pack it in bubble wrap and take it with me on a road trip! Nothing like having great music wherever you go. As the cliché goes, don't let the good looks fool you, there's a lot more that doesn't immediately meet the eye here.
The 2.1 speaker system inside the C70MK2 utilizes a pair of 8cm(3.14 inch) woofers, 2cm (.78 inch) silk dome tweeters and a built-in 12cm(4.7 inch) subwoofer, driven by a 30-watt per channel amplifier on top, and a 40 watt dedicated amplifier for the subwoofer.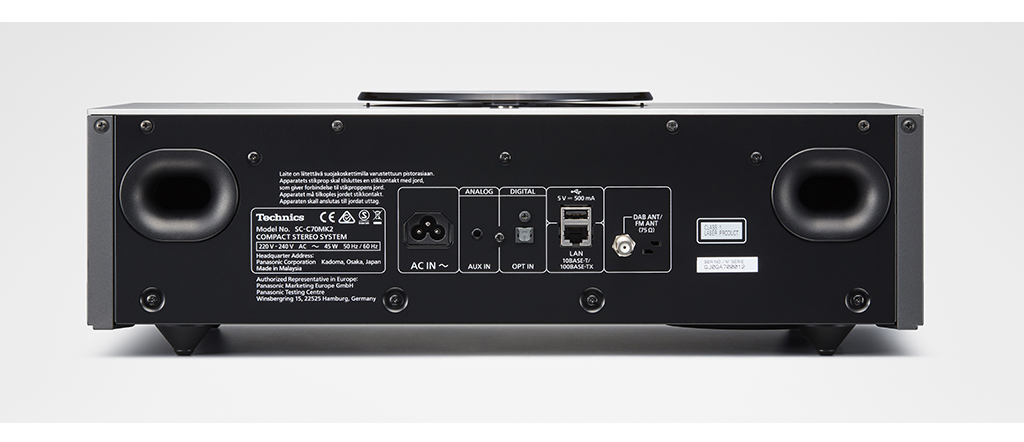 There is an analog 3.5mm (1/8th inch) stereo analog, line level input, an optical digital input and a USB-A connection around back, along with a standard ethernet socket, so you don't have to rely on entirely what's inside the box. (though you could and be completely happy)
If you take a detour to the Technics website, you can see the major tech that exists inside of the OTTAVA. (https://www.technics.com/us/products/premium-class/all-in-one-music-system-ottava-f-sc-c70mk2.html) This also lists all the different kinds of files and sources the C70MK2 will stream – which is basically everything. Tidal, Deezer, Spotify, and others are all accessible. The only thing it doesn't do native, is function as a ROON endpoint, but because it can be setup as a Chromecast node, you can do that too. So, anyone can listen to whatever they'd like via the SC-C70MK2. And listen, we did.
The bad and the good
This is not a brainlessly plug and play device, as many powered speakers and desktop systems are, but if you are willing to be patient for about five minutes, the reward is well worth it. Of course, if you want to just play CD's or listen to the radio, you can do that right away with the supplied (and very awesome) remote. To be more exact, to get the most the SC-C70MK2 has to offer, you will need to install a couple of apps, and spend a little time fine tuning setup.
If you've taken the time to install Google Home and the Technics Audio Center App (which we had to do for their integrated amp anyway), you are rewarded with incredible control flexibility, four levels of DSP adjustment (3 presets and one you measure yourself), and a wide variety of inputs and streaming options.
So, the good news is, this is by far the most capable tabletop/all in one music player we've used. With power comes responsibility. You can't just jump in an airplane cockpit and access all the controls without a little time reading the manual and following the menu prompts. The SC-70MK2 is truly a high-performance machine, inside and out.
Beyond the top facing disc player, the OTTAVA is a high resolution player in every sense of the word, able to decode files from you NAS or USB device. The only thing off the menu is MQA. Like Technics larger SU-G700 amplifier, it also utilizes their LAPC functionality, which optimizes the amplifier circuit for the speakers.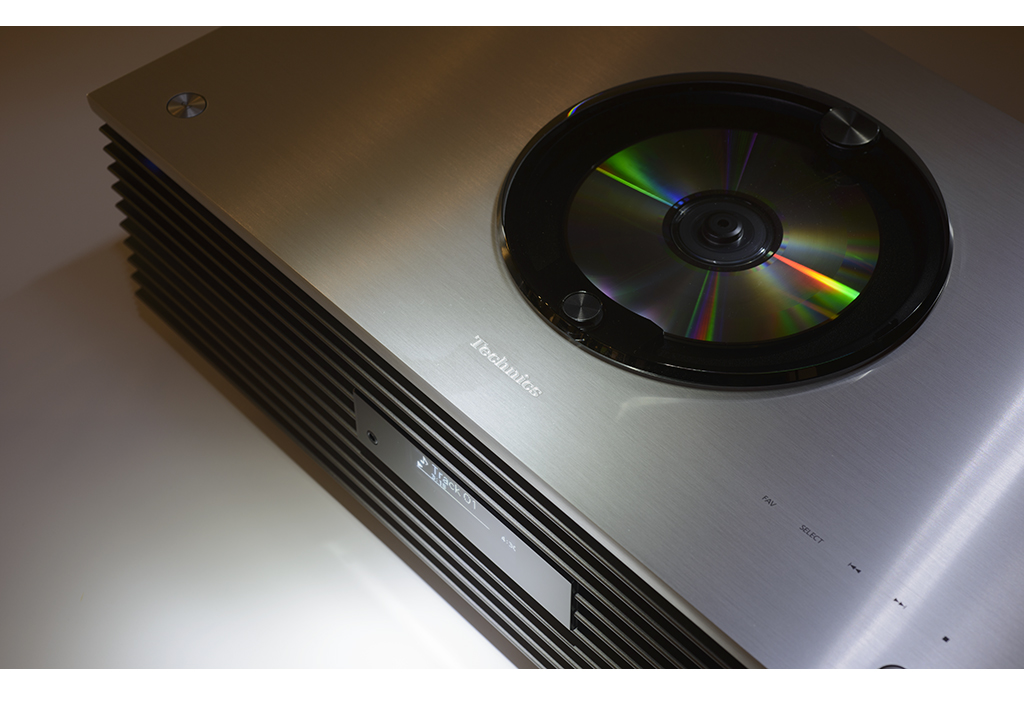 Spacey
While the OTTAVA comes with three standard DSP settings to optimize the sound for wherever you might place it (free, near the wall, and near the corner) again, you'll be rewarded by taking a few minutes to run the Space Tune™ app. This works like a full-blown room optimization system, measuring your room and adjusting the output of the OTTAVA accordingly to deliver the best sound.
Experimenting in a few different room locations reveals Space Tune™ outperforming the preset functions every time. Most times, the difference was so dramatic, it felt like we had just moved up a couple of models to a bigger, more resolving player. Good as this is, the most dramatic test of Space Tune™ was our initial listening. Just pulling the OTTAVA out of the box, placing it in the middle of the messy studio tamed a bass heavy, and somewhat hollow sound once Space Tune™ was run. Fantastic. While the preset selections for room corner, tabletop, and open air were excellent, taking the time to take the measurement and apply it to the custom preset, made for a more spacious, more tonally correct top to bottom sound. It's worth the couple of extra minutes. Hard-core audiophiles will love the ability to save their new measurements.
The SC-70MK2 does an excellent job with midrange clarity, creating a massive soundfield. The level of serious bass produced when playing bass heavy tracks is a testament to just how much air a pair of three-inch woofers and a 5-inch subwoofer can produce with great DSP. On most musical selections, the SC-70MK2 is able to play incredibly loud without distortion, however those that survive on a steady diet of hip hop and electronica will most likely find the limits of the device, when rocking the house.
Again, it's worth mentioning that taking the time to run the measurements and save a custom DSP preset will be the difference of the SC-C70MK2 having more natural, linear bass and upper midrange response. The presets are fine, but you'll notice some of the tubbiness from putting it on a countertop disappear with a custom setting – taking this box from good to great.
Everyone exposed to the little Technics player was consistently impressed at how big the sound was, and in a small-ish room, on a table, the ability to feel like an amplifiers and pair of speakers on stands it is.
Taking the party vibe a step further, we made use of the compact Pro-Ject Ultra 500 phono preamplifier here for a recent review to connect our vintage Technics SL-1200 mk.5 and spin some vinyl. This was almost too much fun, and again, the overall aesthetic of the SC-C70MK2 fits perfectly with a Technics turntable, new or old.
It's all good
This truly is the audiophile's desktop music player. For $999.99 it's an excellent combination of sound, features, and versatility. The nearly $1,700 Naim Mu-So 2 we just recently reviewed will play a little louder and go a little deeper, but it costs almost twice as much and there's no CD Player or the ability to custom tune the DSP. Not to mention positively stunning mechanical design – this one looks and feels like an object with a much higher price tag.
Overall, this one checks all the boxes, and some we didn't even know needing checking. Audiophiles often talk about desert island records. I'd take a Roon subscription, some streaming music and maybe a pile of my all-time favorite CDs to the desert with me.
If that doesn't make for an Exceptional Value Award, nothing does. Technics has created a product that appeals to everyone. Entrenched audiophiles will be happy with the sound (and functionality) and music lovers craving simplicity will be amazed at just how much sound $999.99 can buy. I know I want one for on top of my toolbox out in The Audiophile Garage…
Please click here to go to the Technics Website for more info: