REVIEW: Eggleston Nico EVO
Overachievers!
By Jeff Dorgay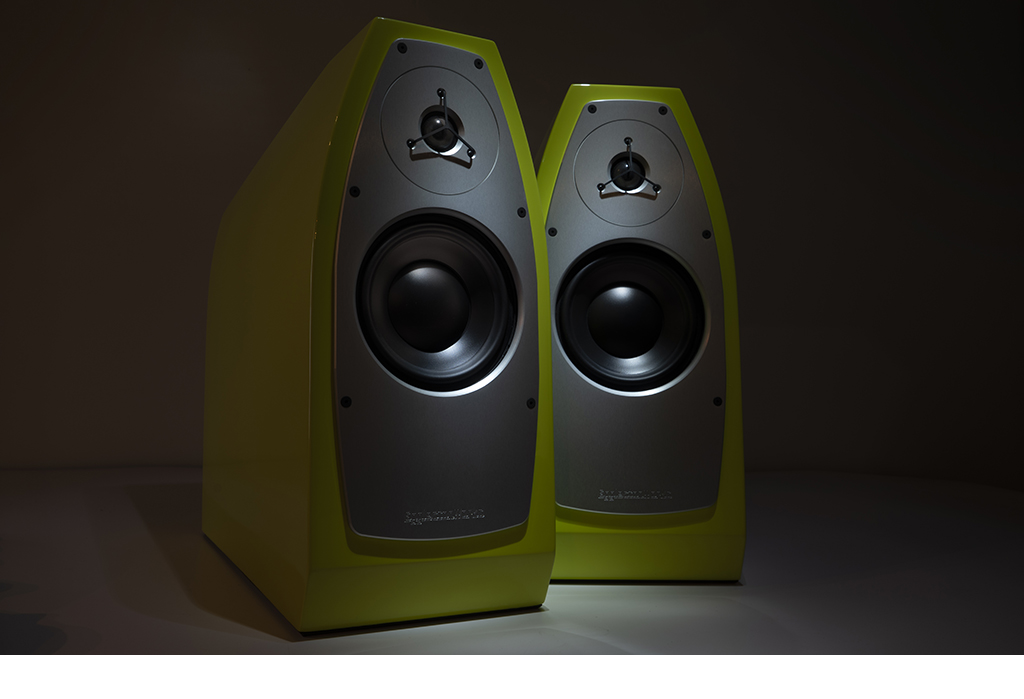 Tracking through the Supreme Beings of Leisure's 11i, it's impressive at how much low bass these small monitors can muster. Often, when a small speaker is called upon to create low bass, it's a trade-off between quality and quantity. Not here – the Nico Evolutions go down deep enough to make most of you happy, and thanks to the speed and resolution of the LF energy provided, you can pair these with a high-quality subwoofer later should you so desire.
Including the stands with the Nicos obviously increases their price (and Eggleston is kind enough to send them filled, so you don't have to screw around with it later), but it assures setup success. One of the most significant issues with compact monitors is getting them on the right stand with an excellent stand to speaker interface. We've seen way too many speakers in this size range have their performance compromised by wimpy stands, or a stand not providing the right tweeter height. Considering a comparable pair of speaker stands would probably set you back at least $600 a pair, included stands make the Nicos an even better value.
Eggleston has enjoyed over 20 years of making high-quality speakers that have achieved accolades from reviewers, end-users, and recording engineers the world over. Their reputation is fully intact here, and much of the tech that goes into their flagship speakers is present here – at just under $5k a pair.
A great recipe
As someone who is always biased towards the coherence of ESLs, well-executed two-way speakers always capture my attention. With a 6-inch woofer and 1-inch soft-dome tweeter (both sourced from Morel) and an easy to drive 87db/1-watt sensitivity – these speakers work well with any amplification you've got at your disposal.
We tried them with a wide range of solid-state and tube amplifiers, from Pass, VAC, PrimaLuna, Nagra, and McIntosh – all with excellent results. The Nicos are very tube friendly and when paired with our McIntosh MC275 (recently equipped with a quad of EAT KT88 diamond tubes)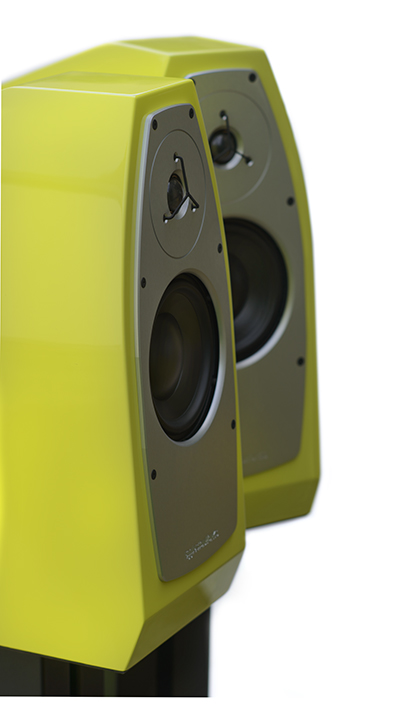 The Nicos are an interesting size, featuring a fairly narrow front aluminum baffle mounted to an exceptionally inert MDF cabinet, that is barely more than 8″ wide, about 19″ tall at its peak and about 16″ deep. Eggleston claims a weight of 28 pounds, but they feel stouter than this. The stands weigh slightly more. Spikes are supplied to fine-tune the rake angle to perfection.
The cabinets are available in a few standard colors – black, beige, and white, but as they are coated with automotive paint, they can be finished in a custom color for an additional $300. Knowing my love for BMW's, the Eggleston staff painted my review pair in Golf Yellow, that tennis ball color from an early 70s 2002Tii. Some will see it as yellow and others a bright lime. We can all argue about that later. What's not open for criticism is the level of finish applied to these speakers – when we reviewed the Emmas a few years ago, I was impressed with the finish, but these are a few clicks better. Obviously, the crew at Eggleston continues to refine their craft.
This is the level of finish you'd expect to find on a pair of Wilsons, Rockports, or REL subwoofers. I wish I could get these guys to paint the vintage 3-series I'm restoring! In addition to the finish quality, the cabinet joints exhibit a level of uniformity that also goes hand in hand with a much higher price tag.
It doesn't end there, around back is a finely finished, slotted, rear-firing port for the woofer, and a single pair of Cardas binding posts. The paint on the port goes all the way in, unlike a lot of cabinets we've seen, where this detail is scrimped upon. This is a pair of loudspeakers that you will feel good about writing the check for. Finally, basic black, magnetic grills are supplied, but the Nicos look so much better without, you may never use them.
Run in/setup
The Nicos sound great out of the box, with a slight edge that goes away quickly. 50 -75 hours, and they go from great to fantastic. Again, using the factory stands eliminates any guesswork that you don't have the tweeters at the right height. Initial break-in was in my 13 x 18 living room, powered by the Rivera AFM-25 Class-A monoblocks and APL-10 tube preamplifier, before moving into the larger 16 x 25 studio on the long wall, powered by several different tube and solid-state amplifiers. Though most listening was with the MC275 or PrimaLuna EVO400 with EL 34 tubes, these speakers offered great result with all the tube amplifiers at our disposal.
Like all the other Eggleston speakers I've heard, the Nicos have a slightly forward presentation, making for a lively, involving experience. This calls for almost no toe-in in my larger room – having them straight on axis proved too much of a good thing, but your room and taste will vary. The sweet spot ended up being about 8 feet apart and about 9 feet from the sidewalls, and the front baffle four feet from the wall. This makes for an expansive, three-dimensional result.
While the Nicos produce sufficient low-frequency information (with a claimed LF limit of 38hz) and perform admirably in a bigger room, they prove stunning in my 13 x 15 smaller room, pairing up with the Luxman L-550AXII, class-A solid-state amp. (25 watts per channel). Thanks again to the low-frequency articulation that the Nicos offer, and a little bit of room gain, these speakers provide a fulfilling small room experience like few other speakers. This is one of those few speakers that make such an excellent HiFi show presentation because they don't overdrive the room.
Further listening
Running through a series of tracks favoring low-frequency information from Massive Attack, Aphex Twin, and Snoop Dogg, the Nicos never disappoint. Those living on a diet of bone-shattering bass aren't going to buy a pair of 6-inch two-way monitors anyway. But, when your musical tastes turn to this flavor, you'll still be happy.
Where this speaker excels is revealing a detailed and highly resolving musical picture of whatever recorded event you are listening to. At low to modest levels, they are very immersive, flattening out slightly when pushed to high levels. Again, to be expected with a monitor of this size. A 6-inch cone can only move so much air.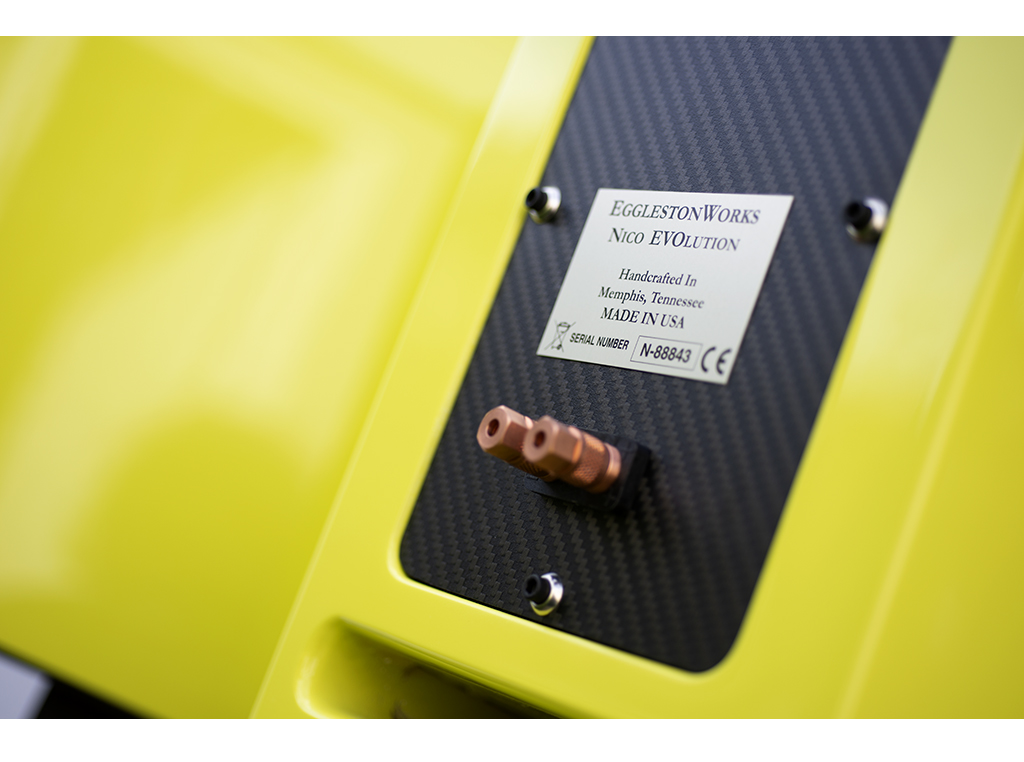 As mentioned earlier, the Nicos are slightly forward in their balance, but as someone who enjoys listening nearfield, this gives a big, almost planar headphone like experience. In comparison to something like a pair of comparably priced Harbeths, or even the less expensive Falcon LS3/5a. It all boils down to taste. If you'd like a pair of modestly sized monitors, with a broader frequency range and more sheer dynamic urge than the Brit-monitors, I would highly suggest the Nicos.
Keep in mind, these speakers are only slightly forward in their rendition, so you can achieve an overall tonal balance to taste (if necessary, of course) with some system fine-tuning and not leave the resolution that these lovely speakers offer on the table.
The resolving nature of these speakers is what makes them feel a lot more expensive than the price tag suggests. Whether tracking through heavily layered selections, either vocal or instrumental – they paint a big picture. Things don't get lost in the mix, and it's easy to see why recording engineers have such high praise for Eggleston.
Finally, these speakers offer a good deal of tonal correctness. It's easy to discern the sound of stringed and horn instruments and pianos sound as they should. I always tell readers and friends to find a speaker they can fall in love with and build a system around them. The Eggleston Nicos are speakers that can give you that relationship for a reasonable price, and thanks to the high level of quality they offer, they will grow with you as you upgrade components. The final icing on the cake is that you can have them finished to suit your environment for a minimal additional charge – a major bonus.
That certainly ticks all the boxes for one of our Exceptional Value Awards. And, they are #TONEAUDIOAPPROVED.
Please click here for the full specifications…