Leak's Stereo 130 Amplifier and CDT Disk Transport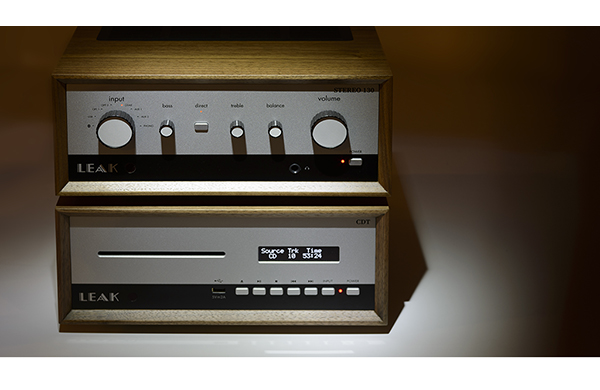 With so many old things being new again, what could be more hifi fun than an update on a British classic?
You might mistake the new Stereo 130 for a vacuum tube amplifier from the late 60s or early 70s; it's actually modeled after the original Leak Stereo 30, which was, in fact, a solid-state amplifier. Though Leak did make a vacuum tube integrated, the Type 15, in the mid – 1940s. (Maybe they'll bring that back to life next. We can dream, right?)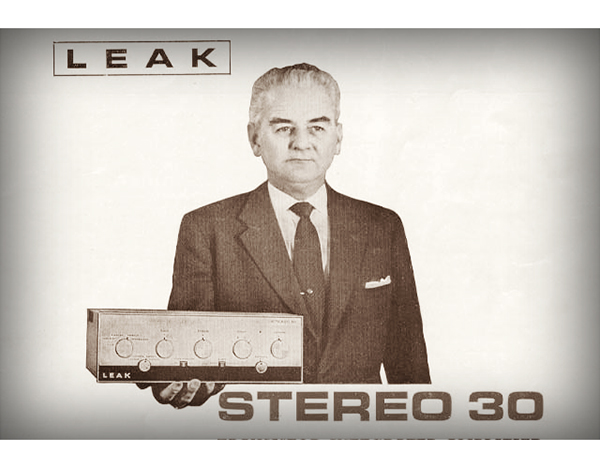 Beyond current parts updates, today's Stereo 130 still offers an onboard MM phono stage. Yet, where the original had an input for a tape head (which wouldn't be out of place), there are digital inputs. Which is perfect for the matching Leak CDT transport. Or your favorite streamer. At $995 for the amplifier ($1,195 with walnut cabinet) and $695 for the CDT ($895 with cabinet) this is a compact combination that looks great and is reasonably priced. But, how does it sound?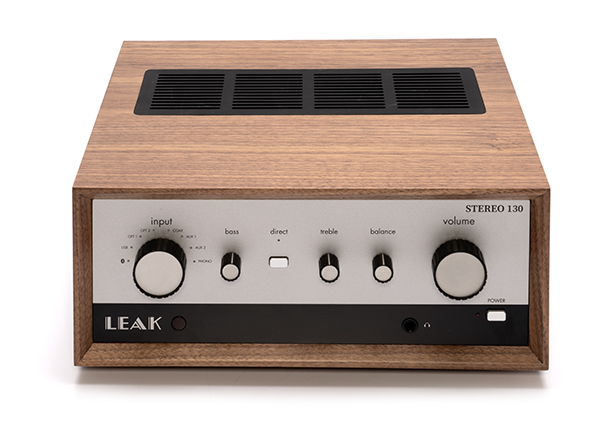 The Stereo 130's 45-watts per channel is just enough for most smaller spaces and more efficient-ish speakers. Of course, the Wharfedale Linton or Dentons are an excellent match, as are the 90db/1-watt Vandersteen Ones, or perhaps something like the Zu Audio Dirty Weekends. These offer a 97db/1-watt sensitivity and will blow you off your couch, Maxell guy style. Even the current Focal Kanta no.1s in for review (87db/1-watt) turned in an excellent performance with the Stereo 130.
Shiny disc time
The CDT only plays Redbook CDs, with a front, slot-loading transport, but it does a fantastic job. Should you need a CD transport that does not take up a ton of space, this is an excellent choice. However, it is designed to be a bookend to the Stereo 130. That is how we used it for the majority of our listening time. In addition to playing CDs, the CDT also has a USB-A socket on the front for a thumb drive, if you care to play music back in this manner. The controls are the traditional transport controls and a power switch – simple, basic, classic.
Around the back, the CDT offers a coax digital output and an optical output. Playing through the DAC in the Stereo 130, it was challenging to tell the difference between using either output. For the sake of exploration, running optical and coax SPDIF cables through our reference dCS Vivaldi One, the CDT's coax output did have a slight edge in musicality. The uppermost frequencies were smoother and more fleshed out. But even at this level of digital playback, it wasn't a staggering difference.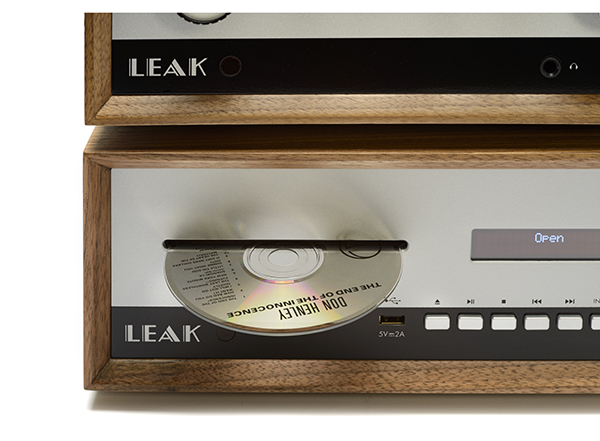 Digitally speaking
Most of our listening was with the CDT transport, yet the Stereo 130 offers several digital inputs for other devices. It's important to note that the Stereo 130 does not have a built-in network streamer. Yet, streaming Tidal/Qobuz/Roon from a MacBook Pro connected to its USB-B input proves easy and enjoyable no matter which format we played.
The DAC section of the Stereo 130 leverages the ESS Sabre ES9018 chipset, providing the ability to decode files up to 32/384 and DSD256. There is also a wireless connection with Bluetooth aptX support for high-quality streaming. This makes the Stereo 130 perfect for hanging out when you just want to stream some tunes from your mobile device. Or perhaps a friend's mobile device. Flexibility is the name of the game here.
No slouch in the analog domain
The onboard JFET phono stage does a cracking job with vinyl and your MM cartridge of choice. Staying with the British vibe, breaking out the Rega P3 with Elys 2 cartridge makes sense, as it's priced reasonably enough to be considered for pairing with the Stereo 130. However, our vintage Technics SL-1200/Shure M44 combination proves equally tasty.
Cueing up a few MoFi vinyl favorites from Supertramp, XTC, and Santana makes this a retro audio lovefest all the way around and shows off the quiet, dynamic character of the Leak's phono section. In the context of a thousand-dollar amp that has a built-in DAC as well, the performance is excellent and equally matched to the rest of the combination.  It's resolving enough that you'll be able to tell the difference in quality and resolution between a budget bin LP and your favorite audiophile pressing.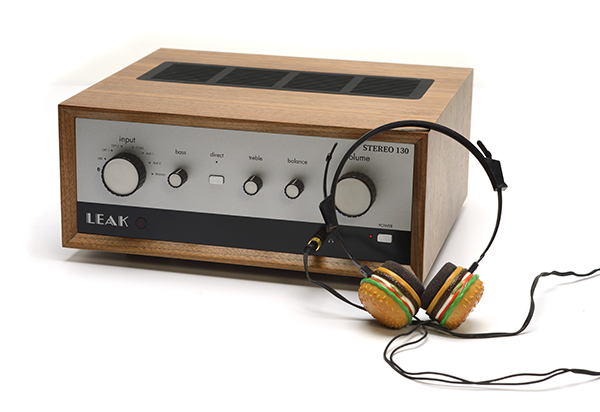 Don't forget the phones
The Stereo 130 includes a ¼-inch headphone jack on the front panel. Like its other sections, the headphone out is equally balanced in performance to the rest of the amplifier. Running a gamut of phones in the $100-$400 range from Grado, Audeze, and Sennheiser reveals excellent performance here as well.
The bass and treble controls (yeah, it's got those too!) really help with budget phones. They even made my hamburger headphones sound better than expected! Though many will scorn the tone controls (you can bypass them with the "direct" button), if you live in a less than an optimum room or have some less than awesome recordings, they do come in handy. There is no specification listed for the tone controls on the Stereo 130. Still, they cut in fairly quickly on both ends of the audio spectrum, so a little goes a long way.
Overall sound and use
The Leak combination offers good bass control with speakers with more low-frequency capability and surprisingly has no problem driving more difficult speakers. Even powering a pair of vintage Acoustat 1+1s (with two of the latest REL Tzero mk.3s in the system) proved engaging at moderate levels. You won't mistake the Stereo 130 for a tube amplifier, but its Class A/B has more punch than you'd imagine and serves the music well.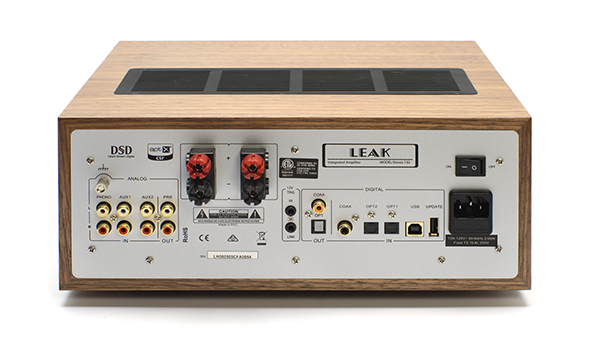 The key to the Stereo 130/CDT combination is overall balance. No aspect of its sound or functionality overshadows or shortchanges the rest. We achieved excellent results with several speakers in the $600 – $2,000/pair range, making this a perfect hub for a music lover on a real world budget. You can get great sound without spending five or six figures, and the Leak combo makes for a system to be proud of.
Thanks to their compact form factor (both boxes are almost 13 inches wide, 6 inches tall, and about 11 inches deep), these two should fit anywhere and sit nicely on normal furniture. However, both are pretty substantial, weighing in at around 20 pounds each, so they are somewhat deceptive.
We can tell that Leak obsessed over the details when they decided to bring the brand back to life. Fit and finish is very good and we consider the Walnut real wood veneer cabinets a must.
You'll either drool over the vintage/mid-century aesthetic, or be turned off and move to the more typical looking gear in this price range. But if you're in the "love it" category with us, these two components from Leak are a fantastic combination.