The McIntosh MTI100 Music System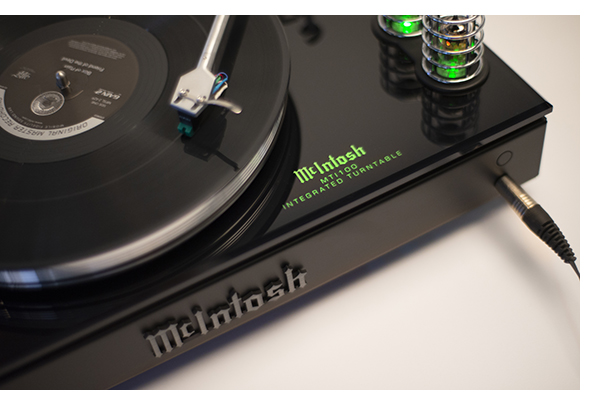 Not just anyone could build something like this, to the level it's made.
Who better than McIntosh, a company now in their 70th year of production, with a considerable amount of expertise in vacuum tube, solid-state electronics – both analog and digital, to come up with something like this…
At first contact, the new MTI100 looks like one of any number of turntables that might have an integral phono preamplifier, but it's much more. Along with a phono preamplifier on board to handle the factory mounted Sumiko MM cartridge, there is a vacuum tube preamplifier (with a pair of 12AX7s in full view) a high-resolution DAC and a 50 watt per channel (into 8-ohms, 80wpc into 4) power amplifier. All on one chassis. Pretty cool. This is where 70 years of manufacturing expertise comes to bear.
You might think something like the MTI100 would be an engineering nightmare, but the McIntosh team has pulled it off perfectly. There is no audible noise in any section of the MTI100. Phono and digital sections are free of playback artifacts, even with highly sensitive speakers.
All this excellence doesn't come at a budget price. The MTI100 tips the scale at $6,500. This is not an entry-level product. It's a boutique product. There is plenty of chatter from the crabby audiophiles in the audience for several reasons, but they are all missing the point. This isn't meant to be a modular, upgradable, rack system, though there is an output for a powered subwoofer. The MTI100 is a very stylish, compact music center.
Just add speakers
You don't buy an Eames Lounge because you need a chair. There are plenty of those at IKEA. Don't buy this because you merely want a turntable with a built-in phono preamplifier. You buy the MTI100 because you want to take a different approach – good sound, unencumbered by traditional componentry. And because you want something special, something with a history behind it, you want the security that comes with the McIntosh logo on the front. The McIntosh MTi100 delivers style and performance on all levels.
With 50 watts per channel into 8 ohms, the MTI100 drives most speakers with ease, and it's enough power to give you a wide range of speaker choices. As fate would have it, we just happened to have a pair of the new Sonus faber Minima Amator speakers ($4,000/pair) on hand, so all that was needed was to grab the supplied power cord, and connect a pair of Cardas Iridium speaker cables. What other high-end audio system can you set up in 90 seconds? And for what it's worth, we did plug the MTI100 into our reference Sonus faber Stradivari Homage speakers, so you can use them in a very high style system too. If you'd like to see the MTI100 in action, click here for the first of our "Music in Minutes" videos.
Going more "All American," we take a detour with the new JBL Classic L-100s. (also $4,000/pair) Combining these iconic speakers in the living room of our decidedly mid-century modern house, it's a system that's never felt so right across from the Noguchi table. But there's nothing ancient about the sound this system serves up.
As the MTI100 features Class-D amplification, the overall tonal balance is slightly thin in the upper register, but pairing it up with something ever so slightly on the warm side of things makes for a perfect balance. The JBL L100s, a pair of Vandersteen 1Cs, some Harbeths, or (of course) anything from Sonus faber will be outstanding. Your McIntosh dealer will also be able to make some great suggestions.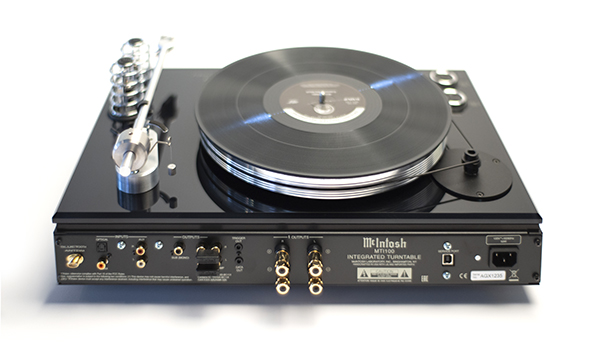 Multiple options
Cool as that belt-drive turntable is, making up the majority of the MTI100s form factor, it has three line-level inputs as well as two digital inputs. The onboard DAC processes digital files at up to 32bit/192khz resolution, perfect for music lovers streaming their content from a NAS or one of the more popular streaming services.
If you do feel the need to add more gear, like a tape deck, outboard DAC, or maybe connect your flat screen television to the MTI100 there are three single-ended RCA inputs, so expansion can be in the cards if you would like to go further. Adding the JL Audio's new in-ceiling subwoofer makes for an incredibly versatile 2.1 music and theater system with a minimal footprint. A large TV adds to the two-channel capability, creating a perfect backdrop for streaming your music collection, even when you're not watching movies.
It is a breeze to link an iPhone and iPad up via Bluetooth. A quick pairing has us sharing high res files from Qobuz in roughly a minute. This functionality is perfect when friends arrive. The MTI100 is a guaranteed conversation starter, and once your friends plug in via their mobile device, they'll be begging you to let them spin records.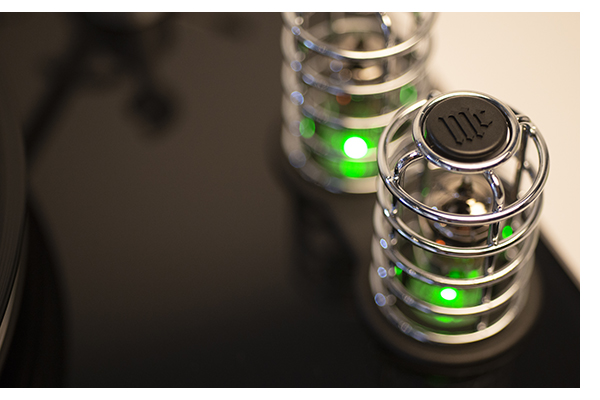 Spin away
Just like the rest of the McIntosh lineup, the two 12AX7 tubes on the top of the MTI100 glow orange until warmed up, turning green when the operating temperature is reached. Though real estate is at a premium and those tube cages beg to be removed, with their close proximity to the cartridge end of the tonearm, we suggest leaving them in place as the folks at McIntosh intended.
Thanks to that pair of tubes in the phono section, vinyl playback has more romance, both visually and audibly. Those tubes go a long way to remove the slight edge from the overall tonality, and spinning your favorite albums is just so much fun. The Sumiko sourced MM cartridge has a removable stylus, so if there's a situation, a replacement stylus shouldn't be much more than $100 – $150. If you entertain a lot with a vinyl friendly crowd, it might not be the worst idea to have a spare on hand. Again, your McIntosh dealer should be able to set you up on this.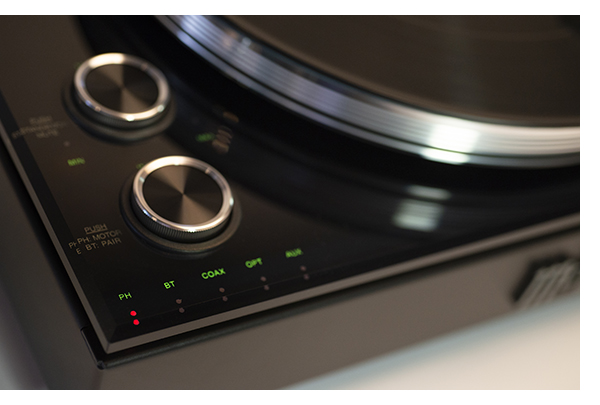 Speaking of setup, the turntable section of the MTI100 couldn't be easier to get rolling. Install the belt, place the platter on top, and install the counterweight. If you want to upgrade the sound of the MTI100, a better MM cart could be installed and aligned, but this does slightly defeat the ease of setup/ease of use ethos that the MTI100 brings.
Don't forget the phones
For some of you in a really small space, you may want to use your MTI100 as a super cool personal listening station. We ran it through its paces with a number of headphones, from our Audeze LCD-1s, all the way to the AXISS Dianas and Focal Utopias. The on-board headphone amp is more than up to task, and will satisfy the most demanding headphone user. This was definitely not an afterthought.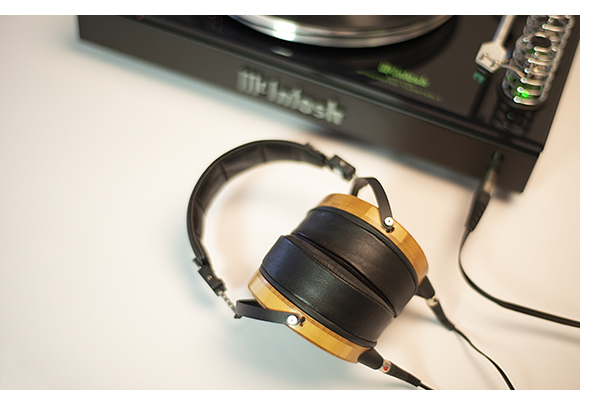 Know thy customer
Living with the McIntosh MTI100 for a while proves it is worth the price asked. The level of quality, functionality, and audio performance makes it the perfect purchase for anyone wanting a high quality, all-inclusive music system. It is not a substitute for a rack of separate components, but you'd be awfully pressed to find a turntable/arm/cartridge, phono preamplifier, streaming DAC, and amplifier (along with four power cords, four sets of interconnects and a rack) that all work together for this price.
But as mentioned at the MTI100 is so much more than that. This is a piece of sonic artistry, that provides high-end sound from all the sources you can imagine, and looks great doing it. For many, this and a great pair of speakers will be a destination music system. For others, it will be a second or even third system. And I'm guessing there will also be a few die-hard, completist McIntosh collectors that will just have one because…
Much as I hate to profile anyone, I suspect the MTI100 will appeal to what I refer to as the "qualityphile" customer. This customer liking solutions off the beaten path, that are as technologically curious as aesthetically motivated. Gazing into my crystal ball, I expect the MTI100 is going to end up in some very design rich environments, and cherished by its owners.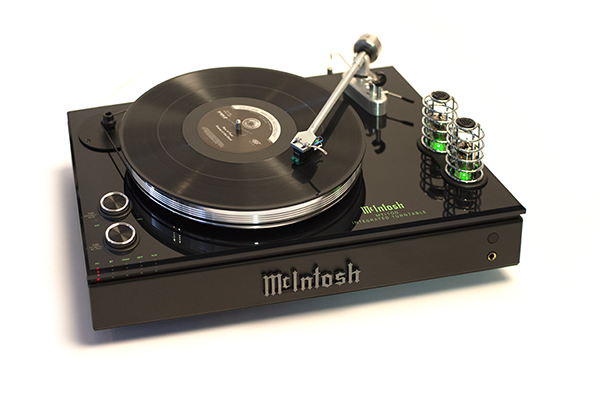 We've decided to make the MTI100 The Audiophile Apartment's Product of the year for 2019. Click here if you're curious about what else we've picked.