Rotel's CD 11 and A11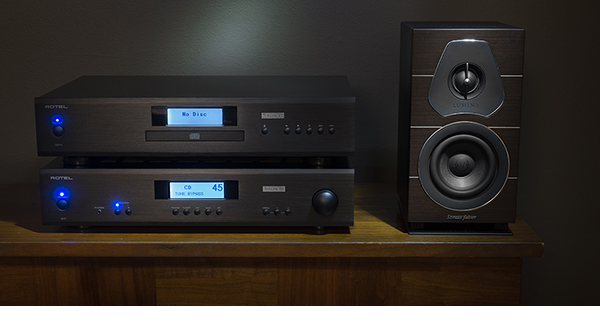 Back in the late 1970s and early 80s, Japanese hifi manufacturer Rotel was one of the top value proposition audiophile brands. Though not possessing quite the cache of top brands like Mark Levinson and Audio Research, many a budding audiophile brought home a Rotel RA 913 or RA-2030 integrated amplifier to start their journey into the high end. Their products have always offered high build quality, a clean design aesthetic, and most of all, great sound.
Rotel has never left the audio world, but has always had somewhat of a quiet legacy, going about their business building great gear. However, in the last five years or so, they've been making a bit more noise so to speak, and their latest products retain all of their key values.
They join us here with two models that celebrate the current rebirth of the integrated amplifier, the standalone CD player, along with the recent passing of audio legend, Ken Ishiwata. Long known for his relationship with Marantz, Mr. Ishiwata was the most well-known of Japanese hifi designers, and always a joy to engage with at hifi shows. He was somewhat of a creative director, taking designs, listening carefully, and making suggestions to improve them further.
Unfortunately, Mr. Ishiwata passed away right before the completion of the Tribute models, but the Rotel team implemented his suggestions in the final designs, a real testament to his legacy. Even a quick listen out of the box shows that these are indeed special components, well within reach of any music lover.
The Rotel A11 and CD11 Tribute models from Rotel are the last two pieces of audio gear to bear his imprint, and like everything else he's had a hand in, are fantastic. At $699 and $499 respectively, this 50-watt per channel integrated amplifier and compact disc player go about their business in an understated way. If you need a plethora of inputs, outputs and functionality, this may not be the combo for you, but if you want the core for a straight-ahead system that delivers the sonic goods, read on.
More than enough power
Most small to moderate space dwellers should be just fine with 50 watts per channel, and lifting the top on the A11 reveals the necessary ingredients: a hefty power supply with big power transformer, a discrete, class AB power amplifier, complete with heat sinks, and enough control facilities to add a turntable, CD player, and tuner or tape deck.
The A11 has an onboard DAC, featuring a Texas Instruments chipset, it is only a Bluetooth streamer, with no optical or SPDIF inputs. The CD11 CD player provides both an anlog RCA output as well as a coaxial output. This is the only shortcoming of what is an otherwise excellent pair. As good as their performance is, it's a shame you can't plug a laptop or budget streamer in to increase the functionality of these two excellent components, but it's understandable that Rotel drew the line in the sand here.
Half of our listening was done with our reference pair of Sonus faber Lumina 1 speakers, while the rest was split between a pair of Martin Logan Motion 15i's, the Golden Ear BRX's, and Totem Sky's. All excellent choices in the $600 – $1,600/pair range. There were no anomalies with any of these small speakers, and we'd suggest any one of them.
The overall sound of the A11 is natural – neither embellishing, nor subtractive in nature. Thanks to a discrete amplifier section, the tonal saturation present is more engaging than many similarly priced integrateds featuring class-d amplification. Not only is the A11 worthy of both the Rotel name, and the legacy of Mr. Ishiwata, it reminds me of another legendary integrated, the NAD 3020.
Offering great bass control, clear mids, and a smooth high end, this amplifier is destined not only to be a classic, but one that will stay in your family for years. Whether buying your first hifi system, or a second system for somewhere else in your house, the A11 provides engaging sound that you will not tire of.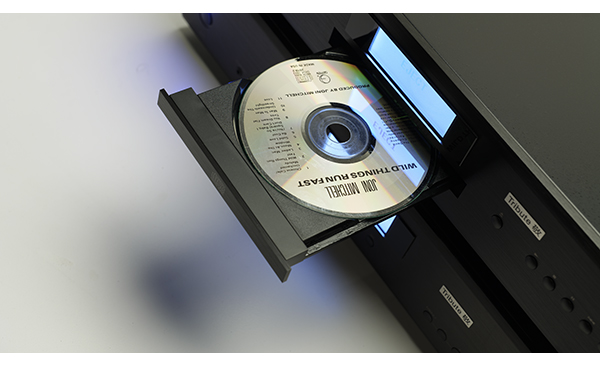 The shiny disc
Much like the vinyl record, the CD is also enjoying a bit of a resurgence. Used record stores and online shops have a plethora of discs available, and at reasonable prices. For those of you that either aren't streaming, or just enjoy the physical act of playing a disc, the CD11 does not disappoint.
Good as the A11 is, $499 in 2020 is about $88 in 1983. Those of us that were there at digital audio's beginning know what rubbish even a thousand-dollar CD player sounded like back then. The A11 goes about its business, just playing CDs. As mentioned, there is no provision for streaming, or even a digital input to connect your laptop, so it serves one purpose only. At this price, even if you no longer have a massive (or any at all) digital disc collection, it's much like picking up an entry level Pro-Ject or Rega table. A few days of online shopping will put you a pretty diverse collection of 50 to 100 discs in no time.
The overall sound is solid, and smooth. This is a very un-digital sounding player, that compared to a late 80s player (that we won't name) is amazing. Truly, the only thing the CD11 lacks is a level of resolution that the big bucks digital does. However, in the context of the amplifier, and a like priced pair of speakers, it's going to be tough to get this level of involvement out of a $499 turntable and bargain records.
Playing MoFi copies of a few Santana favorites (Abraxas, III, and Caravanserai) where the CD11 only captures the 16/44 layer is a joy. Music comes through with a lack of grain, clean top end and great dynamics.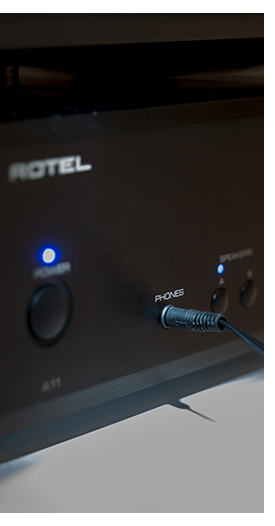 The black disc
The A11 also includes an excellent MM phono stage. As we still had a Pro-Ject Debut with Ortofon 2M Red hanging around, and our long-standing vintage favorite Technics SL-1200mk. 5 with Shure M44, it was time to spin some records. This amplifier turns in a fantastic performance. The phono input is quiet and composed.
Having used a few Ishiwata inspired designs, I can't help but hope he had a major say in final tweaking of the phono section. Thirty seconds in you can tell this is not an afterthought, but respectfully aimed at providing an engaging experience for the new vinyl enthusiast.
Both cartridges worked great with the A11 – the channel separation is excellent, producing a very wide soundstage, with great delineation of instruments. We even tried the Technics SL-1100/Denon 103 MC combination with a Bob's Devices step up transformer. Again, the Rotel delivers big sonics. Playing the new Anne Bisson LP, Keys to my Heart, was absolutely dreamy. Ms. Bisson and her crew of vintage jazz cats made for a bold, engaging sound.
The phone
Though you can't plug a laptop or streamer into either of these components digitally, you can stream your mobile device via Bluetooth to the A11. This is probably the only part of the A11 that feels a bit out of balanced, so I would almost suggest this amplifier and disc player combination to someone favoring physical media. Regardless, at least being able to stream tunes in the background, at dinner or a party via your phone is still acceptable. Again, kudos to the Rotel design team of including such a great amplifier and phono section for this price, having to add a digital input probably would have bumped the MSRP up a hundred bucks or possibly two. And, you can always add a streaming DAC instead of the CD11 if you have no need for digital physical media and still have a formidable combination.
Finally
We also need to mention a few last things. Fit and finish of this pair are way beyond par for their respective price points, but Rotel has always done a fantastic job in this department. The simple remote and the user interface are both intuitive and easy to use. It was a breeze to get these two rocking without the need for the manual without issue.
And…the A11 has tone controls. Laugh if you want, and yes, it sounds slightly more transparent with said tone controls disengaged. Apartment dwellers and those not able to put their speakers in the optimum audiophile position will appreciate a little bit of boost and cut – as will those streaming from a mobile device.
In the end, I challenge you to find a better sounding pair of components on which to anchor a good, entry level music system. The Rotel A11 amplifier and CD11 disc player are an honor to their makers. Two very honest components that do a great job at their tasks. It doesn't get any better.
The Rotel A11 amplifier and CD11 Disc Player
$699 and $499