The Focal Chora 806 Speakers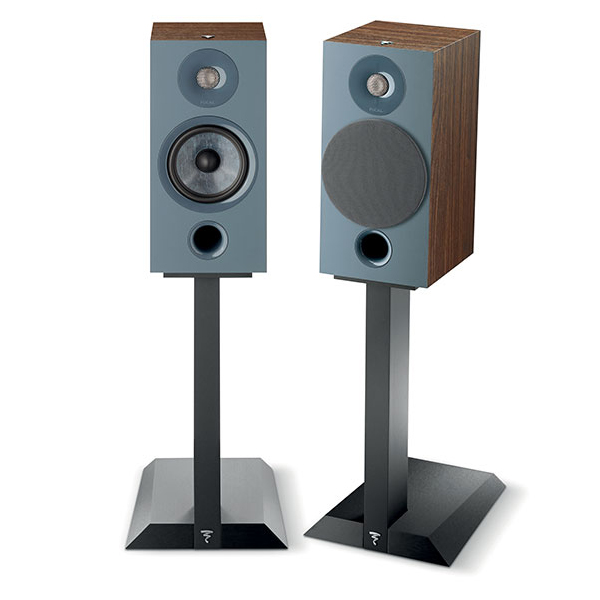 Over the years, the TONEAudio team enjoyed many opportunities to evaluate Focal speakers, including their stunning flagship Grande Utopia Evo, as well as the Stella Evo's currently here on audition.
While Focal's cost-no-object speakers offer a revelatory musical experience, most of us will never have the financial means to own a pair. Of course, Focal understands this reality and offers many other price-performance speaker options in their lineup. The Chora 806 bookshelf speakers we review here retail for $990 (plus optional stands, $290), demonstrating Focal's commitment to offering high-quality and financially-friendly speakers. While these stand-mounters serve well as a stereo pair, those looking for a line of matched speakers for their home theater setup will find the Choras equally at home.
France's Focal resides among a shortlist of manufacturers who design and build their speaker components in-house. Therefore, the Chora line benefits its listeners with trickle-down technology borrowed from more expensive speakers in Focal's arsenal.
Like the 806's floor-standing siblings, the stand-mounted Chora employs a one-inch aluminum-magnesium tweeter above a 6.5 inch (16.5cm) midrange. The driver cone uses Focal's proprietary "Slatefiber" material combining recycled non-woven carbon fibers and a thermoplastic polymer. While non-conventional, the elements certainly deliver the sonic goods. A front port for bass reinforcement complements the midrange and tweeter. The port placement gives owners more speaker placement flexibility since the 806 can reside closer to a rear wall without bass over-emphasis.
The Chorus 806 is a hefty "bookshelf" speaker at 16.2 pounds (7.35kg). The utilitarian, modestly finished cabinets measure 8.25 inches wide by 10.5 inches deep by 17 inches in height (21x27x43cm). For more detail about the speaker specifications, check out Focal's 806 spec sheet.
The Chorus line offers black, light wood and dark wood finishes to complement most décor. Prospective owners with young children will also appreciate the Chora line's removable grille covering the woofer, plus the tweeter's perforated metal armor to help deter small fingers.
Placement/Setup
To hone your speaker placement, Focal offers a mathematically-based positioning guide, which you can learn about in their incredibly well produced manual. As always, experiment in your room to determine what sounds best to you.
Once locked into an ideal location, the Choras can do an excellent job of three-dimensional projection. Using Stereophile's Test CD's "natural stereo imaging" track, the speakers do a terrific job keeping up with the recorded material – especially for boxes at a sub-$1k price point. As David Chesky circles an omnidirectional microphone in the recording space while beating a drum, sound travels in a similar lap around the listening space and projects to the far sides of the listener, and even behind the listening chair. For more traditional stereo recordings, the Chora 806 also does a great job of separating instruments across the front soundstage giving each element a defined presence.
The 806 employs an unusual binding post. Yes, it does serve to accommodate bare wire, banana, or spade terminated cables. Those using speaker wire with banana ends will need to find a thin bladed screwdriver to gently pry the covered caps off.
Even when driven by a modest classic 35-watt NAD 3020 integrated amplifier, the speakers come to life in remarkable ways. For a critical evaluation of the speakers, though, the usual upstream reference rig with a Conrad-Johnson ART150 amplifier lets the Choras sing to their full potential.
Rewards come to those who wait. Over a 24-hour break-in period, the 806's sound evolves beneficially and settles into a smooth and well-balanced sonic presentation. The Chora's voice is just a hint to the warm side of neutral. While they do offer substantial treble reproduction, they also avoid stridency and sibilance, as noted during Zero 7's song "Distractions" that features Sia Furler's powerful and beguiling vocals.
The 806's voicing is a bit akin to being in the 10th row of a concert hall. Some of the front-row details diminish, but the whole musical picture reaching the ears proves highly engaging. "This Mess We're In" featuring PJ Harvey and Thom Yorke retains its goosebump potential. While the singers' placements in the mix overlap front-and-center during the chorus, they remain well-articulated and separated perceptually. Instruments including strings, horns, piano, and percussion render with a substantial degree of separation and realism too.
The 806 is also forgiving. Older tracks like "Sugar Man" by Sixto Rogriguez are fun to hear despite the original recording's limitations. Even the worst-recorded song I love, "Hi Babe" by the Ngozi Family, sings forth with a surprisingly compelling nature.
For those who like to rock, Rage Against the Machine's "Bombtrack" proves revelatory too. Given the small cabinet size, low-frequency roll-off is inevitable. However, the Focals do a great job reproducing and articulating bass notes above 60 Hz or so. That said, expect punch, not slam, from the 806.
The Chora 806's soundstaging capability, complementing their marvelous sonic reproduction, offers an immersive experience generally associated with speakers costing much more. The Chora 806 speakers provide an open and emotionally-engaging window to the music. Moving up the Focal line gets a prospective owner more detail, increased realism, deeper bass, and much more aesthetically-appealing cabinets. Track after track, though, I remained impressed with the 806's capability.
Summing up
Focal Chora 806 speakers offer wonderful sound and build quality at a very reasonable price point. If you have a $1,000 budget for speakers, the 806 is an excellent choice. For those who desire heartier and deeper bass reinforcement than a stand-mounted speaker can offer, the floor standing iterations in the Chora line — or the addition of a subwoofer — will help satiate that thirst. Either way, you can't go wrong. The 806 can easily anchor a budget-friendly system now and rise to the challenge as other upstream components come and go over time.
Additional Listening: Jeff Dorgay

While many grouse about flagship loudspeakers, the Focal Chora is a perfect example of vertical manufacturing done right. There are precious few manufacturers left in the world that make their own cabinets and drivers – Focal is one of the select few. Because they make everything in-house, they can put so much more value into a thousand dollar pair of speakers than a company that has to outsource everything.
This is why the Choras are such a great deal. With Focal's Stella Utopia Ems playing in my living room, it's easy to see (hear, actually) just how much Utopia DNA is present in the Choras. Granted these speakers do not have the adjustments, or the sexy, curvy cabinets of the Utopias, but the same people that design, manufacture and assemble the top range Utopia speakers build the Choras with the same materials.
There's a level of sonic sophistication present in the Choras that is absent in most other speakers at this price point. The Focal "house sound," if you will, is one of resolving detail without being harsh. Rob's assessment is spot on, and comparing the $1,000/pair Choras to the $150k/pair Stellas, it's amazing at how much of that house sound still comes right through, especially when listening to music slightly less dynamic, or a little lacking in super low bass information.
These are incredible speakers for someone just getting into the hifi game, and more than worthy of one of our Exceptional Value Awards for 2020.