Teenage Engineering OB-4
Portable music for those on-the-go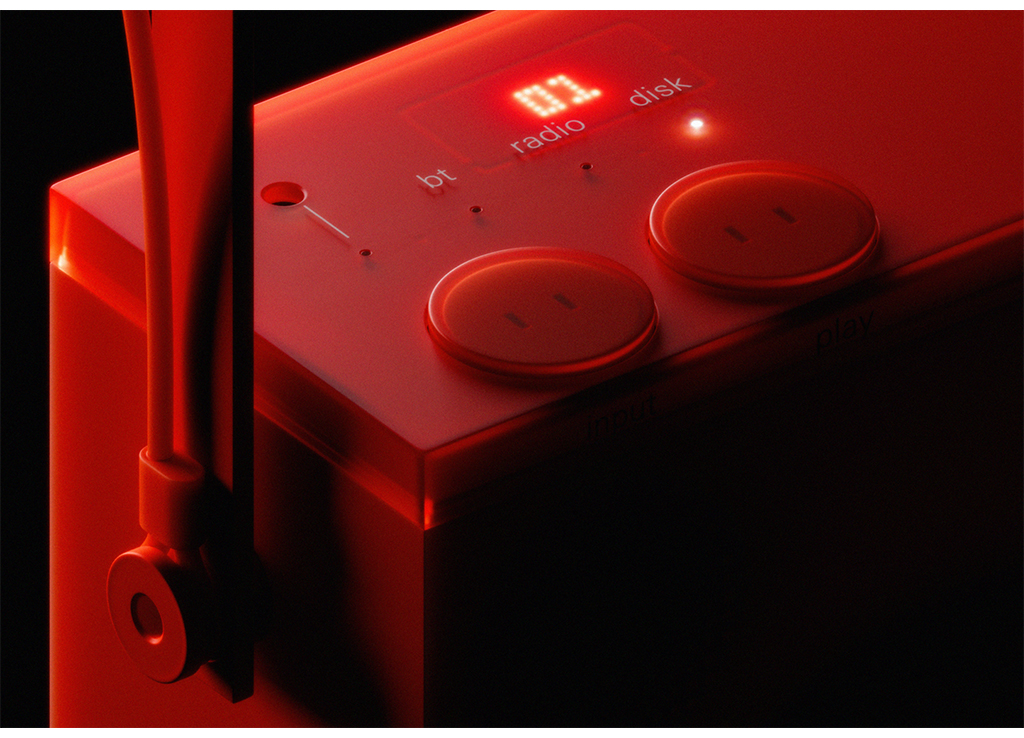 By Rob Johnson
I still remember my first stereo, a 1981 Sony Boom box, which served as a loyal companion from middle school through college. It finally failed after a decade of use. However, my nostalgia for the old-school portable form factor persists. So, I'm thrilled to see Teenage Engineering, a Sweden-based company, bring back the classic handle-topped design in a smaller and lighter package with sleek aesthetics and modern technology under the hood. While the company's name might conjure an image of whimsical product designers, make no mistake. The OB-4 is a sturdy and very capable audio companion.
The Teenage Engineering (TE) OB-4 measures a compact 9.2 x 11.2 x 2.3 inches (233 x 284 x 58 mm) and weighs in at a scant 3.75 lbs (1.7 kg). It contains a rechargeable battery that makes it easy to take your tunes anywhere you go. Driven at high volume via a Bluetooth connection a listener can expect about eight hours of playback. However, low radio volumes will provide a couple days of music before a needed re-charge. Rotated backward, the OB-4's handle can support it in a reclined position making it equally at home on a countertop, the floor, a driveway, or on a stump next to a camping tent. TE even offers a customized OB-4 backpack with a mesh front, sold separately.
Fun Features
OB-4 offers a choice of three input sources: a 3.5mm stereo mini-jack, a built-in FM radio, and a Bluetooth connection. On the top panel, the OB-4 has a very streamlined user interface with a minimal number of buttons and dials. Depending on the source, control buttons serve different purposes. An owner can also download a basic "Ortho" remote control app for Apple and Android devices. Those who want a dedicated, hands-on remote can purchase the cool-looking, circular "Ortho" remote from TE's website.
For FM listeners using the OB-4's buttons, picking a station is easy. Simply push the "play" button to scan for available stations until a tiny LED screen confirms the correct destination. Holding down the "input" button and tapping the "play" reverses the scanning direction. The TE's handle comes equipped with a built-in antenna. However, to assist in reception-challenged locations, a secondary, removable antenna proves handy. One end of that coiled antenna has a hook to facilitate connecting it to a window blind or even a nearby tree branch for better reception. That supplemental antenna can store neatly in the OB-4's handle or removed entirely when not needed.
Those wanting to hear device-streamed or stored music will enjoy the simplicity of the Bluetooth source option. Once connected to the OB-4, the phone's volume buttons control the TE's volume knob. The OB-4 sounds marvelous with any music thrown at it. However, a user cannot stream high-resolution music that exceeds Bluetooth's capability. Some might prefer using the OB-4's 3.5mm stereo input.
The OB-4 offers another music source option that requires some explaining. While the unit does not feature line-outs for external recording, it does have a fun, partial workaround built in. As music plays, it's captured by a two-hour, constantly-rolling digital "tape" recording. After two hours, "old" music starts to disappear, replaced by new. A tiny wheel on the OB-4's top edge physically spins while the recording process takes place. It's both humorous and beguiling to watch the process in action. Anytime a listener wants to revisit the past, spin the wheel counterclockwise to hear previously enjoyed music. The opposite action moves a listener forward until they catch up with real-time sources. It's irresistible to play with the controller, even if it's just a quick spin now and then. While a user twists the wheel, there's an old-school DJ "record-scratching" sound. When the wheel stops moving, cached music resumes playback from that point.
The OB-4 has other quirky features, too. The OB-4 has a built-in metronome, a Yoga Mantra setting, and some ambient sounds which – as I've discovered – do a great job of encouraging sleep. Be sure to check out the OB-4 manual for more details on ways to loop music and more.
Super sonics
The OB-4 may be small, but the TE team managed to squeeze in two tiny tweeters, a pair of 2.5-inch midrange drivers, a bass port on the lower left side, and a 38-watt-per-channel amplifier. The midrange cones' position, one-third the way down the OB-4's front, makes them look like giant owl eyes. It's endearing, but don't underestimate those little things! They manage to push forth a surprisingly loud, clear, and detailed sound.
Unlike the tweeters, the midranges do not have protective grilles over them. While they recess slightly into the OB-4's body, the potential vulnerability is still a little anxiety-provoking. The OB-4 is designed for portability, but there's a very real possibility of a dented cone if the owner gets overly cavalier and tosses the OB-4 into a car trunk or bag.
The OB-4's specifications suggest low-frequency reproduction in the 52Hz range. There's a caveat to the TE's bass prowess, though. As with large stereo speakers at home, placement is critical. If positioned too close to a rear wall bass boominess can result. If too far from the wall, the bass can disappear. As a portable stereo, it's easy to position the OB-4 anywhere needed to find the perfect Goldilocks zone. When in a room's corner or near a rear wall, natural bass loading kicks in. So, in a way, the TE offers an ultra-manual tone control. Find the sonic balance that works best for you.
Nobody should expect the OB-4 to exceed the high-resolution sonics or stereo imaging capability of a good component system because it is not designed to. But despite the inherent limitations of a boom box form factor, the OB-4 does a great job of delivering the musical goods. Sound-wise, it strikes an excellent tonal balance with slightly warm, stridency-free playback even at high volumes.
Summing up
Three close friends own and use their OB-4s regularly. The boxes move around the house to deliver music anywhere it's needed. When we rent a vacation house together, there's always an OB-4 playing non-stop. An OB-4 also joined our trip overseas and enhanced our downtime with music wherever we went. While other small, single-purpose Bluetooth speakers may be less expensive and easier to carry around, I've encountered few that approach the OB-4's musical presence.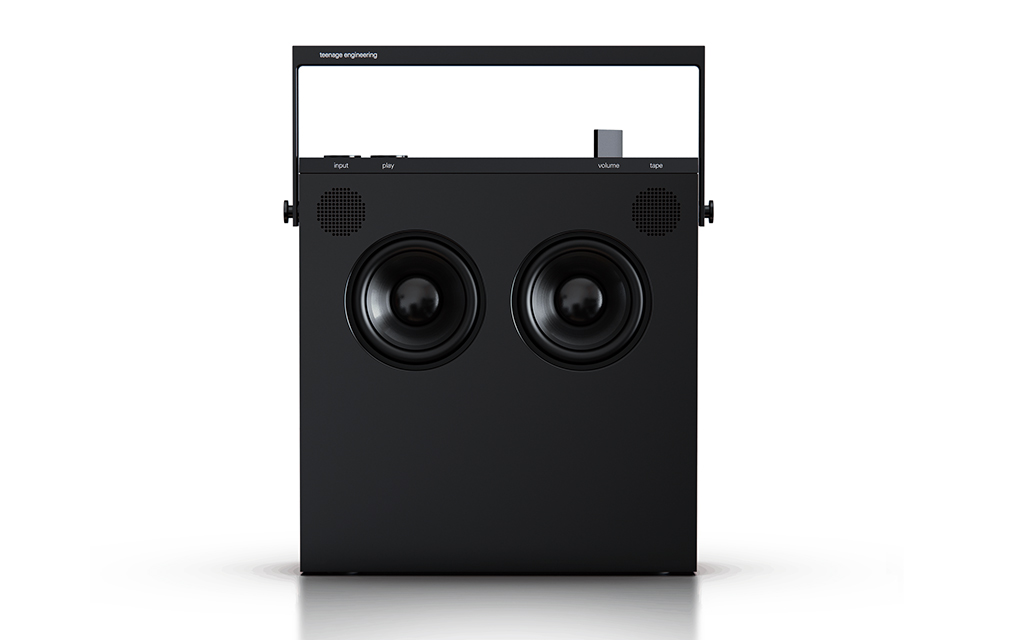 At $649, Teenage Engineering's mini stereo isn't cheap, but it does not sound or feel cheap either. The OB-4 is a durable and creatively purpose-built device that reimagines the classic boom box style with a modern twist and unique features. Those who enjoy sound on-the-go will find their OB-4 a marvelous complement to their home audio system — or even as a one-box primary listening device. It's a worthwhile investment for those who enjoy great sound anywhere.
Teenage Engineering also produces several other products including electronic musical instruments and even a tiny turntable kit that lets its owner cut their own one-song records. Check 'em out here.
Teenage Engineering OB-4
$649 in matte black, $699 in gloss red