REVIEW: The Clarus CODA DAC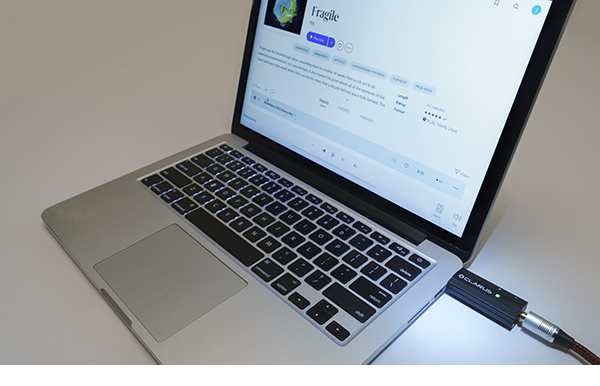 It's amazing how much DAC performance is available for $300 these days. Clarus Audio is much better known for their cables and power conditioners, but their first entry into the portable DAC/Headphone amplifier puts them squarely at the head of the class.
For many of you, the product you're much more familiar with is the AudioQuest Dragonfly. Somewhat long in the tooth, the Dragonfly hasn't really had a major challenger until now. The Clarus CODA has higher maximum resolution, and the ability to unfold MQA files. If you're part of the "MQA is just snake oil" mafia, this will be of no consequence to you. We can all argue about that at a distant hifi show if we ever make it all to the same room at the same time.
For now, those of you that are streaming music via Tidal, where MQA files are available, you will probably want to take advantage of this functionality – and the Coda does an excellent job with decoding these. The blue LED on the front of the CODA (indicating 16/44, or standard definition files) will change to green for high resolution files, and turn magenta when MQA files are present.
Jumping right in with Chicago V's first track "Hit by Varese," the Coda turns magenta (confirming an unfolded 24/192 file) and when comparing things to a standard, ripped 16/44 file, delivering high resolution playback, with a smoother, airier, more relaxed sound. Using a pair of $200 Grado phones, the difference between high res files, or MQA versus standard CD resolution was not terribly noticeable. However, when stepping up to the Audeze LCD-2s or the Focal Stellias, the ability to resolve extra information is well worthwhile.
Fly swatter
Some quick back and forth comparisons prove the Coda to best the Dragonfly in every aspect of playback, and the better your phones, the more the advantage will fall to Clarus. But like the world of racing, where Mercedes was making horsepower last season, Honda may just surprise us all this year, which took my next listening session to my iPad and the first Grand Prix of 2021, where Max Verstappen's Honda/Red Bull nearly put the wood to Louis Hamilton's Mercedes. No doubt, the next round of these little miracles will prove more competitive, but for now Clarus is the one to beat. Listening to the cars zoom in and out of the pit sounds incredibly lifelike with the CODA in the equation.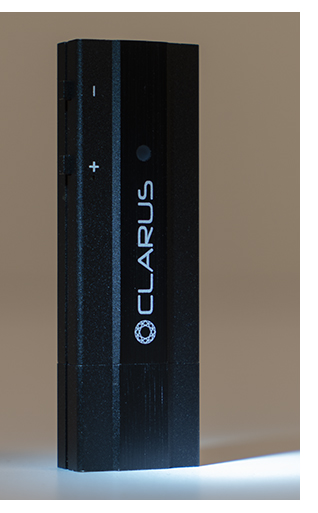 Checking out a few things on Netflix, found a few of my favorite shows offering up high-resolution sound. Much fun as listening to high res tracks are with the CODA, the level of sound design that goes into today's shows often shows off what a great pair of headphones combined with the CODA can really achieve. The desolate, atmospheric, tinkly soundscape of DARK proves even more engaging with the CODA, opposed to the straight headphone output of a Mac Book Pro. My apologies for the obvious audiophile cliché, but using the CODA goes a long way to making the headphones feel as if they have disappeared on my head.  This is indeed big sound.
The CODA plugs directly into a USB port, and it is supplied with a USB-C adaptor, which works well with an iPad Pro, but will not plug into current iOS phones. It's a shame Apple messed with us in this manner. The CODA is such a worthwhile addition, makes me want to switch… There are no batteries to deal with, nor drivers to to install. Mac or Windows it just works, though I did find on the Mac side it was necessary to use the MIDI control panel to access higher resolutions.
Regardless of program material, the CODA is bold and dynamic. While it uses the latest version of ESS Sabre chip, what really sets this mini DAC apart from its competitors is the amplifier and analog section. The true smoothness and lack of grain that the CODA portrays shows just how far digital has come not only from its early days, but even in the last few years.
A great home digital experience
What will really blow you away is using the CODA in the context of a home, 2 channel audio system. Dusting off an older Mac Mini as a ROON core, and the CODA as a preamplifier to drive a recently upgraded Dynaco ST-70 and a pair of Zu Dirty Weekend speakers makes for an incredible, yet reasonably priced audio system. Good as the CODA is driving headphones, if you don't need analog, or if you're looking for a great digital front end on a low budget, I submit the CODA is outstanding.
In this context, it was easier to hear and evaluate the sound quality of the CODA. This mighty little DAC produces a massive soundstage, and while we caught a glimpse of it with various headphones, it's low frequency performance is tremendous when used as a source component. The CODA also does a fantastic job with offering a lifelike performance with acoustic instruments, with an absence of grain. Listening to violin, piano and acoustic guitar pieces is a true treat.
You just might end up buying two
A combination of music, movie, and racing makes the Coda a must have, and for the day when we all start traveling again, this is going to be one accessory you'll want to have in your suitcase. Yet it makes such a great all – around digital device, you might want two of them.
The Clarus CODA more than qualifies for one of our Exceptional Value Awards for 2021. The performance bar has been raised.
MSRP: $300