Gold Note A3 EVO Speakers
Mini Italian Miracle
By Jeff Dorgay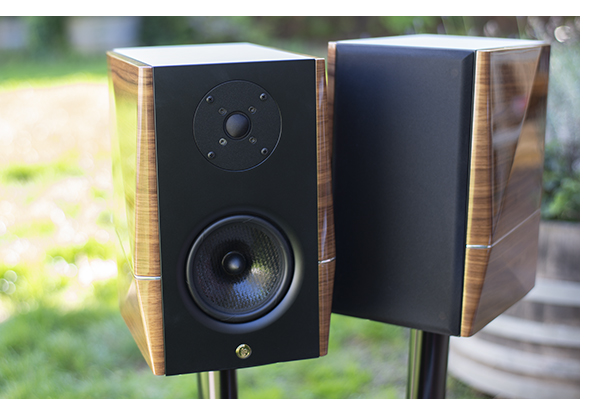 Many of us think of "that other company" when we think Italian loudspeakers, but the team at Gold Note is a serious contender, making their way into North America, after achieving major success in the rest of the world.
We've been very excited with the performance of the Gold Note electronics we've used so far, and our first experience with the small A3 EVO you see here is equally good.
This 5-inch, two-way, compact monitor delivers an incredible wallop for its small size. This gorgeous little pair of speakers is like a tuned Fiat Abarth. More sound and fun than you'd ever think could come from that small shape. Starting the listening with some jazz fusion from FORQ, via the VAC Sigma 170i amplifier, sets me back in the chair, Maxell man style.
Design choices
Everyone has their preferences, but I've always loved silk/soft dome tweeters. While not the champions of getting the last few molecules of musical detail like a diamond or beryllium tweeter, there's an organic nature to the soft dome presentation that keeps me in the chair for hours on end. The SEAS sourced tweeter in the A3 EVO is a perfect balance of high resolving power and tonal smoothness, without being slow.
Cymbals fade off into the background with a natural ease, and acoustic instruments have a natural palpability that always engages. Transitioning from FORQ to Michael Hedges' Aerial Boundaries, his blisteringly fast guitar work is truthfully rendered, and this record is always somewhat of a challenge. Yet, the EVOs succeed brilliantly.
The cabinets are beautiful, as you'd expect – these are Italian speakers, of course! Available in black or walnut, they've kept choices down, to keep the price in line. Every corner, every joint is exquisitely finished, to the same standard as their flagship speakers. The pride in manufacture shows the minute you get them out of the box.
Around back, a single pair of high quality binding posts get the job done, and the rear firing port is an aluminum tube. Precision and care in assembly is everywhere you look. These are speakers you will be very proud to own and show off in your listening environment. As it should be.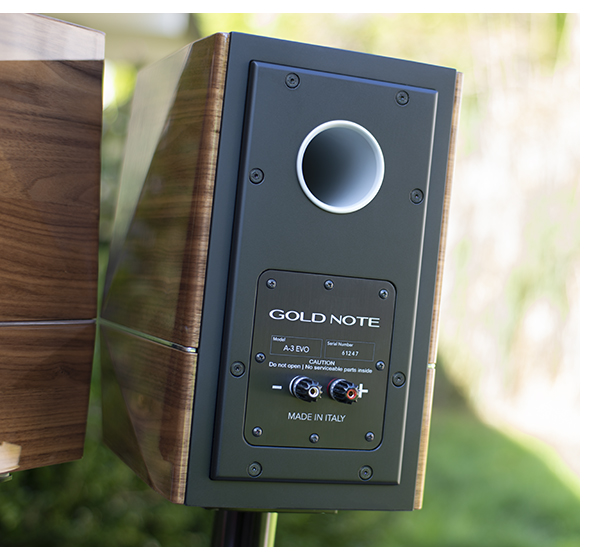 Setup and such
The A3 EVO are tiny, but not as light as their small size suggests, at a little over 20 pounds each, they will give you pause when you lift them out of the box. Gold Note packs them with care, and even installs a plastic tweeter cover (magnetically attached) to prevent damage. Make sure to remove the grilles and remove these covers, or you may be horribly disappointed at the lack of treble response when you first fire them up!
Your listening chair position will determine the tweeter height, or you can just use the Gold Note stands and adjust from there. We tried 20, 24, and 28 inch stands, settling on 28-inch for the best balance in our listening room. Horizontal dispersion is good, so if you have to place the speakers at less than the perfect height in your listening room, a bit more toe in will easily compensate.
Finally, whether you'd like a more immersive listening position or a larger stereo image, with a bit more bass response will determine whether you'd like corner placement or nearfield. Again, both provide excellent results, yet with the speakers in more of a corner placement, they produce an incredibly large soundfield in the room. For many of you wanting big speaker sound in relatively small quarters, the A3 EVOs can be your ticket to ride.
As a two-way speaker system, with a rated sensitivity of 87db/1-watt, the A3 EVOs benefit from a little bit of power to achieve higher sound pressure levels. Again, this depends on your desired result. If you're listening to music with smaller dynamic swings and don't require high volume, your favorite 30-watt per channel amplifier will get the job done, and if nothing else, provide a great place to start. With these speakers it's definitely about quality instead of quantity.
Those wanting to rock the house more, will want to move up to an amplifier in the 50-100 watt range to get the little A3 EVOs to move serious air. But remember a 5-inch woofer can only do so much. Just as my little Fiat Abarth is a sheer blast to drive between 25 and 85mph, so are the A3 EVOs. Don't push them too hard and the level of enjoyment is off the chart good. A bigger amplifier will give them a bit more ease and headroom, and certainly will make an excellent next step, should you have to invest your budget in speakers to start.
Further listening
The A3 EVOs offer up great sound right out of the box, but after a few days of constant play, the woofers go a bit deeper and the upper bass response tightens up slightly, along with the tweeter having an even greater sense of ease and extension. These are very user friendly speakers, so don't fret over ultimate placement until you've got about 50-100 hours on the clock.
Listening to Carole King's Live in Hyde Park clearly illustrates how natural these little speakers sound, as the audience swells at the beginning of the track, giving my modest sized living room an incredible sense of ambience, almost as if there were surround speakers hidden somewhere in the room. Damn good for a small pair of two ways!
An equally impressive result is had with Springsteen's new album, Western Stars. There's a delicacy here that the A3 EVOs are able to communicate, thanks to their exquisite tonal balance. And with program material like this, the tiny A3 EVOs feel much larger. As with all great small monitors, they disappear into the room without a trace, making for some great lights out listening sessions.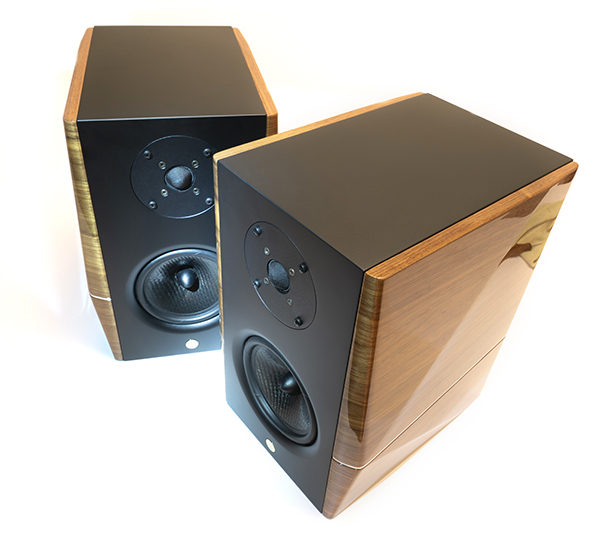 What's not to love?
If you're looking for a high-performance pair of compact monitors, that are beautifully executed, and a bit off the obvious path, Gold Note's A3 EVOs get our recommendation. At just over $4,000/pair they offer everything you need to build a highly satisfying system.
The Gold Note A3 EVO Speakers
$4,099/pair – Black
$4,499/pair – Gloss Walnut (as reviewed)
www.goldnote.it Factory
www.rutherfordaudio.com NA distributor
Peripherals
Analog Source AVID Ingenium Plug N Play
Digital Source Gold Note CD-1000
Amplifier VAC Sigma 170i
Cable Tellurium Q Black Diamond