Core Power Ground Zero
It's a humdinger...
By Jeff Dorgay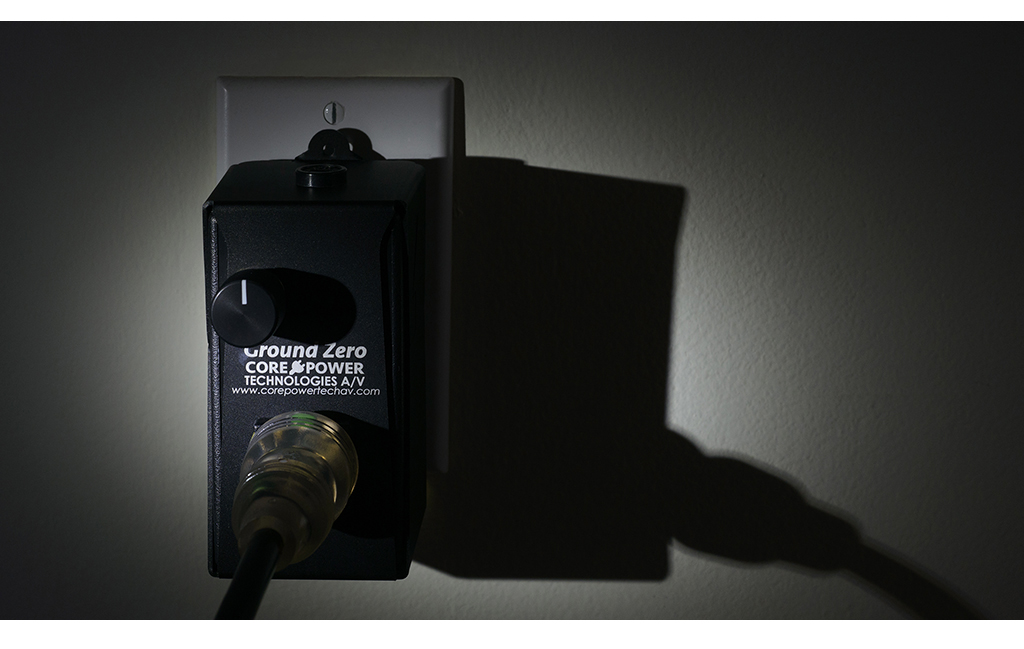 Got hum in your system that you just can't get rid of? Is it driving you nuts? Have you tried power conditioners, cheater plugs, etc.? Still there? Still mad?
Chances are, there's some residual DC in your power. It happens. For those of you that think "well, I've got clean power where I live," you don't. Because even if you live in the middle of nowhere, chances are, there's something in your house dumping RFI or something back into your power line, and it's causing havoc with your system. This can be of particular annoyance if you love vintage gear or SET amps and high sensitivity speakers.
Yes, yes, and yes. When the folks at Core Power asked us to review the new Ground Zero, I knew I had a handful of problems that could put this device straight to the test. First stop, my vintage Marantz 2220B receiver. This baby is a humasaurus. It's always fine listening to the radio, but the minute I plug in a turntable or CD player, the hum begins. The only other thing that worked was plugging the receiver into a dedicated Goal Zero (different company) 2000-watt battery supply. And that's not going to be convenient or cost effective for everyone. We just tried it because it was here and we were at the end of our rope.
As you can see from the picture, the Ground Zero has one outlet, and a 500-watt maximum capacity. Our past experience with all power products is to keep it a little below max capacity so you don't stress things out and limit dynamics.
Plug the Ground Zero into your outlet, and your device into the Ground Zero. Listen to your system with the volume control all the way down and adjust that control knob on the Ground Zero for minimum hum. Hopefully, it will get you all the way down to no hum. The Core Power folks have some great measurements and graphs demonstrating this performance, and if you'd like, you can see it here:
https://www.underwoodhifi.com/products/ground-zero
Seriously, in less time than it will take you to hook up a scope, you'll be able to hear what the Ground Zero does. If you need more current capacity, Core Power's Deep Core 1800 may be the droid you need, but if you're current and device requirements are minimal, the Ground Zero will get you sorted.
Next stop, vintage tube amp. The Dynaco Stereo 70 to be exact. This is another perfect example of an amplifier that's been lovingly restored, but still has some residual hum going on. When plugged into our Pure Audio Project speakers, or Zu Dirty Weekends, it becomes bothersome. Quickly installing the Ground Zero offers the same fix. A little twist of the control, and the hum is no more.
Finally, the Line Magnetic LM-805IA integrated. This 48 wpc SET is lovely, but even after carefully adjusting the amplifiers' hum controls for both channels, some hum still remains. Once you know you can dial it out, you want it gone all the time, right? This worked similarly well, however at maximum volume, when the VU meters were peaking, the slightest bit of compression and flattening started to happen. As Line Magnetic does not list current draw anywhere for this amplifier, I suspect at peak power, I was approaching the limit of what the Ground Zero could handle. At modest volumes, it was just fine, and for those of you with 2A3 or 300B amps, it should be all you need. We will have to get a Deep Core in to investigate with a few bigger tube amps.
When operated within its operational limit, the Ground Zero brings no compromise to the musical signal. Like a good doctor, we want power products to do no harm to the audio waveform. Running through a long playlist of both dynamic rock and classical music, along with a number of delicate acoustic pieces, it's clear that neither dynamics nor tonality are affected by inserting the Ground Zero.
The Ground Zero works as promised, solves the problems it was designed to address, and is reasonably priced. Right now, Underwood HiFi is offering an intro price of $399 – even better. There's no point in buying exotic four and five figure power conditioning products for an $800 vintage component, or a budget tube amplifier. For that, we are happy to award the Ground Zero one of our Exceptional Value Awards for 2021. If you're having this problem, you need one.
As they say at the end of the classic tune, "Hot Rod Lincoln," that's all there is and their ain't no more.
$599 (intro priced at $399)