The Aqua LaScala DAC: Take Two- Adding the New Aqua LinQ Network Interface to the Mix
It Only Gets Better
By Jeff Dorgay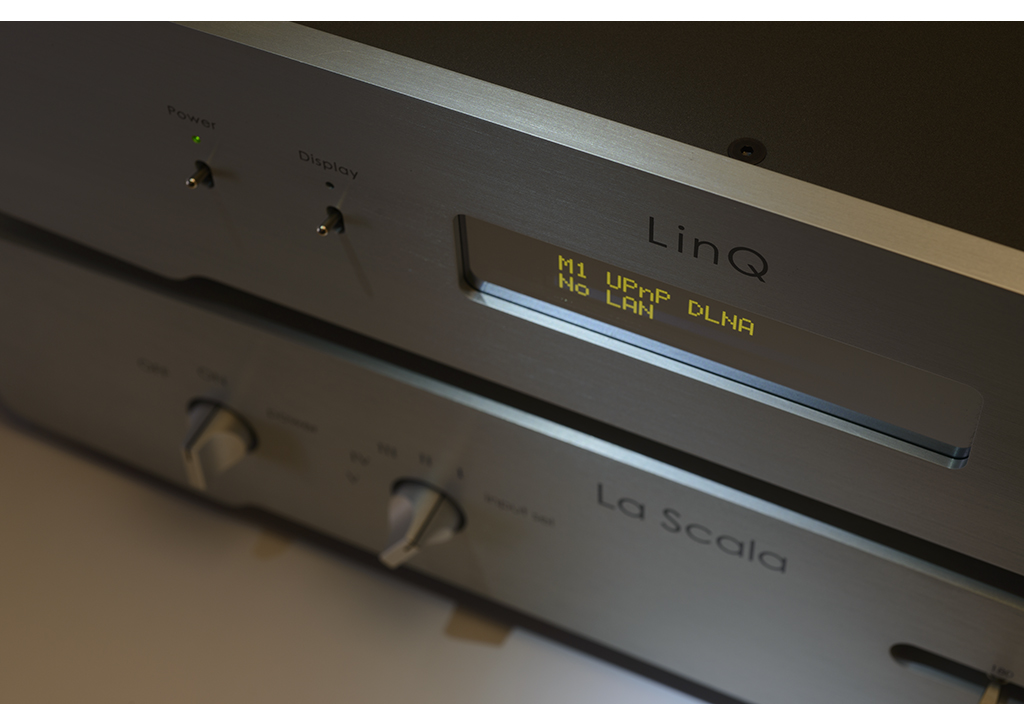 Streaming Paul Weller's self-titled album at 16/44.1 kHz resolution, is enough to demonstrate how musical the Aqua LaScala DAC is. And it only gets better…
Our only point of contention, when we examined this product about a year ago, was its lack of streaming capability. But at its price, a streamer can easily be added and still come in just over five figures. Now, Aqua's own LinQ has had a series of updates that makes the LaScala/LinQ edge into five-figure territory, but a formidable contender against the industry's finest DACs. We'll get into that shortly.
We fell for the Aqua LaScala Mk.II DAC back in issue 99 and it ended up being our choice for product of the year in the digital category in issue 100. I went out on a limb and said it was "one of the finest DACs we've used at any price." I stand behind that statement about 16 months later. Due to manufacturing and shipping delays, we ended up keeping the LaScala longer than we thought. The folks at Aqua audio were (as were many other audio companies) held prisoner by COVID-related shipping logistics, so getting their latest boards our way for their LinQ streamer took longer than expected.
This was a good thing, allowing more seat time with the LaScala. It's easy to get a great first impression of a component, whether at a dealer, a show, or even the 4-8 weeks normally spent on a review. Yet, when a manufacturer can afford us the convenience of keeping a product longer, a wider range of music can be auditioned beyond the 30 or so albums and/or test tracks that are always used to evaluate and make comparisons.
Still Crazy (good) After all These Months
Aqua has had a very slight price increase since our last comments and is now $8,320 (up from $8,000 even). Long story short – it remains one of the most musically revealing DACs we've spent time with, regardless of price. After the opportunity to listen to a broader range of music, the LaScala continues to offer breathtaking digital reproduction. Wondering what their top Formula offers in addition to the LaScala is the only question – in context of how good this model performs.
Aqua does a lot of things really right with the LaScala. Utilizing a modular architecture, and a programmable FGPA for digital decoding, the user is not at the mercy of the recent fad in chipsets (or unavailability of replacement parts). This makes the investment much more long term – another benefit in today's disposable world.
In addition to modular construction, the LaScala features a MOSFET/tube output stage that is stellar in execution, no doubt adding even more to the natural quality of this DAC. It features a pair of ECC81 (12AT7) tubes, delivering excellent results with the factory tubes. Long term listening allowed us the opportunity to swap in a pair of NOS Mullards from our buddy Kevin Deal at Upscale Audio. Currently, these are only running about $65/pair, so whether you choose stock or vintage, a re-tube will not break the bank. For those that just have to roll tubes, the NOS tubes offer a slightly bigger breath of tubey-ness. Most of you may never even notice, which underlines how well the output stage is designed. As much fun as tube rolling can be, we always raise an eyebrow at an expensive component that "needs a thousand-dollar set of vintage tubes" to deliver its all. That is clearly not the case here.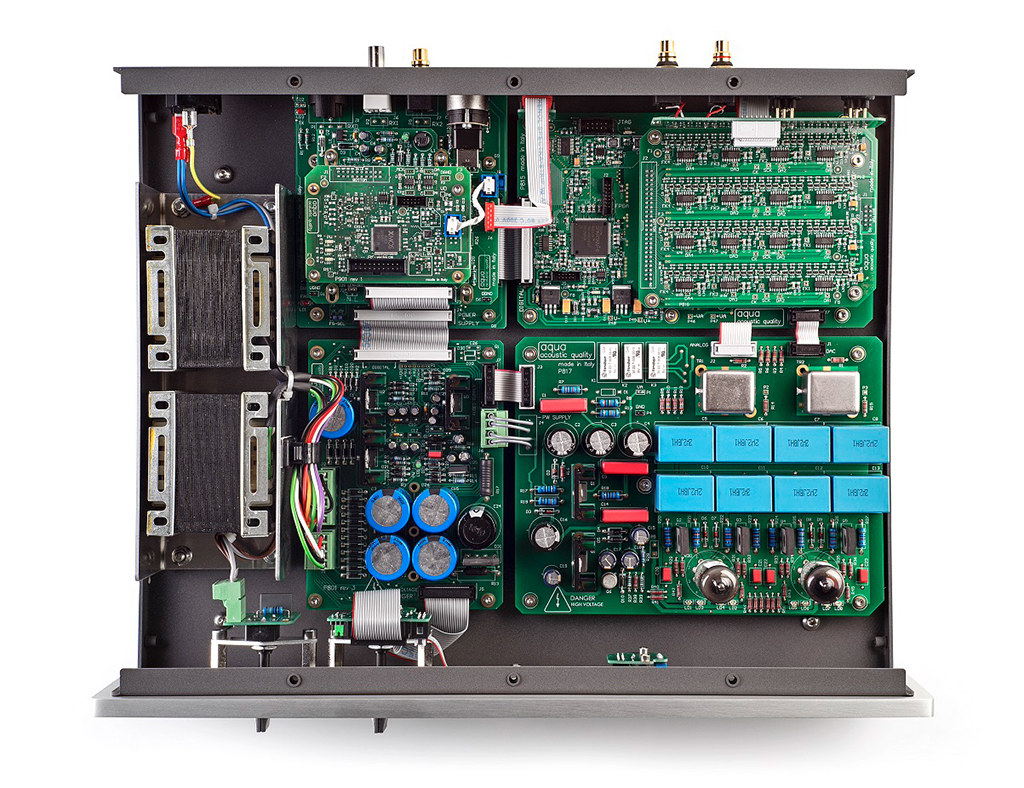 The Sound
The LaScala delivers a natural, dynamic and expansive sound that is free of digital artifacts. It's one of those rare DAC's that doesn't have you reaching for a vinyl album. The sound is resolving, yet fatigue free. Smooth, but not dull or slow. That's magic in our notebook. Even after spending hour after hour with the LaScala, it continues to delight.
The top end is fatigue free, and the DAC paints a large soundstage in all three dimensions. The ability to distinctly position information spatially is as exciting as the amount of low level detail that's on tap. The LaScala is one of those components that will have you up for hours past your bedtime, discovering bits in your favorite recordings, providing countless "wow, I never heard that before" moments. That's what makes a component like this worth the price asked.
A long playlist of 24/192 Motown tracks really shows off the midband smoothness and this DAC's ability to unravel somewhat compressed tracks. Stevie Wonder's "I Was Made to Love Her" on a budget DAC sounds flat and one dimensional, feeling like more of a wall of sound than even the Motown producers probably intended. Yet through the Aqua, all of the instruments' not only have their own space, there's detail and texture here. Now, this music goes from being fun background music, to fully engaging. Sometimes, a DAC's ability to bring mediocre recordings to life is even more important than playing pristine recordings.
In addition to an extremely natural midband – again perhaps a little extra thanks to those tubes, and the complete lack of op amps anywhere in the analog circuitry, this DAC provides a solid bottom end as well. Again, in addition to weight, this DAC provides tons of texture. The snarly, distorted bass line in the Jackson 5's "ABC," jumps out of the speakers.
The more you listen to it, the further you'll be pulled in. This level of performance usually costs a lot more than the LaScala's modest price tag. A best buy to be sure.
The LaScala offers six digital inputs (click here to go to the Aqua site for all the tech info), with one of them being a proprietary I2S input for connection to the LinQ streamer. Making the LaScala your digital hub is a breeze, with inputs for everything, even optical. This is a nice touch, as some of us have older CD transports or changers that rarely get used but are still of value. The only thing the LaScala does not decode is MQA – again a moot point as far as we are concerned.
It's important to mention that this Ladder DAC does not use digital filtering or oversampling. This purist approach also contributes to the natural sound. Proponents of each method claim they've done it right and done it the best, but there's no arguing with the results that Aqua achieves here.
Whether using the SPDIF inputs or USB, this DAC does not disappoint. While there were obvious differences in sound quality between the Cambridge Audio CXT and the dCS Vivaldi transports used to play CDs, the LaScala turns in a great performance. Using a laptop or other computer for music playback can go straight in the USB port with excellent result, or…
Enter the LinQ
While Aqua's LinQ is the perfect mate to their three DACs, with an entry level price of about $6,320 with one module. The LinQ Core as tested here is $7,550, which includes both the HQPlayer Core + NAA modules. (this includes the Signalyst license)
Should you have no interest in the ROON ecosystem, only the UpNP module is required. If you are using any of the UPnP media servers (link here) your journey can stop here. While the Aqua components are not "Roon Ready," this is a moot point. Installing their HQ Player Core+NAA modules offers functionality that is recognized by ROON as a playback node, eliminating the need for certification, and being beholden to ROON for future upgrades. The good news is, should you change your mind and go for ROON at some point, you'll have a top player to work with. Win-win.
Aqua's website gives more details on technical information surrounding these choices: https://www.aquahifi.com/linq.html
Aqua believes Sound Quality is priority number 1. Says their founder Cristian Antelli,  "Our focus was to create an Audio Engine for Roon with zero-setup. The ambitious vision to combine extreme Sound Quality with delight."
Aqua's SQ player is recognized as a ROON endpoint, and this is how I used it for the review. From Aqua's website: "Roon can be configured to implement of HQPlayer into a Zone. HQPlayer owns the final connection to the Audio Engine, and Roon is just passing along a stream of bits from media files / Streaming services as Qobuz and Tidal. This allows you to enjoy the benefits of HQPlayer SQ and the library management capabilities of Roon at the same time."
Even if you don't have an Aqua DAC but have a DAC you love that lacks a streaming component, I highly suggest the LinQ. It offers their own I2S output to the Aqua DACs but also features SPDIF, AES and dual AES outputs. Trying this out with older ARC and dCS DACs proves a perfect fit (electrically and sonically) and keeps a great component you already have in your system viable.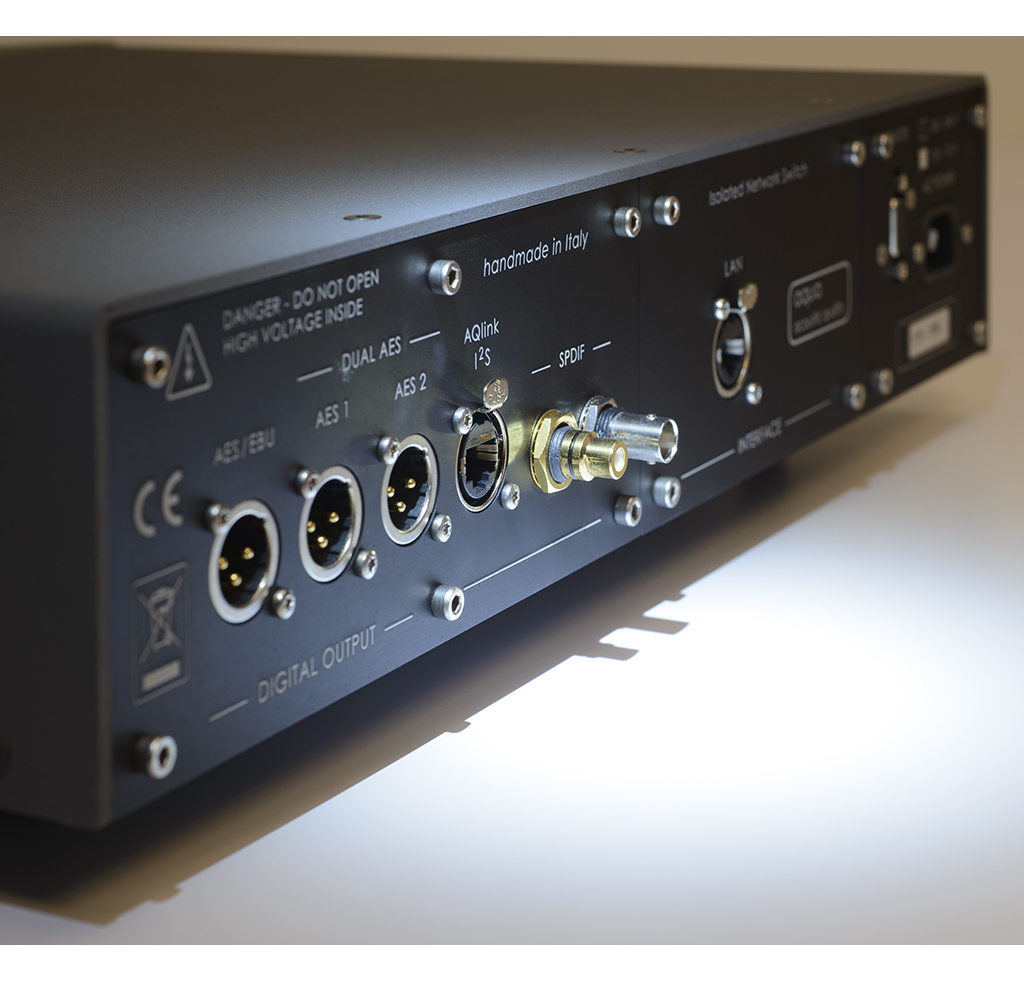 Many audio enthusiasts have their preference for digital connections, but after some careful listening between the I2S/RJ45 connection and the AES connection, the proprietary connection definitely gets the nod. It was fairly easy, (even for non-audiophile friends) to hear a further lack of grain when playing music through the I2S connection, especially with musical selections featuring acoustic instruments, or sparse vocals. This is an easy comparison to make.
Where many manufacturers scrimp on network implementation, the high-performance circuitry in the LinQ makes streaming via Ethernet the way to roll, whether using a NAS or your favorite streaming service.
A quick peek inside the casework of the LinQ to add the latest updates reveals fairly densely packed real estate, and an upgrade path that does not even require an external firmware upgrade. Plugging in the two new boards reminded this digital imaging pioneer of the old days of plugging graphics accelerator cards into my old Macintosh Power Mac. This is robustly implemented, so it will be easy for an end user. With two additional slots for future possibilities, Aqua scores again on making your investment future proof. Another pillar of Aqua is ensuring every piece is designed to be truly modular and upgradable in the future as technologies progress "LinQ knows no obsolescence"
There's not much to say about the "sound" of a streaming/network interface, but it's worth mentioning that this being implemented to the level that Aqua has, is what takes digital playback to the level they have. When this is poorly done, graininess and lack of image focus creeps back in to the presentation. Comparing the LinQ to a few budget streamers on hand was like going from MP3s to high res digital – so it does make a difference. You don't realize how essential a high quality streamer like the LinQ is until you take it out of the system. You can't unhear the contribution it makes.
Finally, the LinQ is a perfect complement to your Aqua DAC (and possibly transport) visually, sharing the same tasteful casework, and grey aluminum covers featuring a textured grey coating. We suggest not stacking these components together unless some kind of isolation can be provided to prevent scratching the surfaces.
Do You Need One or Both?
If you already have an Aqua DAC, there's no better choice to stream than the LinQ. Period. If you have someone else's premium DAC the only other one we've heard that has taken this level of care to implement the technology is dCS, and their renderer is about the same price. This still leaves the default choice as Aqua for our money. Their products are all fantastically built, and the combination of the LaScala and Aqua is bettered by few at any price.
Highly recommended.
Peripherals
Preamplifier Pass Labs XS Pre
Power Amplifier Pass Labs XA200.8 monoblocks
Cable Tellurium Q Black Diamond and Cardas Clear
Speakers Sonus faber Stradivari with six pack of REL no.25 subwoofers