The Backert Labs Rhumba Preamplifier
Good as it gets!
By Jeff Dorgay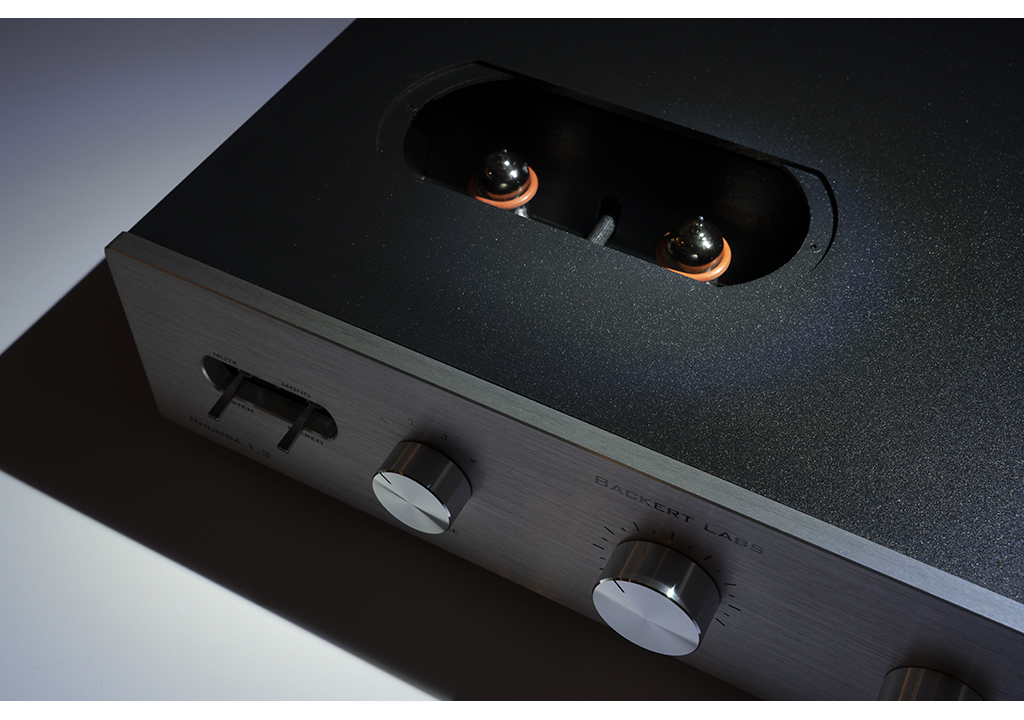 In a world where many audio companies try to be all things to all people (or customers), it's refreshing to stumble upon someone doing one awesome thing.
Backert Labs builds line-stage preamplifiers. That's it, though they did mention that they have a new phono preamplifier almost ready for prime time. Close enough. And they've been doing it for quite a while.
The Backert Labs Rhumba came highly recommended by a few of our readers, and their enthusiasm is more than justified. The Rhumba 1.3 is a fantastic preamplifier – period. That it is only $4,000 is terrific – yet this is a perfect example of extreme focus. Backert Labs also makes a $10k preamplifier, claiming the Rhumba is a more cost-effective version of. They also offer a Rhumba + for $6,500 that kinda splits the difference. After extended listening it continues to engage at a high level. Andy from Backert reveals that they put close to 200 hours on every unit before shipping, so you won't have to wait to fully enjoy it.
And engage it does
Between the revolutionary power supply and a reasonably simple circuit consisting of a pair of 12AU7 tubes, the Rhumba delivers a mere 10db of gain but that's more than enough to drive anyone's power amplifier. Matching it with a wide range of amplifiers on hand, from a near original Dynaco Stereo 70 to a pair of Pass XA200.8s, there were no surprises and no disappointments. In my primary reference system, I could only detect a minute difference between SE and BAL outputs. The balanced outputs sound slightly smoother, and the SE outputs just a touch crisper on the extreme top end. I am splitting thin hairs here. It could also be the difference between SE and BAL inputs on all four of the power amplifiers used too. I feel safe suggesting this preamplifier to mate with any power amp you have at your disposal.
The difference between good, great preamplifiers, and the best money can buy is in the fine details. The world's premier preamplifiers provide a level of reach out and touch it communication, sometimes even fooling you into believing that you are listening to the real thing. Because a preamplifier doesn't have to do the work of driving a pair of speakers, and the potential mismatch between the power amp and speaker, it's usually not as dependent on what it's connected to. The Rhumba has an output impedance of 75 ohms, which is very low – and it drives a 30-foot pair of Cardas Clear interconnects (XLR or RCA) as easy as it does a 3-foot pair, with no sonic degradation whatsoever.
I'd put the Rhumba solidly between great and best. And for $4k, that's a steal. If there are any of you listening in the late 80s/early 90s, Audible Illusions came on the scene with a preamplifier (the Modulus) that took a simple, high-quality approach much like the Rhumba does. Back then, the Modulus was the answer for the audiophile that wanted something like a CJ Premier or an ARC SP10, but on a bit tighter budget. The Modulus was $999 when the big boys were about $6k. At least among the $15k – $30k preamplifiers I've heard, the Rhumba offers a lot of that experience. And it's a solid contender among the big name $10k preamplifiers.
After getting enough of a listen in my main system to get a firm grip on the delta between this and my reference components in a familiar environment, the Rhumba comes in the house, placed in a system more in keeping with the way I'd expect it to be used. A pair of Dynaudio's new Confidence 20 speakers (mated to a six-pack of REL S/510 subs) and the Aqua DAC we recently reviewed, cabled together with Cardas Clear Reflection speaker cables, interconnects and power cords rounded things out nicely.
I had a wide range of power amplifiers at my disposal for these listening sessions. Suffice to say the Rhumba was an excellent match for all of them. The McIntosh MC275 (with EAT KT88 tubes), the BAT VK60SE, PrimaLuna's EVO400 on the tube side, and a Pass XA30.8 and Nagra Classic on the solid-state side of the equation all make for a great amplification chain.
A solid contender
Most of the listening in this evaluation was done with the EVO400 – I like the price/performance value of this amplifier too, and you can put the Rhumba/EVO400 combination in your rack for well under $10k. Personal bias: this is a very musical pair I could comfortably live with and forget the big dollar stuff. The best of the best is still awesome and deserving of its place, but the Rhumba does so much right, that unless you've got everything (and I mean everything) else to go with, it can be a destination preamplifier for 90% of you. Adding your favorite $5k-$10k pair of speakers, an excellent DAC, and an equally good performing analog front end if you spin vinyl will give you a good portion of what the mega gear delivers at an approachable price. You may never want to go any further in your audio journey. More money for records and motorcycles, I say.
Attempting to identify the sonic fingerprint of the Rhumba, I'll call it ever so slightly on the warm side of natural/neutral. In the last year, I've listened carefully to the McIntosh 2600, PrimaLuna's EVO400 preamplifier, the Simaudio 390, Boulder's new 1110, Nagra's Classic, the CJ GAT2, ARC's LS28 and REF 6 along with a handful of vintage and near vintage pieces, so it's been in good company.
Tonality is one aspect of preamplifier sound. The most exciting aspect of the Rhumba is the lively, dynamic aspect of its sound – all part of the GreenForce power supply design. Listening to musical selections with wide dynamic swings, and music more in the acoustic vein makes it so easy to hear the complete lack of bloated, cloudy, overhang that some designs possess. The Rhumba still sounds slightly tubey, but just enough to convince you, there are indeed a couple of tubes under the hood. They are easy to get at with a clear window attached magnetically to the top of the case.
Another bias: I absolutely hate tube gear with tubes that just stick out of the top of the case. Too easy to break something. The Rhumba gives you easy access to the tubes, both for service/rolling, and to see a little bit of a glow.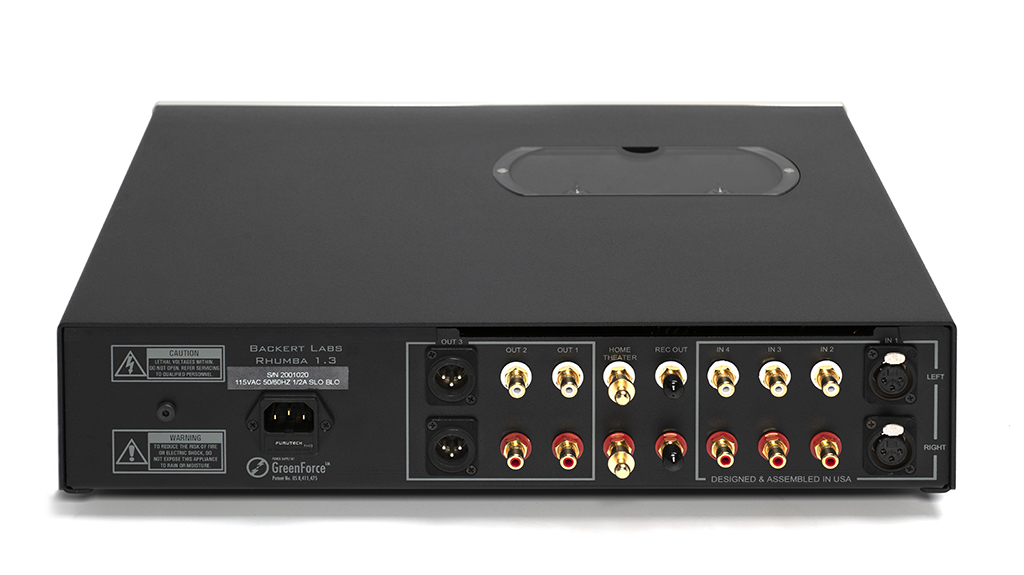 Thanks to designing around the 12AU7/ECC82, instead of the 12AX7/ECC83 makes the cost of pursuing different or NOS tubes much more reasonable – vintage 12AU7s cost considerably less than vintage 12AX7s. As easy as Backert Labs makes it to roll tubes in the Rhumba (and who knows, maybe I'll cave when they send that phono preamplifier), I avoided going down that path in the context of this review. After years of chasing that rabbit, I choose to give him a wink from afar, and it's not fair to a manufacturer to say their preamp only sounds great with unobtainium tubes. Not to mention how little fun that is for you, because you thought you were done after you wrote the $4,000 check. But are we as audio enthusiasts ever done? Ha.
Seriously though, the Rhumba delivers such an engaging performance, I never felt the need to try something else, and sacrifice the good work they've done merely for different. Tube rollers, you know what I'm saying. If you have lobsters in your pants and can't wait to swap those tubes out and argue with people on your favorite audio forum – go for it. But I'll bet you a bottle of your favorite single malt, a year from now, you'll cave in and go back to the originals.
The Rhumba offers a very natural overall tonal balance that is very dynamic, with a touch of that tonal saturation that seems to only happen with tubes. It never sounds like vintage tube gear, i.e., slow, rolled off, or overly saturated. If this is the sound you've been looking for, the Rhumba is what you want. This natural balance makes it easy to voice the rest of your system to taste while leaving the Rhumba as your anchor – again, this is going to be a destination preamp for a lot of people.
The sonic landscape, or to be more precise, the size and scale of the sonic landscape a preamplifier creates is equally important as tonal balance and dynamics. Again, the Rhumba excels, creating a massive soundfield in all three dimensions – it does a fantastic job at getting the Dynaudio's and two stacks of REL subwoofers to disappear in the listening room. Six weeks after unboxing, I'm still surprised and amazed at how much music this preamplifier reveals. And how many late nights I'm spending listening to "one more record."
The other stuff
Great as it sounds, the Rhumba is well built from a mechanical standpoint. There are no exposed screws in the casework, the minimal control set feels good, and the remote is simple, effective, and substantial. It feels good when you place it in your equipment rack. The front panel is finished to a high level, but this is not a blingy preamplifier by any means, so you aren't left feeling that half the cost of the Rhumba was squandered on a fancy case. However, there is only one thing I don't care for on the Rhumba – those paddle switches.
I can assure you I've broken at least one of these on everyone else's preamplifier. Not a deal-breaker by any stretch, but I caution you to place your Rhumba just inside the shelf enough on your equipment rack so you will not bump it. I guarantee that the slightest bit of torsional stress will break these. You've been warned.
The substantial remote is volume only. You'll either love it or hate it. I say the less remote switching going on, the better for the overall noise floor. Again, the Rhumba is damn quiet. I'd rather put my adult beverage down to manually walk over and switch sources for a few more dB of quiet. Are you with me?
Nothing but joy
I'd like to take a minute to thank our highly interactive Facebook audience for suggesting the Rhumba. I was looking for something new, something that I hadn't heard before. In a Jeopardy type way, I put it out there – how about new preamps for $5k? A number of our readers responded how much they liked their Rhumba, feeling it was something we should investigate.
The highest compliment I can pay to this preamplifier is that since it's been installed in my living room, I haven't thought about it. I've just been playing music. I haven't spent one second pondering whether it does or doesn't do this or that. The Backert Labs Rhumba is one of those truly rare audio components that takes you on this kind of journey. If you investigate one for yourself, I hope you will enjoy this one as much as I have. It's a Goldilocks preamp – it's just right.
$4,000
Peripherals
Analog Source AVID Volvere SP/SME309/Kiseki Purple Heart
Digital Source Aqua Hifi LaScala DAC, Bryston BDP-1 Streamer
Phonostage Pass Labs XP-27
Power Amplifier PrimaLuna EVO400
Speakers Dynaudio Confidence 20 w/6pack of REL S/510 subwoofers
Cable Cardas Clear Reflection