The Naim Supernait 3
Keeping the names straight...
By Jeff Dorgay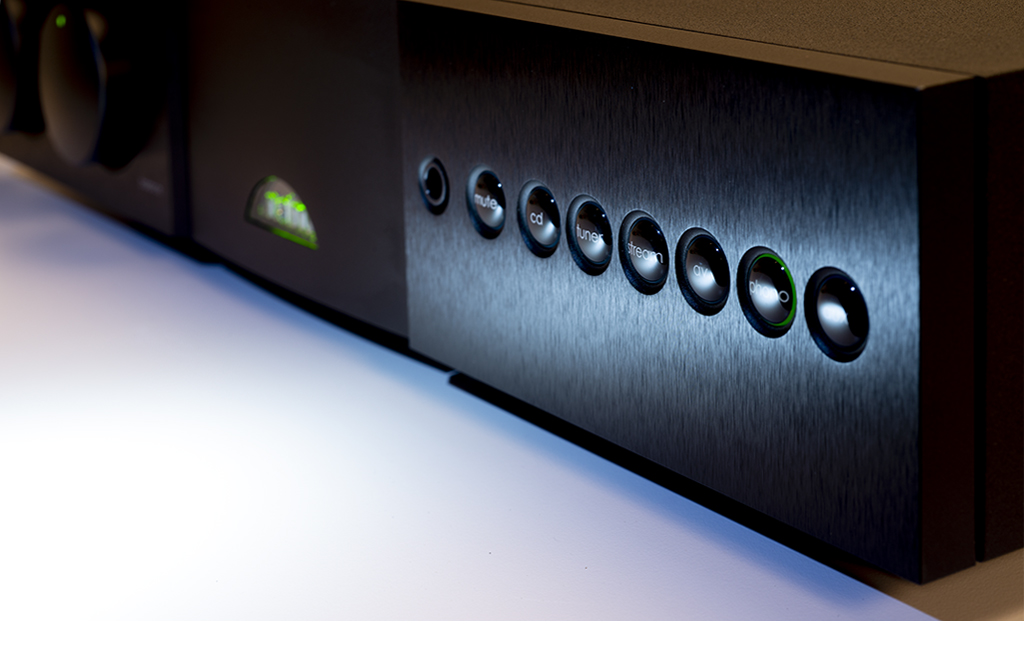 Tracking through the silky, smooth harmonies of Shikao Suga's "Kiseki," I'm instantly reminded why I've always been so fond of the Naim Supernait.
It's a fantastic, nearly all-in-one solution with solid audiophile credibility. What better way to start listening than with the pair of Focal Kanta 1s that Naim/Focal North America was kind enough to send along with the Supernait.
We've been using the Kanta 3s as reference speakers for some time, along with Sopra 3s, so the Kanta 1s are easy to get used to. Music lovers tend to fall into one of two camps when stripping away all the other variables when shopping for a music system: destination people and journey people. If you're the latter rather than the former, the Supernait 3 will appeal to you because you can upgrade the power supply at a later date, and you can add a DAC/Streamer to access your digital files. (The original Supernait had a great DAC built-in but no phono stage. We'll get to that later.)
Destination people can have their Naim/Focal dealer set up as much or as little as they need and stop by to pick it all up.
Somewhat of a shift
Naim's Supernait 3 is a significant exercise in evolution as well as a shift in priorities. Where the original Nait was a small chassis affair producing only 15 watts per channel, (albeit with an incredible MM phono section built in) the current Supernait series has been 80 watts per channel. Naim's founder, Julian Verker once was quoted saying that they couldn't give the original Nait more power because "it sounded terrible." As the Brits are fond of saying, "job done." Both the Supernait 2 and the Supernait 3 are indeed musical, so this limit has been handily overcome.
Where the Supernait 2 had a built-in DAC, the Supernait 3 returns to its roots with an excellent (and I suspect Stageline derived) MM phono stage. Going straight to this with a Technics SL-1200GAE and Shure M44 cartridge, it was time to rock the house with an extended set of 45 rpm maxi-singles. Starting with Devo, and ending with Prince, this phono section delivers the goods. As Naim always offers a modular approach, and there just happened to be an MC Stageline sitting on the shelf, it was put into use with a second SL-1200/Denon 103 combination. The Stageline has such a small footprint, making it easy to turn your Supernait 3 into a two turntable amplifier, and at a reasonable cost. An extra Stageline will only set you back about $800, and they are lurking on the used market now and then for about $500. Not bad, and you can power it directly from the Supernait 3.

 If you've made a modest to somewhat beyond modest investment in a turntable/MM cartridge, the onboard phono section here is not an afterthought, tacked on to appease those with a moderate collection of vinyls (sic). This is a true analog lovers phono stage.
More modularity
In addition to adding an extra phono stage, you can also use your Supernait in the context of a bi-amplified system by just adding another power amplifier, or you can increase its performance with an outboard power supply. Naim has always been a big believer in building massive power supplies – a prime factor in their exceptional ability to reproduce musical pace and timing. Additional power reserves only improve this, and though we did not have an outboard supply available at this time, we did do this with the Supernait 2 in our last review. The improvement was not subtle and worth every penny.
While some criticize this approach, we have always loved this aspect of Naim products because it allows you to grow without discarding your original purchase – a very green solution. And a solid investment. With any non-essential purchase, it's always nice to know that you can purchase it incrementally. Not to mention having another honeymoon with a component you already love. Adding an external supply creates a new component, allowing you to experience your music collection anew, always fun.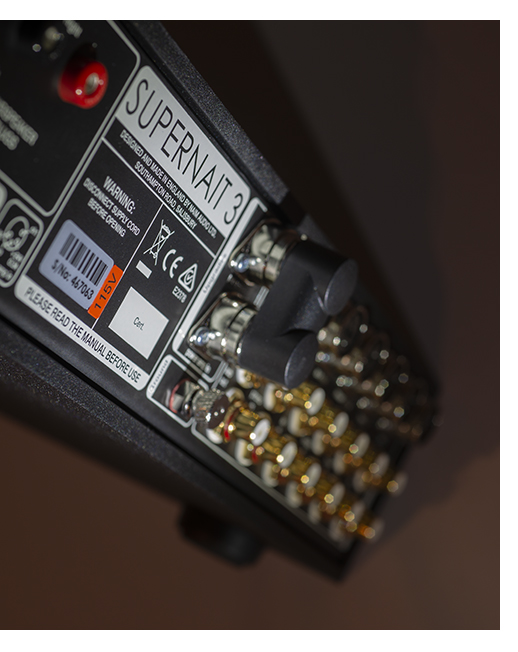 Thirteen years ago, the Supernait 2 was about $4,300, and the current Supernait 3 $4,995. Taking account for inflation, that $4,300 amplifier would be a tick over $7,000 in today's money, so $4,995 for an even better amplifier is a real bargain. That Naim keeps the price in check is a testament to the production department as much as the accounting department. 

Most people wanting to keep their system all-Naim might pair their Supernait 3 with the ($7,690) NDX 2 DAC/Streamer, but we happened to have their top range ND555/PS555 combination (a click under $40k), and this proves to be a stellar combination. Naim's unifying architecture makes this all so easy to use.
The one thing unique to Naim is their speaker outputs that look similar to banana jacks. No 5-way binding posts here. Naim suggests using their connectors, though we had no problem getting a solid mechanical interface from Cardas, Nordost, and Tellurium-Q cables. Inputs are connected via Naim 5 pin connectors or RCA jacks. Some of you may even remember when Naim allowed only the use of their proprietary connectors. Bottom line, there are plenty of connections, so you can build a powerful system around your Supernait 3. In addition to the MM phono input, there are four more line-level inputs and a headphone jack on the front.
More listening

The Supernait 3 builds on the strengths of the Supernait 2. Naim says that the power amplifier circuit has been simplified somewhat ("the second gain stage transistors have been optimized, so they no longer need to be shielded by a cascade stage transistor.") This increases the amplifiers slew rate. While some will argue whether this makes an amplifier more dynamic or not, there's no question that this is a very fast, dynamic amplifier. Choose a few of your favorite tracks with some intense drumming, or perhaps some rapid acoustic guitar playing, and you'll hear immediately that the Naim engineers have succeeded brilliantly. Naim has always been famous for producing amplifiers adept at reproducing musical timing, and the Supernait 3 upholds that long tradition.
The high end is smooth and defined, while the lowest of frequencies are well controlled and extended. When paired with the Sopra 3s, it was easy to see what a great job the Supernait 3 does with LF dynamics. Tracking through the entirety of David Gray's White Ladder, I was constantly impressed with the sheer weight that these tracks were presented.

 As the Naim amplifiers are class B designs, they do not run hot, even when pushed hard. Playing most of the new AC/DC record, Power Up, at a juvenile level still leaves the Supernait 3 barely warm to the touch. The Naim sounds equally good with the volume down low. Aimee Mann's rendition of the Carpenters tune "Yesterday Once More" (From the Vinyl soundtrack) shows off plenty of tonal delicacy and finesse. This is an amp for all seasons.
What the Naim amplifiers deliver is effortless pace and timing reproduction. They are not quite as vivid as your favorite tube amplifier in terms of creating a huge soundfield in all three dimensions. The Supernait is not a small sounding amplifier, though it is not engulfing the way the (all vacuum tube) VAC i170 is. Definitely a different feel. And in all fairness, the apparent sound of the Supernait's gets "bigger" when you step up to the external power supply. In the context of a $5,000 integrated with phono, it's still top of the range. It's also worth mentioning that even without an external power supply, the Supernait 3 offers a high level of dynamic engagement, even with power-hungry speakers like the Harbeth Compact 7s we have on hand.
The only speakers we would suggest staying away from are a full range ESL. The highly capacitive load that these speakers present did not make for a clean sound. In all fairness to the Naim, The $8,000 Esoteric and a $20k CH Precision integrated that came through our doors fared no better with the Quads – they are the ultimate amplifier torture. The rest of you will be just fine.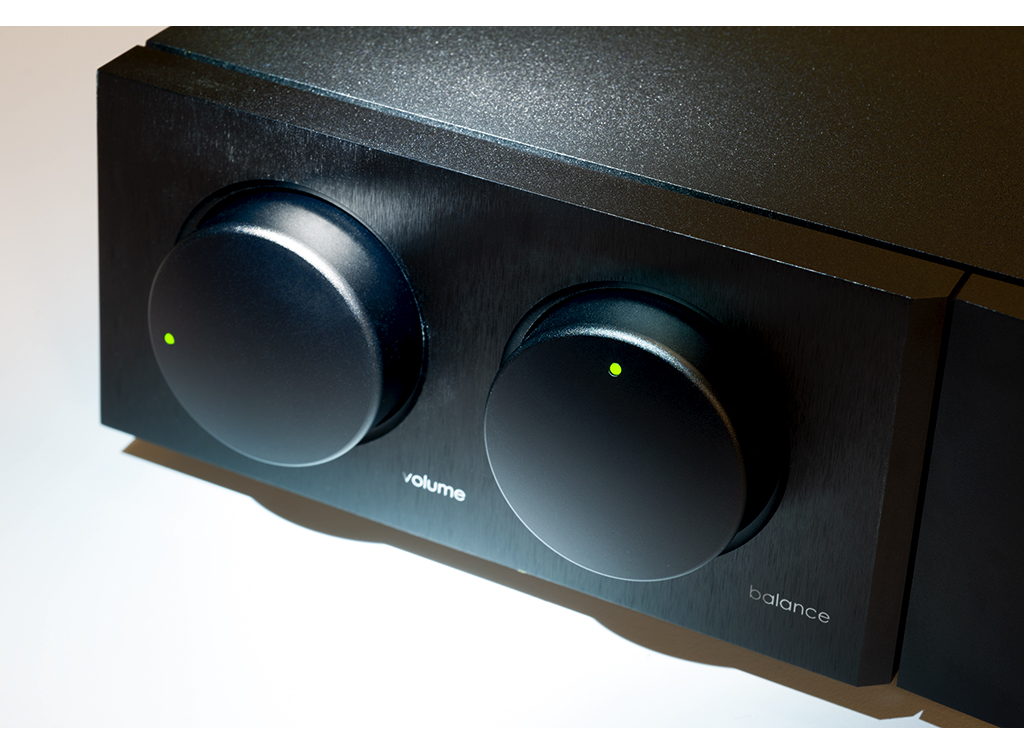 Aesthetics and such
You're either a fan of the stark modernism of Naim components, with their brushed black casework and the backlit green buttons that almost look like M&Ms or Skittles. Personally, I love Naim's look, and their commitment to making minimal changes in casework design over the years, so you can mix and match multiple generations with ease. Again, this helps to protect your investment – 10, 20 or even 30-year-old Naim components still look great together on your equipment rack. 

The only other manufacturer that has done such a great job of maintaining a consistent design language is McIntosh. It's no coincidence that Naim gear enjoys the same fierce following that McIntosh does, and their legacy products enjoy a high resale value, should you ever decide to trade up.

However, my experience with Naim over the years is few people trade them in – they just move them to a second or third system and buy more. That's the ultimate expression of customer loyalty as far as I'm concerned.
The only complaints I have about the Supernait 3 have plagued the amp from the last generation – the volume and balance controls lack any tactile feel. Naim's engineering driven mentality has chosen the motorized ALPS unit for it's supreme sonics, and I'm guessing most of you will use the remote anyway. While this is by no means a deal-breaker, as most of you will probably use the remote, the stunningly luxurious feel to the volume control in the thousand dollar Mu-so just makes me wonder why Naim has always chosen not to integrate this here. ED NOTE: Naim has informed me that the MuSo volume control is a digital unit, so this is an apples to oranges comparison – but the MuSo volume control is damn sexy. Last but not least, headphone users will enjoy the Supernait 3. Like the phono section, the headphone amplifier is no afterthought. Auditioning phones from Audeze, Grado, and of course Focal, all delivered great results. This goes further to make the Supernait 3 the perfect partner for those with space at a premium.
At the end of the day, the Supernait 3 is a class leader. Great sound, great aesthetic, and top build quality. Not only do I like this one enough to hand it an Exceptional Value Award for 2020, but I have also purchased the review sample. This is too handy of a system anchor not to have around the studio. 

If you like the Naim approach and don't really want a big stack of components, the Supernait 3 is for you.