The Klipsch Cornwall IV Speakers
A Dynamic Experience, Indeed
By Bob Gendron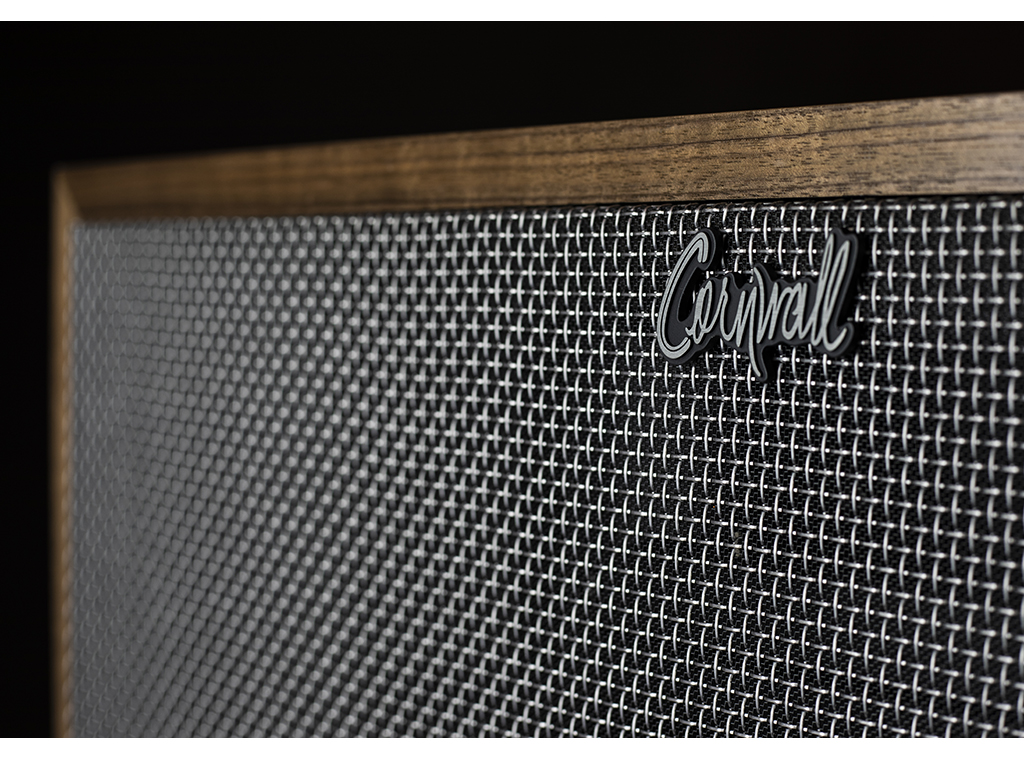 The sun still burns hot, a U.S. dollar still equals four quarters, and Klipsch still makes Cornwall loudspeakers.
Refreshingly, some things never change. Save for a gap between 1990 and 2005, the company has been building the floorstanders in its Arkansas factory since Dwight D. Eisenhower's second term. As for the period during which it disappeared from showrooms? The decision prompted thousands of listeners to begin a letter-writing campaign demanding production resume. Petitioners got their wish. In 2006, Klipsch introduced Cornwall III, although, given the various updates to prior iterations that occurred, the "III" moniker could have easily been an "VIII."
Originally devised in 1959 by Paul Klipsch to serve as a full-range option between a pair of Klipschorns, Cornwall bowed as the world's second commercially produced center-channel speaker. Its no-frills name, coined by Mr. Klipsch's first wife, stems from its ability to be employed in a corner or against a wall. More than six decades later—a time span longer than most audio companies last—it remains distinctive for multiple reasons, not the least of which relates to its commanding 38 x 25.3 x 15.5-inch (HWD) size and 95.76-pound weight.
The Old School Meets the New School
By any standards, Cornwall is big, and boldly announces its presence by way of gorgeous, book- and grain-matched wood cabinets. During manufacturing, Klipsch keeps the veneer leaves in order as they're sliced from timber and arranged in mirror-image fashion at the splice joint. The consistency pays off in the form of speakers that should charm any admirer of woodworking or old-school craftsmanship. Akin to the eye-catching crown molding in a century-old Victorian or a custom built-in shelving units, Cornwall visually exudes detail, care, pride, and tradition. Crucial to Cornwall and Klipsch's other Heritage Series models, such convention extends to the sequential serial numbering of every pair.
Much else about Cornwall recently underwent a transformation. Dubbed Cornwall IV, and sold for $6,000 per pair in a choice of three colors, the tower possesses the most significant design changes of any Cornwall in history. A 1.75-inch K-702 midrange compression driver, midrange Tractrix horn with patented Mumps technology, steep-slope crossover network, and Tractrix ports with inner flares are completely new. Ditto the matte-black riser, attractive script-adorned grille, and aluminum bi-amp input panel on the rear. A one-inch K-107 titanium diaphragm tweeter with an all-new wide dispersion phase plug and massive 15-inch K-33 composite-cone woofer round out the innards.
According to Klipsch, the enhancements collectively translate into improved polar response of the mids, minimized electrical degradation, faster transfer, reduced port noise, lessened turbulence, and deeper bass. Cornwall IV also retains an inarguable benefit of its ancestors: Beguiling efficiency, with a rated sensitivity of 102dB. The triple-digit figure allows the user to pair it with a seemingly infinite number of amplifiers—tubes and solid-state alike—without worrying about having to spend a fortune for massive watts-per-channel output.
Instead, with Cornwall IV, or, for that matter, any Heritage Series model, focus your budget on an amp/wire combination that provides clean power and clean signals. Klipsch's high sensitivity numbers can be a double-edged sword in that the speakers do no mask mediocre power/transmission as blindly as some harder-to-drive models. Plus, auditioning a Klipsch is a smart way to test your current gear/cabling.
Changing the Narrative
It nearly goes without saying that, in many customary circles, "Klipsch" and "audiophile" are disparate. At least one long-established high-end magazine doesn't acknowledge a single Heritage Series model in its latest, everything-but-the-kitchen-sink Buyer's Guide. In addition, many self-professed audiophiles—whether clinging to measurements, the belief that horns cannot overcome brightness or harshness, or the thought that Klipsch translates to outmoded technology—won't give the brand a sniff. Under close examination, such thinking appears shortsighted and ironic, particularly in a hobby that places tremendous importance on the supposed sound of live music.
Indeed, somewhere along the way, high-priced entry points, computer-driven metrics, and occasionally sterile, surgically precise sonics gained precedence over emotion, fun, dynamics, and playback that can recreate the concert experience. Today, finding speakers that deliver a professional recording-studio aesthetic and a mixing engineer's perspective poses far less of a challenge than identifying models that whisk you to a club or hall, and formidably capture the energy associated with the events staged at the venues. Moreover, audiophile-approved speakers that don't wilt in the face of rock n' roll, R&B, or hip-hop turned to loud volumes remain few and far between. Even those that sell for the cost of a fresh-off-the-factory-floor Harley-Davidson CVO.
Of course, some listeners prefer perfectionist-oriented imaging. They want to hear a singer's tongue smack against the top of his or her palate, or the particular gauge of an acoustic-guitar string. All well and good; the inherent appeal is understood. However, returning not only to the sound of live music, but to the ambience, vitality, soulfulness, and presence that coexist with shows—reference points to which, before the pandemic, thousands upon thousands of people related on a weekly basis and happily paid to attain—evokes deep-seated issues the audiophile industry at large prefers to sweep under the rug. In short, the sound of live music, whether generated in an orchestral hall, 800-capacity theater, or hockey arena, varies from that captured in a recording studio.
Mr. Klipsch recognized the distinctions and strove to design products that reproduce live performances in a home setting. Cornwall IV testifies on behalf of his pursuits. And how.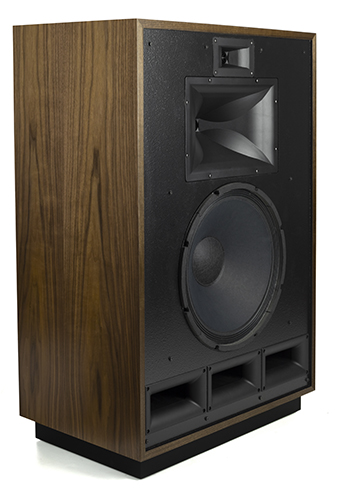 Holy Schnikes
Arranging Cornwall IV in a relatively square 16 x 18-foot room proves relatively hassle-free. Despite its mass, the speaker's shape allows for ample mobility. The lack of spikes and angular dimensions also proves welcoming. As does Kilpsch's simple albeit smart packaging, which decreases set-up fuss and echoes Cornwall IV's get-to-it functionality. As with most speakers, adjusting the positioning of Cornwall IV by an inch here or there nets audible differences. No user's interior space is the same, but for the purposes of the review, slightly toeing in Cornwall IV with the lead front corner three feet from the back wall, and the tandem placed eight feet apart, produced optimal results.
In quick succession, it becomes evident where Cornwall IV falls a bit short—namely, hyper-deep soundstaging, microscopic accuracy, polite refinement, and pick-the-third-chair-out-of-the-symphony focus. Characteristics that are all often the parlance of studio monitors and several of their tower counterparts. Cornwall IV also tends to reward whoever sits dead-center in the sweet spot. Off-axis listening sacrifices none of the impact but tends to faintly blur details. Klipsch's Roy Delgado suggests increasing the toe-in to increase the soundstage and image focus. While counterintuitive to what we'd do with a normal pair of floorstanding speakers, this works perfectly, enhancing the on and off-axis experience, with a more stable stereo image, and more stable bass performance.
If you're accustomed to a two-channel system augmented with a pair of high-end subwoofers, you may also notice a small drop in low-frequency definition. Not to say Cornwall IV doesn't supply satisfying bass. It does, and without annoying boom and inflated effects. You could add a subwoofer or two, sure, but Cornwall IV goes plenty deep without any help from friends.
Overall, paralleling its physical size, Cornwall IV plays with enormous sound—enormous dynamics, energy, scale, openness, rhythm, and clarity. While many speakers invite you to them, and beckon you toward music that happens between or behind them, Cornwall IV ushers the music to you in absolute effortless fashion. It's a key distinction. Forget about needing to lean in or meet songs at a halfway point; Cornwall IV aims and directs the action right at you. If you've always desired your own concert venue, and can live without laser-sharp imaging and exacting specificity that let you debate the location of the row the mixing engineer intended you to be seated, Cornwall IV will likely cause you to ask, "Where have these been all my life?" Visceral, unapologetic, and the embodiment of engaging, Cornwall IV brings music alive in sensory-invigorating ways.
As for power, presence, and expressiveness? Hold on to your hazy IPA. At every step, Cornwall IV offers you the chance to feel what you're hearing—just like memorable concerts. TONE Publisher Jeff Dorgay often says "dynamics are the fifth dimension." For both macro and micro, Cornwall IV slays. It also thrives in the areas of naturalism and transparency, with vocals and instruments coming across with noticeable richness, fluidity, and solidity. The smoothness and detail of its mid and high regions cannot be overstated.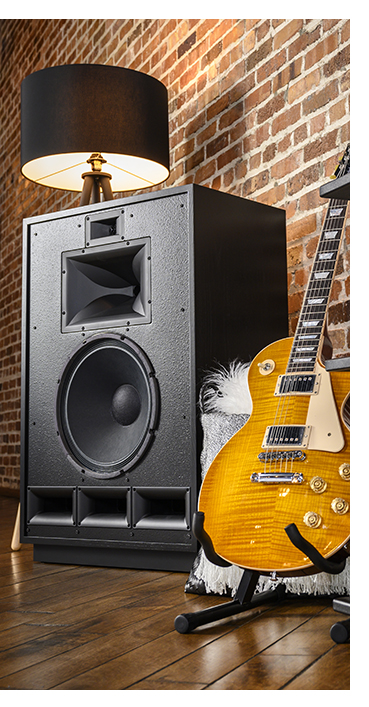 Another welcome revelation? How Cornwall IV performs at low volumes. You don't need to go crazy with the loudness to savor its spirit. But, if you do turn your amplification up? Holy schnikes. If a speaker could laugh, Cornwall IV would chuckle all the more you challenge and push it with higher decibel levels. It doesn't flinch, doesn't distort, doesn't put a tourniquet around the music. It lets you (and your equipment) decide the limits—a concept foreign to many speakers taxed with well-recorded rock or pop replete with weight, slam, and body.
Get Yer Ya-Ya's Out
Put through its paces, Cornwall IV handles a wide array of music—including numerous audiophile pressings. Cue up "Sad But True" from Metallica's self-titled album on the MoFi-supervised 45RPM vinyl edition and sit agog at the size, scope, physicality, and tuning of the drums. Spin any of the 7LPs in the must-have Tom Petty Wildflowers & All the Rest box set and marvel at the tones, immediacy, warmth, and producer Rick Rubin's ear for nuance and texture. Turn to the analog reissues of PJ Harvey's To Bring You My Love, Rid of Me, or Dry, and savor the previously unnoticeable subterranean frequencies and singer's throaty phrasing. Unsheathe an analog standby like Pink Floyd's The Wall or Janos Starker's 3LP set of Bach's Cello Concertos on Speakers Corner, and shake your head at how the musicians appear right before you, requiring no grand leap of faith.
Cornwall IV further unveils profound body, depth, and timbre tied to Johnny Cash's voice on an original pressing of Unchained, particularly when he leans on his chest cavity, as on "Spiritual" and "Southern Accents." Another vocal standout, Cecile McLorin Salvant's Dreams and Daggers, demonstrates sublime realism and airiness. Brandi Carlile's voice resonates with reach-out-and-touch-it tangibility on Give Up the Ghost and intricate By the Way I Forgive You. Ditto Adele's dark register on her smash 21. As for the current, lilt, and grain of Jimmy Smith's Hammond B-3 organ on the Tone Poet reissue of his Blue Note platter, Prayer Meetin': Hallelujah.
Crank up the volume to triple-digit decibel levels, and Cornwall IV lets loose. Drop the needle on AC/DC's Back in Black or For Those About to Rock, and the Young brothers' guitar riffs—coupled with the crisp, on-point thwack of Phil Rudd's drumming—radiates with convincing authority, superior control, lifelike separation, and unmistakable liveliness. Similarly, the insight afforded into the knotty architecture of Guns N' Roses' "Coma" on Use Your Illusion I; assertiveness of Kiss' pouting grooves on "Strutter" and "Do You Love Me" off Double Platinum; conveyance of the all-night vibe of Rihanna's "Diamonds" on Unapologetic; and bare-bones force projected from Run-DMC's tag-team rapping from Mobile Fidelity's SACD of Raising Hell—at last, an audiophile hip-hop reissue—provide one thrill ride after another.
Friends, Cornwall IV will not magically turn average or substandard recordings into gold, but its behavior tilts towards forgiveness. Vide, the latest installment of Grateful Dead Dave's Picks, Volume 36, touts questionable sonics—an oddity for both the band and series. Through Cornwall IV, you hear the flaws but still appreciate the music while getting a grasp on the moment and what takes place. The latter lingers as one of Cornwall IV's brute strengths: Replicating the moment—and, importantly, its aura—and translating both into a live-sounding medium.
Speaking of the Dead, a variety of the group's other archival releases (a handful of selections from the Spring 1990 (The Other One) 23CD box set; the February 18, 1971 show on the American Beauty: 50th Anniversary Deluxe Edition) match like peanut butter to chocolate with Cornwall IV. Everything from the timbre of Phil Lesh's bass to the tenor of Mickey Hart and Bill Kreutzmann's percussion—and atmosphere and breadth of the stage itself—personify live Dead. Pass the patchouli oil.
The Mike Campbell of Loudspeakers
Yes, Cornwall IV rocks. But it also feels entirely at home with jazz and laidback fare, be it folk or a solo violin piece. No speaker does everything right (see above). Yet Cornwall IV's versatility furthers its appeal—and should-be designation as a music lover's design in the same way Heartbreakers guitarist Mike Campbell reigns as a musician's musician. Others are flashier, faster, more finessed. Few, however, demonstrate such an innate knack for how to play notes, how to sculpt them and let them fade, how to serve the collective whole, and how to hold an audience's attention for hours on end.
Addressing tastes of listeners who bought into certain buttoned-down principles promulgated by audio tastemakers who never negotiated the musical sea changes that occurred once the 70s revved into gear, the market overflows with speakers that nail classical, small-scale jazz, low-key Americana, and close-miked vocal music—only to run with their veritable tails between their legs when called to unpack information in dense, complicated recordings. All-rounder designs are rarer. Cornwall IV excels with rock, metal, R&B, rap, electronic, and jazz. Still, the manners in which it handles classical and acoustic-based fare please, and hint at both delicacy and sophistication.
Not to suggest Cornwall IV suits everyone. It certainly does not—and will not suffice for those exclusively bent on critical listening and/or playing the role of recording engineer. But, if you listen to a variety of genres, place a premium on the sound of live music, value engagement over crack precision, possess the requisite space in your room, or, alternatively, want to construct a second system devised for concert-like experiences, you could do far, far worse—and will likely spend thousands more in the process.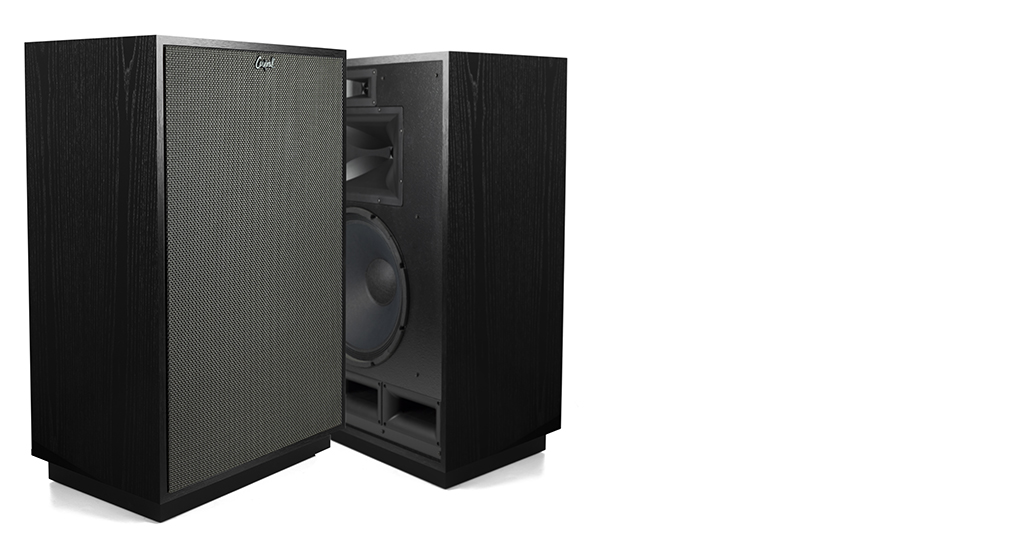 Klipsch Cornwall IV (photos courtesy, Klipsch corp.)
MSRP: $6,000/pair
klipsch.com
Peripherals
Preamplifier McIntosh C2300
Amplifier McIntosh MC452
Analog Dr. Feickert Woodpecker with Jelco tonearm and Ortofon Cadenze Bronze cartridge
Digital Oppo BDP-105 and Mytek Brooklyn DAC+
Cabling Shunyata Delta interconnects and power cables