Sansui AU-717 Integrated Amplifier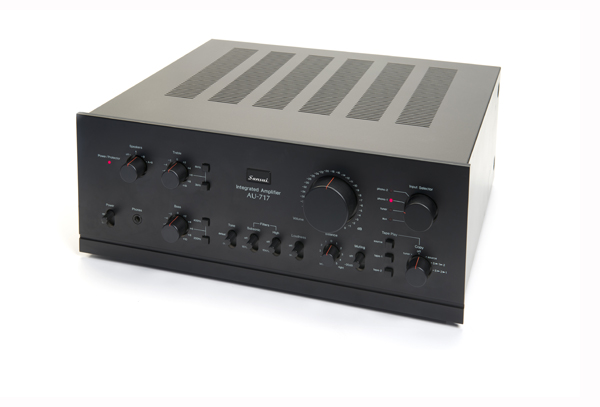 I remember the day like it was yesterday: I was pestering the guy at Pacific Stereo in the mall, begging to audition the Sansui AU-717 amplifier and a pair of JBL L-100 speakers that I was lusting after—and yes, the speakers had the orange grilles. As I watched those woofers pound in an out, listening to Supertramp's "Rudy" and driving everyone else out of the store, it was the moment of truth. Time to put up or shut up. The amp was $549 and the speakers were $549 a pair. "How about $900 for the whole thing?" I bargained.
At this point, the audio consultant (as they used to call 'em back then) laughed at me and said, "Kid, I'll let you have the whole thing for $800 if you've got the money." He and the manager weren't laughing when I peeled 800 smackers out of my jeans, insisting in my best Eddie Haskell voice that the two gentlemen carry my new system out to my car and throw in the 20 feet of free speaker wire promised by the sign on the front desk.
The most-read Old School column we've ever done was back in issue 30 when we featured the JBL L-100 speakers—seems many of the boomers in our audience either had a pair, wanted a pair, or still have a pair of L-100s. Either way, many good stories are always told about these speakers; they're like a great vintage car in that respect, so I keep them around for posterity. Visitors to the TONE studio always take note of them off in the corner, and they always bring back fond memories. When a cursory 4:00 a.m. eBay search turned up a pristine AU-717, it was time to press the buy it now button.
Some components stick in your mind forever, but it's tough enough to remember what you heard a week ago most times and some will argue that your auditory memory is fleeting at best. That's an argument we'll leave for the nearby audiophile forum, but for now I ask that you humor me when I tell you this damn amplifier even smells familiar.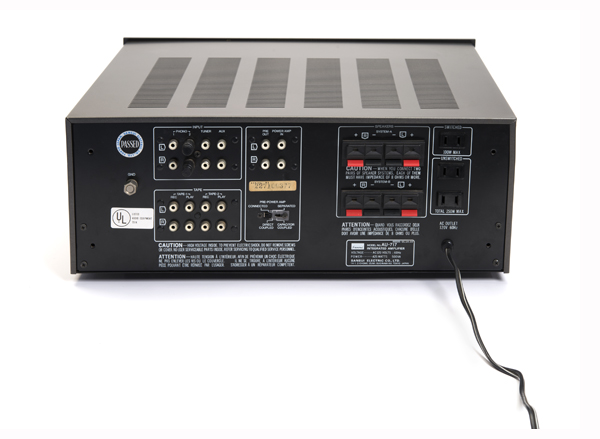 In 1978, a 40-pound amplifier felt like a monster, but next to my reference Pass Xs 300 monoblocks (with a combined weight of almost a ton, literally), the AU-717 is comparatively gentle on my back. I hook up the JBLs with the necessary zip cord, and it's time for the trip down memory lane to begin.
Keeping a foot in the 21st century, I stream digital files via Tidal and the dCS Paganini stack—which costs way more than my parents house did when I had this Sansui/JBL system on the first go. Crazy as this seems, the purity of the dCS as a source truly reveals just how good the Sansui really is. And even by today's standards, this modest setup still easily reveals the differences between the $60K dCS stack, the $30K Gryphon DAC and the $9K Simaudio 650D.
Extended listening to this combo proves musically involving, and revisiting the music I was listening to in 1978 is particularly fun. Mick Fleetwood's drumming on Rumours is splendid, as is Peter Frampton's guitar work on Frampton Comes Alive. The combination just works, and while the vintage combo is a bit grungier and foggier than my reference system, the whole experience is welcome and highly palatable. Even after hours, you don't realize what you're missing until you go back to the big system.
The AU-717's moving-magnet phonostage proves equally enticing, using our restored Thorens TD-125, courtesy of Vinyl Nirvana, with an SME 3009 tonearm and Ortofon VMS 20 mk. II cartridge. Later on, swapping the Ortofon MM for the Denon 103 and a step-up transformer takes the magic a step further, producing a degree of warmth and relaxation that makes spinning vinyl on these great components from the '70s tough to let go of. Seriously, if I quit my job as a hi-fi reviewer tomorrow, I could easily live with this system.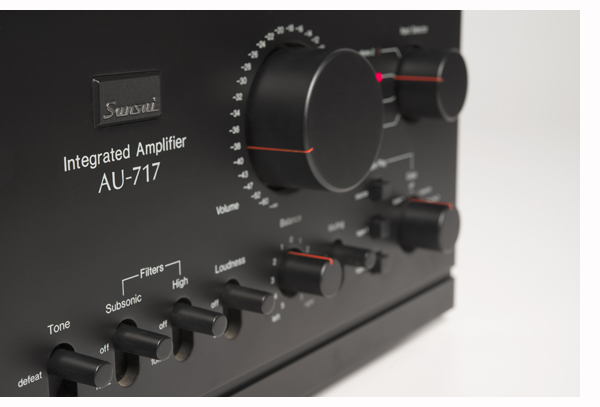 Of course, the AU-717 has a pair of tone controls for bass and treble that can be switched out of the signal path for purists. Those who enjoy using them will appreciate the variable frequency settings of 3 kHz/6 kHz for treble and 200/400 Hz on the low end, making them more useful than standard controls that have no adjustments. These controls seem well suited to the JBLs in my room, allowing me to touch-up the slight brightness in the speakers' upper registers.
The 85-watt-per-channel Sansui amplifier is rated conservatively, and reviews from Stereo Review and Audio from when the AU-717 was new indicate that it produced around 100 watts into an 8-ohm load; more than enough to drive all but Magnepans to a major level. Connected to a more modern speaker, like the Dali Rubicon 2s, the AU-717 turns in a superb performance. Bass control is excellent, and this amplifier plays loud, with plenty of headroom to spare.
Considering this amplifier now commands a price tag of $400 to $800, it has survived the test of time well. Expect to pay a premium for perfect cosmetics and the accessory-rack handles, which can fetch up to $150 a pair on their own. By now, these amplifiers will probably need most of the capacitors under the hood replaced, so if the seller claims that your AU-717 has been recapped, try and see as much physical proof and documentation as possible before paying top dollar.
A full overhaul done correctly will set you back about $400 to $500 and should include removing the icky glue used at assembly, which has become corrosive over time and will degrade the sound significantly and can also cause other problems. Once properly re-done, the AU-717 is definitely a premium integrated amp that you can enjoy for years to come.
– Jeff Dorgay