Dual 1219 Turntable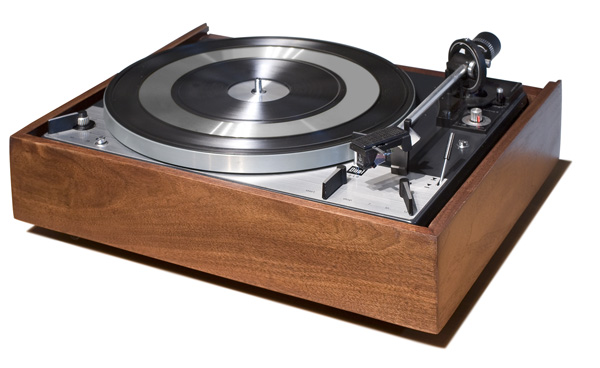 Many of us have fond memories of Dual turntables.  In the mid to late 70's, these automatic, idler drive tables were top contenders, with stiff competition coming from the likes of Thorens and Garrard.  Built like tanks, the underside was full of springs, gears and of course the big rubber idler wheel.  About this time, Linn's LP-12 hit the scene, offering a new level of musicality along with the direct drive tables from the Japanese that both stole some of the thunder from the idler drives.  Dual would go on to produce belt (and direct) drive models before fading off into oblivion in the mid 80's, but their legacy was definitely the idler drive tables.
With the vinyl revolution showing no sign of losing steam, many music lovers have turned to the classic turntables as an alternative to some of the budget offerings from Rega, Pro-Ject and Music Hall.  On the upper end of the price range, the classic Garrard and Thorens tables have really been making a comeback in audiophile circles, with fully restored versions easily fetching prices in the $3,000 -$5,000 range, with diehard idler enthusiasts claiming better bass response and more lifelike tonality.
If you'd like a taste of the idler sound at a more reasonable price, consider a Dual. Whether you are new to spinning vinyl, or trying to find something to play those old Foghat albums that you've had tucked in the closet since high school, this is a fun record player and it's fully automatic.  Which can really come in handy if you revisit the state of mind that you were in the last time you listened to Foghat…   If you want your audiophile buddies to think that you've really lost your mind, grab some dollar selections from your local record store or thrift shop and stack 'em!  Who needs iTunes and Cover Flow, when you can load up five albums to play non-stop.
The two most popular models, the 1219 and the 1229 are trading on eBay between $75 and $225, but this is not the way you want to roll.  Like any fairly complex mechanism, turntables don't respond positively to being bounced around in an adverse manner. Your chances of getting a clean example, and it not getting trashed in shipping by a non-audiophile are slim to none.
A turnkey solution
Just call Bill Neumann at www.fixmydual.com.  He's taken his hobby of restoring these tables and turned it into a full time job, thanks to the demand and word getting around on the Internet.  He charges anywhere from about $100 – $300 to rebuild a table, depending on condition, or you can buy a fully restored model with cartridge installed for about $425, which is just what our publisher did.  While a fair price for a budget turntable, this is a testament to the staying power of these turntables, as they were $185 when new in 1970-1972.
"I've always got at least a few on the shelf, ready to go," Neumann said when we talked to him.  His cartridge of choice; a vintage Shure, or the Grado Black.  As the big cheese just happened to have a spare Grado Red hanging around, that was the direction this table, a 1219 ended up taking.  Neumann added, "The major difference between the 1219 and the 1229 is the later model has a window with a strobe for the speed control.  They had to do that to keep up with Technics, but it's really not necessary, these tables hold their speed very well."
This is the perfect solution for the vinyl newbie, because the table arrives meticulously packed.  All you need to do is affix the counterweight and set the tracking force.  You'll be playing music in five minutes.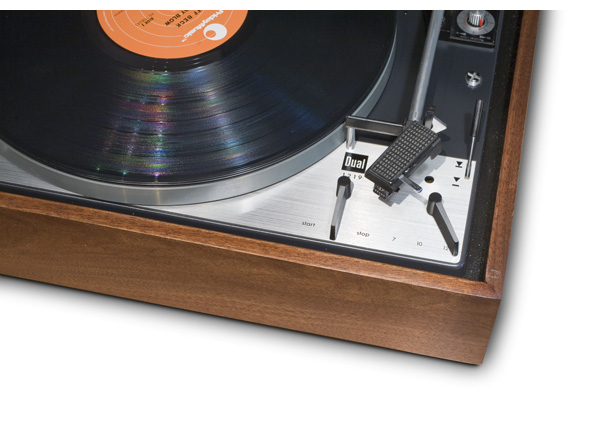 Definitely a vintage sound
After the photos were taken we decided to explore the limits of the 1219's performance envelope, before I took it home to a more "vintage" environment.  I'm sure most Dual owners won't be hooking this baby up to a $12,000 Audio Research REF Phono 2, but it was easy to see just what the table was capable of when doing so. It is definitely as I remember them sounding, somewhat warm and wooly, yet friendly.  There is definitely something to be said for "the idler arm sound", with a nice weight to the lower end.
Back in my batcave, hooked up to a recently restored Harmon Kardon Citation 18 preamp and Dynaco Stereo 70 driving a pair of JBL L-166's, the sound was full and enjoyable with killer bass.  When comparing this to a Rega P2 with Elys cartridge, the Rega table definitely has a livelier sound with more midrange detail; now I remember how and why these tables were so exciting back in the 70's when they arrived on the scene. However, I suspect that the 1219 may be severely limited by the cheapo stock tonearm cable.  My tweakazoid sensibilities might get the better of me, so don't be surprised if you see a follow up article after I've played with this table a little more, experimenting with some cable options as well as a few more budget cartridges.  I'm convinced there is more performance to be had from the 1219.
I just couldn't bring myself to use fully automatic mode, but the auto return feature was handy when I was getting busy later that evening.  Foghat never sounded so good.