Nordost Purple Flare USB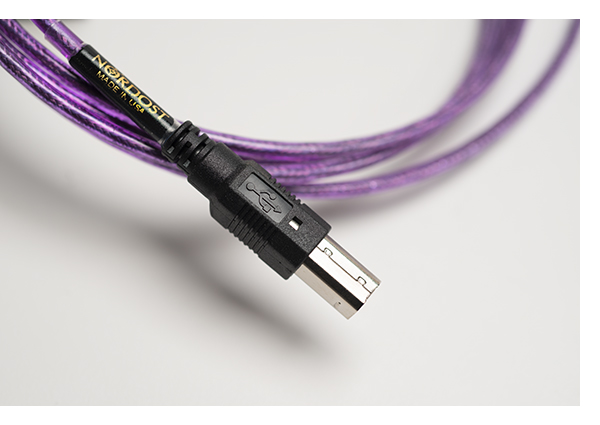 I'm an implementation junkie. I confess loving products that are well executed.
With so many garage builders entering the cable industry, with shoddily produced goods packaged like they came from a scout troop bake sale or estate sale, Nordost produces cable that feels great in your hands. And thanks to their extensive dealer network, they stand behind their products 110%. Having been in business for decades, should something ever happen to a Nordost product, it will be taken care of.
Cable is about sound, or actually a lack of it. The better the cable, the more the music gets through without harm, distortion or other complication. Other than Ethernet cable, there's nothing the naysayers like to naysay more than USB cables. Yes, yes, yes, they are just bits. It shouldn't matter what you use to transmit digital data. An $8 Best Buy cable sounds just as good as a $239 cable from a high-end manufacturer and we're all just biased or brainwashed.
But it doesn't
For years I've made fun of hifi reviewers mentioning how much their significant others like the sound of a pair of speakers or an amplifier. This time it's me committing the unmentionable, self-indulgent sin. However, I do present a slightly different spin on this one. My wife, Pamela has jumped into the high end game with her Headphone Artsmagazine, and though a newcomer to the audio world, has spent a tremendous amount of time listening to a variety of different gear. She's absorbed a lot, and has become fairly opinionated on what she likes and does not like.
Ever the trooper, she recently accompanied me to one of Nordost's events being held by our friends at Audio/Vision San Francisco. Nordost's Michael Marko always puts on a great demo and this one was good as ever. He starts with a basic USB DAC setup, and this time we were listening to music through a PrimaLuna HD integrated, an amplifier we are both intimately familiar with and a pair of small YG acoustics speakers.
Serving up tunes via a MacBook Pro running Roon and Tidal, the difference between the generic USB and Purple Flare is dramatic, one you don't need to strain to hear. When Marko switches again to the equally purple, but $600 Frey 2 USB, an even more dramatic change in clarity occurs.
There have been numerous discussions on the web, as well as at hifi shows, by the worlds top cable designers as to why a well-designed USB presents a more coherent audio signal. It's not just 1s and 0s. But this is another argument for another day. Leave this one for a long night, Google, and your favorite adult beverage.
Sometimes a cable is the best change
Regardless of what your system consists of, if you're serving up tunes via laptop or other USB connected device, a premium USB cable between it and your DAC provides a nice, incremental upgrade. There's nothing like a system refresh.
We tried both – using both a Mac Mini running Tidal and Roon, delivering digital signal to a Gryphon Kalliope DAC and an Aurender D100 server, via its USB audio output. Both benefitted from the Purple Flare, with the same result over a generic USB cable. We both noticed the same effects in three different areas
Background depth/noise level
When auditioning fairly sparse tracks, like the acoustic guitars featured in the jazz classic, Friday Night in San Francisco, you can instantly hear more space between the soloists, along with smoother, more defined decay after their fingers hit the strings. All classical selections ditto – a deeper, more quiet background makes for a greater feel of ambiance. And, you hear the difference more going back to the generic cable after you've listened to the good stuff. It's unmistakable. Even our non audiophile friends that we subject to this kind of madness from time to time couldn't define the effect in audiophile terms, but all made the same comment that "the music sounded more relaxing" with the Nordost cable in place. Isn't that what it's all about?
Larger soundstage
This was another area that the non audiophiles picked up right away. The sound field painted by the system swelled in size in all three dimensions with the Purple Flare as the conduit. Stevie Nick's voice in Fleetwood Mac's "Landslide"feels almost buried in the mix with the generic cable, yet with the PF substituted, she now has a space of her own and comes out front and center. Great recordings feel larger and densely packed recordings open up more and are less fatiguing to listen to. Even my favorite live recording (and arguably one of the worst sounding records, ever) KISS-Alive! perks up when delivered via the PF. I wanted the best and I got it.
Grain reduction
Dealing with digital files can lead to a somewhat harsh and grainy experience. Again, going back to acoustic and sparse vocal tracks shows this off more quickly. Tracking through a lot of Blue Note jazz titles, piano and drums are cleaner, and reproduced with much less digital glare. Again, this translates to a more natural, less fatiguing sound. Even when we just used the PS Audio SPROUT 2 as our source, ($599 for those that aren't familiar with this little marvel) and a pair of vintage JBL speakers, the effect of the PF is still right there.

Take one home and try it
As I've mentioned in past Nordost reviews, because they offer a wide sales network, you should be able to go to your Nordost dealer and get a convincing demo pretty quickly. You won't have to strain to hear the difference with this one. I could ramble on and on, citing track after track. Get in the drivers seat and listen for yourself. The only advice I can give is to not audition the Frey 2, you might find yourself spending even more money on cable. Ha.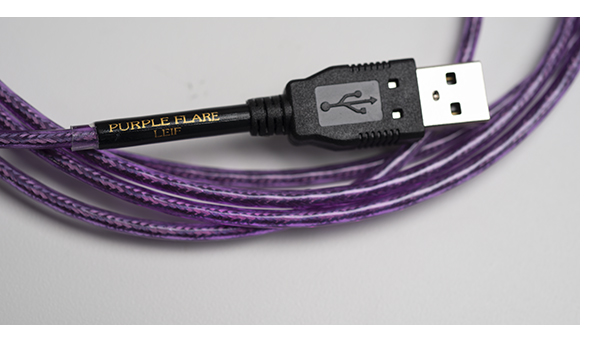 The Nordost Purple Flare USB
$249