MartinLogan's Perfect TV Partner


In my other job in the 2-channel world at TONEAudio magazine, I've put the MartinLogan Motion 35XT's through their paces, and they are fantastic speakers. Taking the concept further, we have the SLM range of speakers you see here.
The X3 is the most expensive of the range at $999, but it uses three of MartinLogan's Folded Motion transducers and six, 4-inch woofers, squeezing a left, right and center channel in a sound bar that is just a shade over 6 inches high, 48 inches wide and only 2 inches deep. Available in white or black, the SLM X3 should fit into any décor easily.
In addition to the ease of integration, kudos to MartinLogan for offering a pair of small feet that can screw right into the SLM X3, so that in case you live in an apartment that frowns upon you permanently mounting things into a wall, it will just sit right up on a tabletop. Ms. Bubble and I also found this super handy in this mode, transporting the SLM X3 from living room video system to bedroom system. Both have small, powered, wireless Paradigm subs, so this is a breeze, and it's nice for apartment dwellers on a budget, allowing great sound wherever you are. The rest of you can either buy a second one for the other system and mount via standard anchors to your wall.
It might be an issue for some that the SLM X3s are not powered, but I love the fact that they are not. Considering MartinLogan's expertise at speaker building (and just like the Motion freestanding speakers) the combination of high-quality drivers and crossover network components inside the cabinet will blow you away with the sound quality – so you're not limited by the electronics in the box. You can build your audio/video system with simple electronics, and as your system improves, you won't have to upgrade the speakers.
Borrowing a pair of 35XTs from a friend and using my Paradigm MRX520 surround sound receiver with Anthem Room Correction and a small Paradigm subwoofer makes for a fantastic theater system with little effort. If you haven't used Anthem's ARC, it's a treat and gives great sonic result without agonizing terribly about "where to place the speakers." With the SLM X3 beneath my 70" LG TV, the 35XT's back behind the couch as rear speakers and the sub hidden in the room corner, I was rocking in about 30 minutes.
As the SLM X3s only go down to 120hz, you will need a subwoofer. Again, I suggest ML or Paradigm because you can get all the bits from the same dealer, (Gotta love one-stop shopping!) and they will work swimmingly together. Finally, having front, center and rear speakers using the same tweeters gives a more cohesive overall sound.
Though the SLM X3 has a very similar sonic signature to the rest of the Motion range, listening began using the soundbar just as front speakers, with the sub off in the corner. Even if this is all you can muster to begin with, it will dramatically increase your television enjoyment. The monsters in Game of Thrones are much more convincing, and the spacy sound bits in Rick and Morty were a blast. Not to mention gaming is way more fun with big sound.


Remember, MartinLogan cut their teeth decades ago building some of the worlds finest speakers for 2-channel audio enthusiasts, so the SLM X3 delivers the goods in a way that most soundbars don't. Using just the left and right channel of the SLM X3, on the dresser with subwoofer augmentation makes beautiful music. Stepping up to the Esoteric F-07 integrated we recently reviewed, the SLM X3 does not disappoint. Thanks to the 93db/1-watt sensitivity rating, you'll be quickly evicted no matter what you are powering the SLM X3 with if you aren't prudent!
Stereo imaging is big, bold, and wide, regardless of musical choice and these speakers provide luscious tonal capability. Vocal tracks come alive, and thanks to the lightening quick response of those Folded Motion tweeters, drums and percussion are incredibly realistic. Even if you never use the center channel, the SLM X3 and a small subwoofer make for a great, albeit compact stereo music system, which has infinite potential for expansion.
Moving to a full multichannel system is spectacular, and if you don't want stand mounted speakers behind you, there are two smaller models to the SLM lineup that can be mounted vertically. This would be the way I'd roll if in a compact space, to keep things tidy.
Though priced at the upper end of the soundbar spectrum, the SLM X3 is a premium solution. It's like three high-performance MartinLogan speakers, tailor-fit into a compact housing. They refer to it as an "Ultra-Slim Folded Motion speaker. This is a premium product from one of audios finest companies. Highly recommended.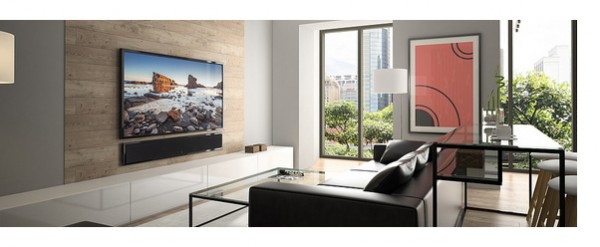 The MartinLogan SLM X3 Speaker System
$995
https://www.martinlogan.com/motionSeries/models/ultra-slim.php