Wax Rax RC-2 Record Cart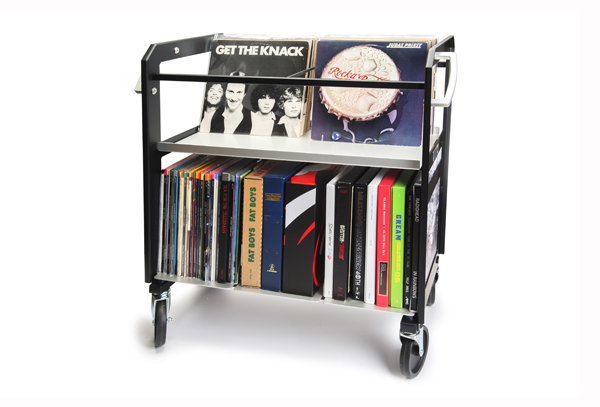 Six years ago, I wrote the review below. I remain as enthused about the Wax Rax RC-2 as ever. The price has gone up slightly, due to increased materials cost (from $1,525 in 2015 to $1,825 in 2021) but this product is still worth every penny. The build quality is beyond reproach, and even after heavy, daily use, my RC-2 looks as good as the day it arrived. It remains a cherished possession.
Wax Rax owner, David Stanavich has been doing well, and has expanded his product lineup: the LP-V shelves we hinted at are now a reality in three and four shelf models, and they have a very cool album cover stand, and some interesting 45 r.p.m. adaptors. They even offer a way to put your records up on a pedestal. All things worth perusing for the vinyl lover.
The Wax Rax RC-1—a $4,200 anodized-aluminum, CNC-machined beauty on wheels—is an amazing piece of analog art. Hmm, Eames Lounge chair or record rack? Wax Rax proprietor David Stanavich lost out to Herman Miller on that one, but when the new RC-2 wheeled record cart became available, for a more reasonable price of $1,525, I was ready to roll. (No pun intended.)
If you're going to snipe at $1,525 for a record rack that only holds 400 LPs, this product is not for you. It's much more than a record rack; it's a piece of high-end furniture. You either get that or you don't. This product is hand built, finished and assembled in Brooklyn, New York. It is not something stamped out like thousands of Ikea Expedit shelves, which I still use to store the bulk of my 7,000-LP collection.
Another argument dissenters might make about the RC-2 is "it only holds 400 records and I'd need to buy 20 of these." Again, this is somewhat of a non-issue, as you probably don't want all of your albums floating around your listening room on wheeled carts. Those of you who really dig the aesthetic of the RC-1 and RC-2 and want to go all the way will soon be able to buy Wax Rax LP-V shelves. They'll be modular and sans wheels; pricing info will soon be available.
Both the RC-1 and RC-2 make it easy to grab a few hundred of your favorite LPs for a few days worth of listening (or reviewing) and wheel them right next to your turntable or listening chair. As a reviewing tool, this portable accessibility is indispensable. Before getting the RC-2, I would keep about 150 of my favorite reference records on the bottom shelves of my equipment rack and then go back to the vault for whatever the listening session requires.
The amount of time saved not having to dig through the vault multiple times throughout each session justifies the cost of the RC-2 in a short time. As a bonus, listening space clutter is way down, and my record collection is finally back in order. The larger your music collection, the more you need one.
For those with more modest collections and in smaller living spaces, the RC-2 is perfect for making your LPs portable. As attractive as the RC-2 is, it's easily stored in a closet or pantry when not in use; then you can just wheel it out to your listening space when you're ready to start spinning vinyl. This is also a good solution if you have little ones around your house whose prying fingers and noses you'd prefer to keep away from your LPs.
As far as analog accessories go, this is among our new favorites. The TONEAudio listening area and the guy doing the listening are much better off with the Wax Rax RC-2 around. -Jeff Dorgay