Steidle Woodworking Record Crates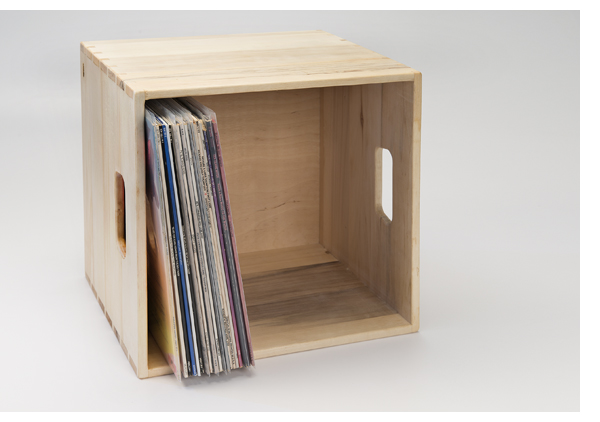 The ubiquitous milk crate serves many vinyl fans at some point during their lives. Any why not? It is inexpensive, sturdy, and offers an eerily ideal size to accommodate a record collection. It's hard to imagine that anyone could taint such a perfect audio storage solution with actual milk bottles!
For those who want all the functionality of their much-loved milk crates, but who want a huge step-up in aesthetics, Steidle Woodworking Company in Vancouver, British Columbia, offers an exceptional solution. The company's owner, James Steidle, hand builds each crate from reclaimed wood or trembling aspen with a birch bottom panel. While sizes and designs vary, the standard crate protects 70 to 80 LP-sized records in style. Different versions are made to embrace 7-inch records. With the natural grain and color variance inherent in wood, each crate has its own unique and beautiful appearance.
In order to accommodate a bulky, heavy load of vinyl, Steidle fortifies each creation with attractive and sturdy dovetail joints which bind sides and bases together with exceptional durability. This approach also eliminates the need for metal hardware which could otherwise detract from the organic aesthetics. Simple, ergonomically cut handles grace the sides, making these crates portable even when hauling a full capacity of records.  -Rob Johnson
James Steidle sells his handcrafted creations through Etsy.com. Designs start at $79. http://steidlewoodworking.com/