Shinola Watches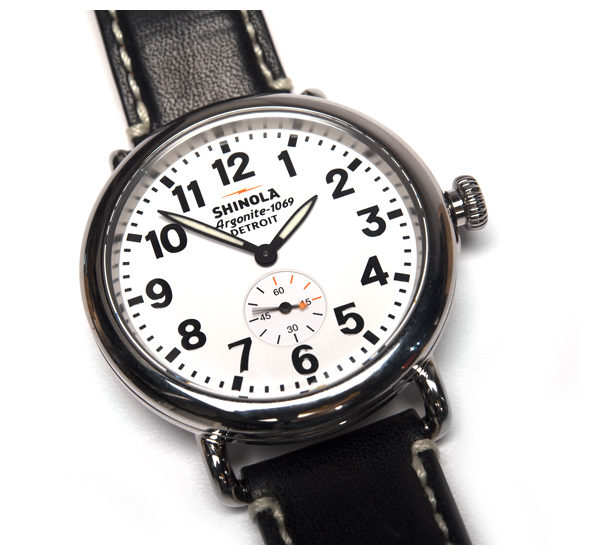 Cars aren't the only things being produced in Detroit these days. Earlier this year, Shinola began offering a variety of items including bicycles, leather goods and watches, all produced at its Detroit manufacturing facility. And its watches in particular caught our attention.
Named after the 1940s-era shoe polish brand, Shinola is backed by a larger Dallas-based company and has an ultimate production goal of 500,000 watches annually. Shinola has partnered with Detroit's College for Creative Studies, which is helping to interject creative approaches in the company's manufacturing process. And while not all the parts in Shinola's watches are sourced from U.S. suppliers, the company hopes to bring more U.S.-based companies into the fold. As one example, a well-established watchband maker in Florida, Hadley-Roma, produces all the leather bands for Shinola's watches.
It is not uncommon for U.S. manufacturers to buy parts from sources around the world and assemble them here. Many companies even have the entire assembly process done overseas where expertise and labor costs can make small-scale production more economical. Shinola's manufacturing approach bucks this trend in order to create jobs locally. And Shinola's watches have generated a strong following from those who favor the watches' neo-retro designs.
Shinola takes special care in building its movements, which is kind of like a watch's engine, allowing the watch to maintain time and date, and in some cases enabling stopwatch functionality. All the movements in Shinola's current lineup are quartz-based and required the battery to be changed every few years. Companies like ETA (Swiss) and Miyota (Japanese) produce very reliable pre-built movements and are the go-to options for some U.S. watchmakers. Another large movement manufacturer is Ronda (also Swiss), and its movements serve as the basis of Shinola's own Argonite series of movements, which Shinola assembles at its Detroit factory. Keep in mind that each Argonite movement requires 40 to 80 tiny parts.
To prepare the team in Detriot for such a large and delicate undertaking, Shinola brought in several experts from Ronda to get the process rolling and to help train the local team. A substantial amount of hands-on labor is required to build each movement—and considering the care and time that the team in Detroit puts into each Shinola watch, a price tag starting at around $500 is very reasonable. Given the quick growth and popularity of the company, it appears that many happy Shinola customers agree.  -Rob Johnson