Senz "Smart S" Folding Umbrella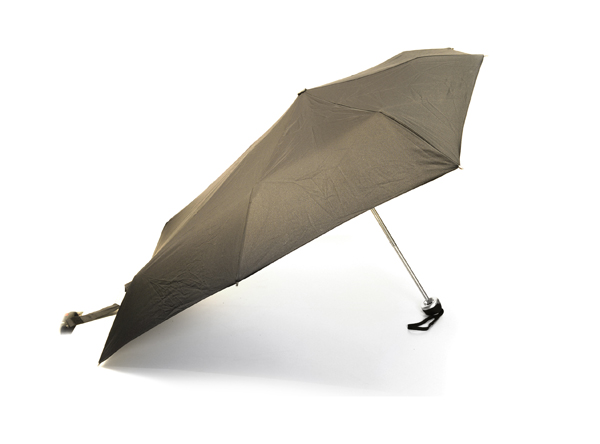 For Portland, Oregon, residents like me, rain is a not just a common experience, it's a way of life.  The word "rain" actually proves too generic and inadequate here because experiences with liquid precipitation vary so much. We've become accustomed to a creative system of rainfall classification based on the volume of water that clouds decide to unleash. In order of increasing wetness, descriptors include mist, drizzle, light rain, scattered showers, showers, rain, steady rain, heavy rain and, well, deluge. Portlanders generally don't even notice the first two categories when they occur; more wet conditions, however, demand acknowledgement and some shield strategy when heading outdoors.
These weather conditions fuel my ongoing quest for the perfect umbrella, which must meet three requirements: a very compact folded size that fits into a computer bag, a deployed size that provides adequate water protection, and a durable design that allows use in fairly windy conditions. All this led to my experimental purchase of a Senz "Smart S" umbrella. "S" stands for "small" versus the larger sizes Senz sells.
Made for one person, the most eye-catching feature of this umbrella is its unconventional canopy design. While the Senz, compared to my other travel umbrella, has roughly the same square footage of rain protection the canopy shape is quite different. Unlike the traditional round umbrella shape the Senz sports a squared-off, teardrop-like shape with a roundish front, a wider shoulder section, and an elongated tail. In addition to water protection, Netherlands-based Senz describes the oblong shape as superior for use in windy conditions.
Closed, the Smart S is about 9.5" (24cm) long and it deploys manually. Once open, dimensions are roughly 34" x 34" (85 x 85 cm). For a foldable, the build feels quite durable with metal parts for added strength.
It didn't take long for perfect wet and windy weather to hit Portland late this fall, so the Senz and I teamed up and embarked on a few errands. I'm accustomed to a round umbrella, so at first I was skeptical about the Smart umbrella's shape and its theoretical benefits over a more conventional design.
The handle, positioned more toward the front of the teardrop, gives the umbrella an unusual and off-balance profile. During a brisk walk in the rain, however, the genius of the shape becomes clear.  The rounded front keeps the front of your legs and shoes dry. The wider shoulder section offers good shielding for the bulk of the body. The "tail" on the Senz directs runoff further behind me than a round umbrella does. Ultimately, this means the back of my pant legs stay drier.  In addition, the narrower overall shape accommodates pedestrian sidewalk traffic better than my round umbrella does.
The Senz also handles wind with aplomb just as advertised. Even in gusts, the umbrella never flipped or inverted.  Smart S is designed to withstand a 35 mph (60 km/hr) wind. I have not tested that yet, but in moderately windy conditions it does better than other umbrellas I've owned.
Because the Smart S is so compact, it works best when aimed in the direction of travel. I find that wind-driven rain, perpendicular to my walking direction, causes more of a challenge. For maximum dryness, I need to twist the Senz a bit so the leading edge angles toward the wind and rain, or else accept a damp side of my body. I'm sure a larger Senz model would reduce this problem. Repositioning the Smart S umbrella reduces rain exposure for me, but the elongated back creates a greater eyeball hazard for passers-by on busy sidewalks. However, most others were so intrigued by my unusual Senz silhouette that their eyes found the umbrella before it found them. If you are worried about visibility, the S comes in red as well as black and white.
The Senz Smart S is not cheap at around $40, and if you are prone to losing umbrellas, it could prove an expensive habit.  For all the use I'll get from it, though, I feel the Senz offers price performance. This well-engineered umbrella is my go-to for city use. The unique canopy shape proves effective in more cases than does a round design. For those on-foot folks who want to be prepared for wet weather conditions, the compact size and durability of the Senz Smart S make it a great option.  –Rob Johnson
Senz "Smart S" Umbrella
MSRP: 24.95 Euros (about $35 USD) direct