HiFi Racks Limited – Grand Stand XL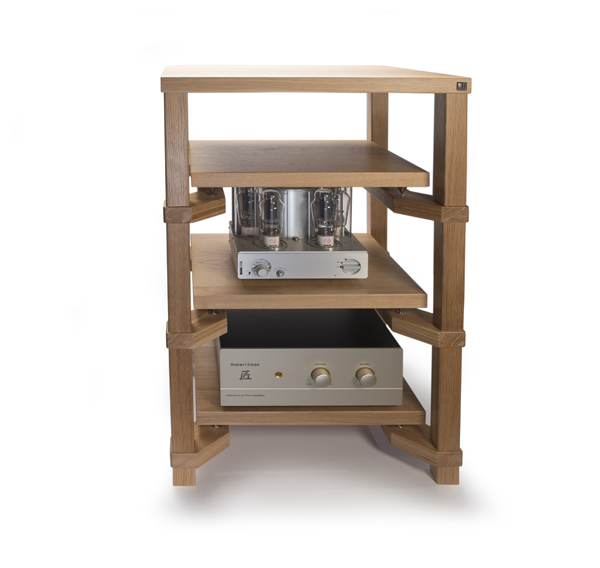 While many argue about the sonic effects of a good hifi rack, you can count us in the plus category. With so many different configurations to choose from, and some having more benefit than others, the Grand Stand XL you see here is a winner for many reasons.
First, they are handmade in the UK with care and pride. Second, they feature hardwood construction, so they will stand the test of time, thanks to no veneers to separate or incur damage. Small nicks and scratches should be easily smoothed over without worry. HiFi Racks Limited offers a number of standard configurations, which should cover most gear, but should you need something special, they also build bespoke racks to your specification. A wonderful thing for those with oddly shaped gear, large or small.
Seven standard finishes are available, with color options here:  http://www.hifiracks.co.uk/wood-choices.php
Again, if these are not to your liking, custom options are available; you merely need to discuss with the friendly people at HiFi Racks Limited.
They arrive straight from the UK to your door via UPS, and the packaging is superb. Inside the padded box is everything you need to assemble a first-rate audio rack, which should take you about 10–15 minutes if you're taking your time. As you can see, the shelves are decoupled with spikes, making for an easy move in the listening room should you decide to rearrange.
Once set up and in place, the Grand Stand XL makes for an attractive, yet understated, addition to your listening room. While we could not notice a mind-bending change to the sound after moving reference components from our SRA Scuttle rack, the Grand Stand XL does not muddy, blur or otherwise degrade the sound. Its solid wood shelves also do not ring or vibrate like many we've heard made from glass or MDF.
If you like the aesthetic, we highly suggest the Grand Stand XL, especially considering how easy it is to assemble and the company's willingness to custom build. There is nothing worse than great components that don't quite fit on a rack. Like a bespoke tailor, HiFi Racks Limited makes for a perfect fit with your system. And like the perfect frame for a piece of art, there's nothing like that extra bit of presentation to go along with great performance.  -Jeff Dorgay
HiFi Racks Limited – Grand Stand XL
$700/tier