Rega Brio-R: Redefining the Genre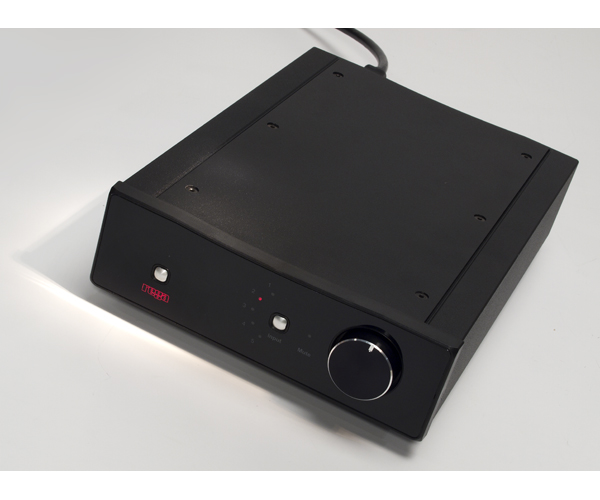 Too bad the folks at Rega aren't in charge of balancing the trade deficit. While a substantial amount of modestly priced hi-fi is now produced in China, Rega continues to make solid designs built by hand by skilled craftspeople in its UK factory. That the company produces a 50wpc integrated amplifier with an excellent phonostage is quite admirable; that the firm does it at this level without going to the Far East is nothing less than incredible. Rega's main man, Roy Gandy, is fond of saying that Rega likes to build products that offer top performance in their respective class. But this time, Rega hit the ball way out of the park.
Longtime Rega enthusiasts might be surprised that the price of the Brio-R is $300 more than that of the previous model, which has been around for about 12 years. However, the new version offers substantial gains even as it occupies a much smaller footprint. Think of the $895 Rega Brio-R as the Lotus Elise of integrated amplifiers; it's not quite what you'd expect until you get behind the wheel. And yes, the "R" stands for remote.
Make sure to use both hands when unpacking the Brio-R. The compact box is fairly heavy, weighing in at about 20 pounds. Peaking inside shows that Rega didn't allow a square millimeter of space to go to waste. The Brio-R features the same enclosure as the Rega DAC we reviewed earlier this year, the shared approach keeping costs low and quality high. No detail is left to chance; the remote-control circuitry is even given its own separate power supply to ensure signal purity. Poking around inside reveals one pair of output transistors per channel, high-quality film caps, and a very short signal path.
Small Yet Strong
Despite its smaller box, the new Brio packs a bigger wallop than its predecessor. And there's never been a more perfect example of specs not telling the whole story. While the previous Brio 3 is rated at 49 watts per channel and the new model at only 50 watts per channel (73 watts per channel into 4 ohms), Rega claims the new output stage can reasonably drive outputs "as low as 1.7 ohms."
Indeed, while the last Brio struggled with low-impedance speakers, the Brio-R effortlessly sailed through. Driving a pair of Magnepans usually translates into the kiss of death for most small integrated amplifiers (and a few larger ones, as well), but the Brio-R did a very respectable job of powering the notoriously power-hungry MMGs reviewed in this issue. It's also worth noting that my Cambridge Audio 740C (rated at 100 watts per channel) was not up to this task. Moreover, the Rega had no problems driving my vintage MartinLogan Aerius. A reasonably priced integrated that can tackle Magnepans and MartinLogans without problem? High marks are in order.
Like the prior Brio, the Brio-R features an onboard MM phonostage, also improved in sound quality and sensitivity. In the past, users that didn't utilize a Rega phono cartridge complained about a lack of gain in the phonostage, an issue that required serious twisting the volume control to achieve reasonable listening levels. With a sensitivity of 2.1mv, the Brio-R had no troubles reaching full volume at the 12:00 level when outfitted with a Sumiko Blackbird cartridge, which boasts an output of 2.5mv. Thanks to its quietness, I was even able to use a Grado Master1, which has an output of only .5mv (47k loading). Doing so necessitated setting the volume at almost 2:00 for the maximum level, but the Brio-R remained up to the task.
Setup and Controls
The Brio-R will have you listening to music in a jiff. The spartan front panel shares the same design brief as the Rega DAC, with a power button on the left, volume control on the right, and a button that requires a touch to toggle between inputs. The mute control is only accessed via the remote, which also allows for volume level and input switching.  And the Brio-R can only be turned on and off from the front panel.
Around back, five inputs and a fixed level output made for an excellent match with my recently restored Nakamichi 550 cassette deck, which incidentally is almost the same size as the Brio-R. For the tapeheads, the output has a level of 210mv.
The only caveat? Input one is the phono input and not marked as such. Plugging in a line-level source here will cause a hateful noise at best and blown tweeter at worst, so proceed with caution. If you're not a vinyl enthusiast, get a pair of Cardas RCA caps, if for no other reason than to prevent a mishap. Rega turntables do not have ground wires. But if you're using a 'table that has one, the ground screw is underneath the amplifier's rear face.
The Brio-R uses a standard IEC AC socket, so those that enjoy swapping power cords can geek out all they want. However, the RCA jacks and speaker binding posts are so close together that some cables will not be compatible. And while the average consumer that purchases a Brio-R may not step too far into the world of premium cables, the amplifier is good enough to warrant doing so. Given the restricted space, speaker cables with spades are almost out of the question; grab bananas or banana adaptors.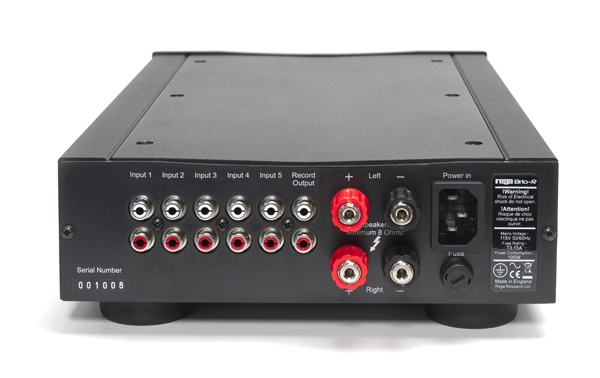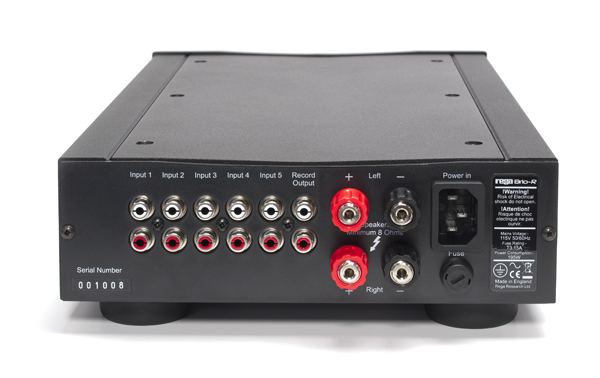 Sounds Like Separates
Resolution often sets separate components apart from integrated amplifiers. The Brio-R has an overall clarity that I have never experienced at this price—and I've heard my share of much more expensive pieces that struggle to sound this good. After all, only a handful of sub-$3k amplifiers provide true high-end sound; the Brio-R belongs at the top of that short list. It truly sounds like separate components.
At the beginning of John Mellencamp's "Sweet Evening Breeze" from Human Wheels, a Hammond organ faintly enters from the far back of the soundstage, barely registering a whisper. Other inexpensive integrateds I've sampled (except for the PrimaLuna ProLogue1) don't resolve this. Or, what does come through is flat and on the same plane as the rest of the music—a blurry rendition. Oingo Boingo's "Nothing Bad Ever Happens" from Good For Your Soul has similar textures, with multiple layers of guitars and keyboards that, via substandard gear, blend together and smear. By yielding genuine dimensionality, the Brio-R is a budget component that you can listen to for hours on end, fully engaged in the presentation.
The amp claims a fair share of headroom as well. Whether listening to KISS, with or without a symphony orchestra, the Rega didn't run out of steam until played at very high volumes. Switching to the 99db sensitivity Klipsch Heresy IIIs (also reviewed this issue) resulted in a completely different situation. This combination achieved near rave-level SPLs with Nine Inch Nails' The Downward Spiral. The opening drumbeats to "Big Man With a Gun" were big and powerful, yet the little Rega didn't seem to break a sweat.
Your favorite speaker with a sensitivity rating of between 87–91db should prove a more than acceptable match for the Brio-R's power amplifier section.
Vinyl Adventure
The phonostage in the Brio-R should prove a perfect match for anything in the $100-$600 range and when used with the Rega RP1 and its Performance Pack, an upgrade that includes the Bias 2 MM cartridge. The latter features a tonal balance slightly tipped toward the warm side of neutral, helping less-than-stellar LP pressings sound their best.
For example, a friend that brought over budget treasures purchased for fewer than $3/each couldn't believe the performance wrought by the RP1/Brio-R combination. Again, the Brio-R's phonostage offers excellent resolution and a very smooth upper register. And while the RP1/Bias combination turned in a great show, switching to the P3-24 and Blackbird offered a substantial helping of "what the analog fuss is all about."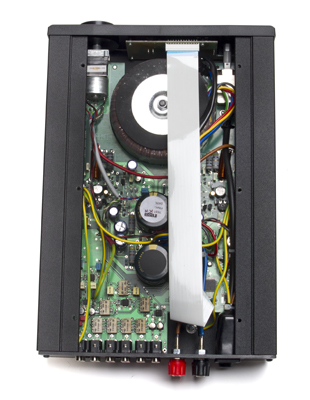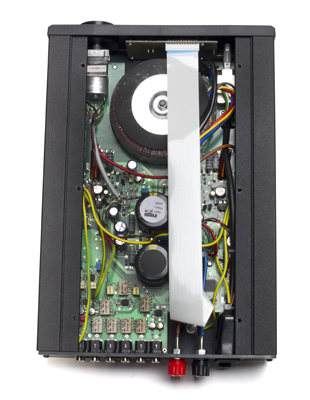 Good Things Do Come in Small Packages
The Rega Brio-R sets the benchmark for an $1000 integrated amplifier and then some.  While it's easy for those that regularly hear the world's best (and often most expensive) gear to get excited about great sound, it's truly thrilling to hear this level of sound quality from an amplifier with an $895 price tag. Music lovers on a budget no longer have to sacrifice quality. This one could make a crazed audiophile out of you where you least expect it.
-Jeff Dorgay
The Rega Brio-R
MSRP:  $895
Manufacturer Information:
www.soundorg.com (US)
www.rega.co.uk (UK)
Peripherals
Digital source                        Simaudio 750D, Cambridge 650BD
Analog source                        Rega RP1 w/Bias 2, Rega P3-24 w/Sumiko Blackbird
Speakers            Magnepan MMG, Klipsch Heresy III, Vienna Acoustics Hayden Grand, Spica TC 50
Cable                                    Audioquest  Columbia
Power                                    IsoTek EVO3 Sirius