WORLD PREMIER REVIEW: KEF X300A Powered Speakers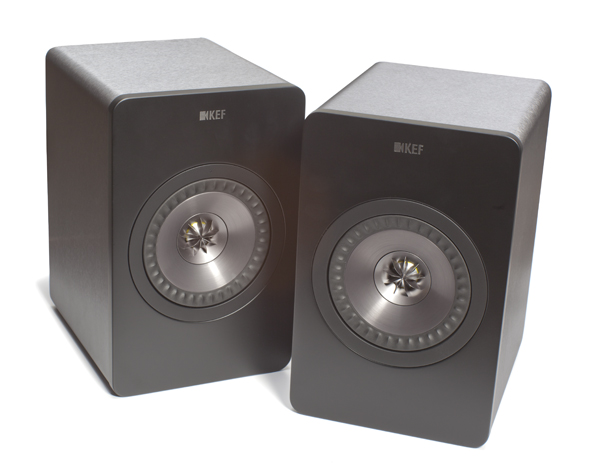 Quietly unpacking the top secret box from KEF containing their latest X300A speakers didn't cause much of a fuss at the TONEAudio office, because these tiny grey boxes are so understated. And we've been heaving around some pretty massive speakers lately.
But the minute I cranked up Led Zeppelin's Houses of the Holy, I knew these speakers were indeed one step beyond.  "No Quarter" had big bass, a lot of snap and a stereo image that extended six feet beyond the speakers.  Imagine a pair of Quad 57's with a giant sweet spot, bass extension and the ability to rock. That's the KEF X300A.
Now imagine a pair of 75 watt per channel amplifiers, a 24/96 USB DAC and the ability to stream from your favorite wireless device thrown in with the deal.  Are you sitting down?  $799 for the pair.  That's right. While we have never used the tired audiophile cliché "jaw dropping" here at TONEAudio, there were some mouths opened rather wide upon hearing these little miracles for the first time, with MP3 files.
Having recently spent quality time with the flagship KEF Blades, the family resemblance is shocking.  KEFs patented Uni-Q driver places the tweeter right in the center of the midrange (in this case full range speaker) providing a seamless coherency that is not at all unlike a great pair of ESL speakers.  This is what 50 years of engineering and manufacturing excellence brings to the table.
The best part of the job
There's nothing more fun than getting people excited about hifi sound for the first time and the X300As make it an easy sell.  Only 7"w x 11"h x 9" d, the XA300A will fit anywhere, provided you can leave a few inches behind the cabinet for the bass port.
Combining the Uni-Q driver with powerful class AB amplifiers, gives the necessary headroom to fill small and large rooms with sound.  Initial listening was done solely with MP3 files, 128kb and 256kb/sec respectively, so even if your music collection is solely from iTunes, the X300As will take you to a level of musical appreciation you never thought possible.
Crosby, Stills and Nash's debut album and the current Best Coast album via MP3 files had more than a reasonable share of airiness and decay, with plenty of vocal palpability.  Moving up in quality to standard 16/44.1 CD files lifted a software-induced veil, yet the biggest surprise was sampling recently downloaded 24/96 selections from HD Tracks.  KEF has given these speakers serious audiophile cred.
Upping the ante to high res files really shows what these speakers are made of.  The Doors classic, "Riders on the Storm" was a perfect segue into audiophilia – these speakers have fantastic pace!  The opening bass line in the track stays firmly planted in its own space somewhere in front of the ocean and Jim Morrison's voice, while the keyboard just tinkles in ever so lightly throughout the mix. Keith Jarrett's The Koln Concerts illustrates how well the X300s take care of the critical midrange on his solo piano masterpiece.  Again, the coherence of the Uni-Q driver feels like you are listening to far more expensive speakers.
Solo vocalists, check.  Whether I was listening to KD Lang or Johnny Cash, the time alignment of the Uni-Q driver furthered the illusion of "is it real or is it Memorex."  Timbral accuracy, check.  Jazz and classical music fans will love the realism that the X300As provide.  Herbie Hancock's piano via the title track of Maiden Voyage is rendered with a realism well beyond what you'd expect from an $800 pair of speakers – but remember, this is an $800 system. And of course they rock.  A superset of Slayer, Metallica and Sleep pushed these diminutive speakers without fatigue.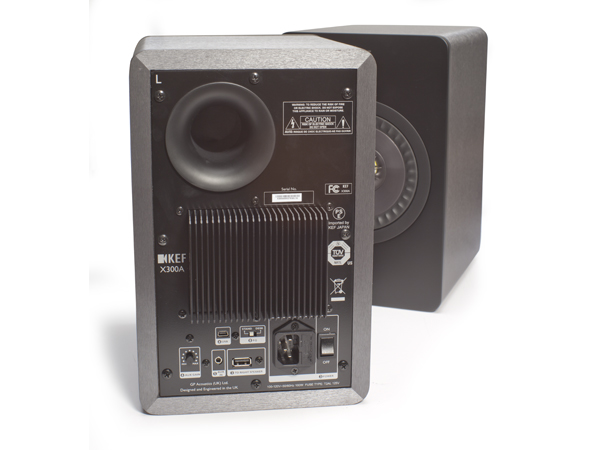 Fab functionality and setup
You can get your music to the X300As via the USB port on the back panel of the right speaker, or take advantage of the optional dongle (A $99 value that KEF sends you free upon registration) to stream via AirPlay.  The Apple AirPort Express can also be used, but resolution will be limited to 16/44.1.
A 3.5mm analog input is also provided, for those wishing to go the hardwired approach, yet this opens up another possibility – add a turntable!  A nearby Technics SL-1600 table with Shure M97 cartridge and a Hafler HD-101 preamp with phono stage proved a perfect low cost analog addition, still keeping the total system cost under $1,000.
The X300As are right at home on your desktop or on a pair of stands and there is a switch to optimize bass performance for desktop or in room.  The speakers worked flawlessly between my 27-inch iMac, providing an enveloping experience.  The Uni-Q driver integrates well near field and thanks to the integrated amps and DAC maximizes space in the often cluttered desktop environment.
Again, the big surprise was bringing these speakers out in the main 16 x 25 foot listening room on a pair of 24-inch Sound Anchors stands. These stands cost almost as much as the X300As, but with a little blu-tack and careful attention paid to placement, deliver audiophile results.  Non audiophile friends kept asking, "where's the rest of the system?"
The X300As deliver the goods
KEF has created nothing short of a major miracle for $799.  All you need to create an awesome hifi system is your smartphone or laptop and an iTunes playlist.  However the beauty of the X300As is their ability to play well with both camps.  If you just want to put them on your desktop or bookshelf and enjoy them, that's fine.  Your Bose-owning friends will squeal with agony when you tell them what a great bargain the KEF speakers are. Yet you can be as audiophile as you care to.  Add a pair of good stands and make them the cornerstone of a high performance, yet compact music system, thanks to the 24/96 DAC and additional analog input.
In closing, it wouldn't be a party without some KC and the Sunshine Band.  Importing a 24/96 capture of their first album on MoFi vinyl had everyone in the office jumping around.  So shake your booty, get down to your KEF dealer and buy a pair of these.  And grab some Depends on your way home, because you're going to mess yourself when you hear them – they're that good.
The KEF X300A
MSRP:  $799/pair
www.kef.com