The Triangle LN-01A Powered Speakers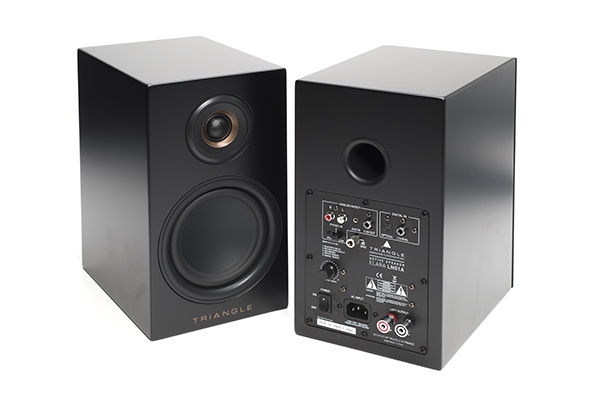 With a plethora of fairly cool powered speakers on the market these days, it can be tough to choose.
Triangle makes it easy with the LN-01As because in addition to being a great pair of powered speakers, priced right at $799/pair, they include an on-board DAC, subwoofer output, and an MM phonostage. The phono input makes the deal for me, because what's the point of a "compact" system, if you have to add a bunch of other boxes, right?
Spinning records with a recently restored Dual 1229 and Grado Black cartridge is a lot of fun with these little speakers, the built-in phonostage performs well, with decent frequency response and dynamic range. Triangle offers a turntable, produced by Pro-Ject, but any basic table/cartridge combination will work well here. We tried a couple of budget Grado, Shure and Ortofon cartridges with excellent result.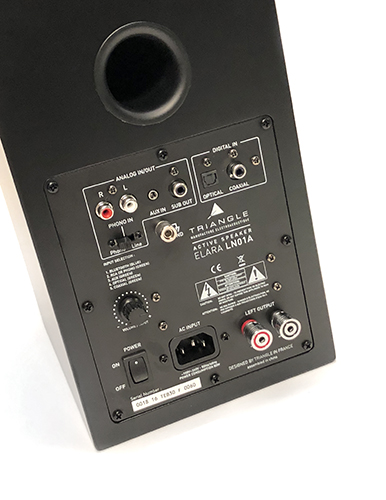 Though it defeats the above mentioned compact ethos, plugging in a recently restored TEAC reel to reel deck makes for a cool new and old combination. Watching the VU meters bounce when playing a few mix tapes is indeed romantic with the Triangles.
Sly and the Family Stone's classic "If You Want Me to Stay" is rendered faithfully, and that bass control on the remote comes in handy; whether you're in the party mode wanting more sock, or just need to compensate for room placement, these modest tone controls are highly effective. Take off the audiophile hat and enjoy, I say.
Switching the program material for something more raucous (like Slayer) proves the French pair can rock. "Reigning Blood" had to be turned up to painful levels to get the onboard amplifiers to clip, making the LN-01As capable party guests. Even more so if you add a small subwoofer. Our trusty REL T5 rounded out the lowest notes, giving our favorite hip-hop and EDM tracks more body, especially at party levels. A little sniffing around on eBay can get you something you can live with for a few hundred bucks and keep the total system cost around a thousand. That's tough to beat.
Very Versatile
Setting up the LN-01As is a simple task. Everything you need to get started, including a 20-foot length of speaker cable to connect the passive left speaker to the right speaker, where the amplifier and related electronics, is included in the box. A small yet capable remote is accompanied by an excellent instruction manual, to guide you through the process.
Coax and optical digital inputs are provided along with a line level analog input and the phono. Music can also be streamed via Bluetooth. A USB is not offered with the LN-01As, but everything included performs at a high level. I'd rather see more performance and less connectivity, but your tastes may differ. A quick comparison, running TIDAL from a MacBook Pro via line level, streamed from an iPhone 8 via Bluetooth and an older Sony CD player's optical output reveals the digital input a winner in ultimate fidelity by a slight margin over the line level, with the Bluetooth third, though still very good. The key here is flexibility. The LN01As work great on a desktop, bookshelf, or on dedicated stands all the same. They use a rear-firing port, so take care not to place them right up against a wall, or the lowest frequencies will roll off slightly.
Passing judgement
The Triangle Esprit floorstanders we just finished auditioning were incredibly good overall and an incredible value. The same level of sonic excellence and workmanship is here with the LN01A, though both speakers are intended for entirely different audiences. Admirably, the LN01A shares all the audible virtues that the more substantial speakers offer, and share a similar voice. The highest highs and lowest lows are slightly rolled off in comparison to the larger speakers (as expected) but the lovely, natural midrange that we experienced with the Esprit is in full effect with the much smaller LN01A.
The LN01As are comfortably at the top of the class, providing you don't need to have a USB input. However, we feel that the functionality offered by the on-board MM phono stage and subwoofer output far outweigh the lack of a USB input. The only mystery is the sampling rate of the DAC, but again, what it accomplishes with TIDAL files is outstanding. I can't imagine that many music lovers with an $800 system going to the expense of downloading high-resolution files.
If there is one suggestion to be made with these speakers, considering how tiny the remote control is, a full function smartphone app might be a useful upgrade to the LN01A. But seriously, I'm thinking of buying the review pair and a Pelican case to have these at the ready for when we take a road trip. Exellent as these speakers are in the house or office, they would make great traveling companions!
The Triangle LN01A powered loudspeakers
$799/pair (white or black)