Focal's New KANTA no.2 Speakers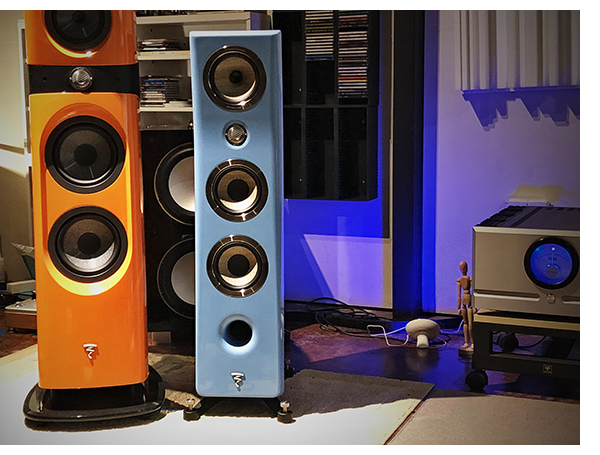 Part One: Initial Impressions
Old school auto mechanics have a saying, "If you want 'em to run hard, break 'em in hard." With no connecting rods to send through an engine block, I can't resist the urge to turn the volume up loud, the minute the photos for this review are finished. A quick playlist of Alice Cooper is queued up and a heavy hand on the volume control has "Hey Stoopid" filling the listening room with authority, my reference orange Focal Sopra no.3s in the shadows and the REL 212SE subwoofers turned off.
Where the Sopras were slightly stiff right out of the shipping cartons, the new Kanta no.2 is smoother and more relaxed, so we'll see where this goes over the next few hundred hours. Out of the box, these are one of the most pleasing speakers I've spent time with – in this case a stunning first impression.
Expecting a pair of yellow Kantas (we love bright colors here at TONEAudio) the glossy Galouise Blue pair that arrived are just as stylish. Pamela gave them an instant thumbs up, mentioning that they nearly match the color of my bright blue Fiat 500e and current iPhone case. Who says guys can't coordinate colors? Having seen nearly all the color combinations at the recent Rocky Mountain Audio Fest, they are all fun, and I applaud Focal delivering a few color combinations more daring than the standard white, black and wood.
The Kanta driver compliment consists of a 6.5" midrange, pair of 6.5" woofers and a new Beryllium dome IAL tweeter. Focal has updated their cone material again, this time using a Flax sandwich cone. They claim that this offers a "warmer, richer tone," and a quick switch back to the Sopras confirms this. Which will you prefer? Both are excellent, but a trip to your Focal dealer for a listening session will help you decide. A sensitivity rating of 91db/1 watt means they won't need a ton of power to get the job done.
Doing the audiophile thing, bouncing back and forth with 45 seconds of a wide range of musical material not only wins me over on the $9,995/pair Kantas, it brings two questions to mind: how can Focal keep making better and better speakers for way less than their $200k + pair of Grande Utopia Ems and what will the next Grande Utopias be?
The Kantas combination of technical excellence, sonic purity and sheer beauty, even after a few hours of listening is incredible. In the weeks to come, we will cover a lot more ground, mating the Kantas to a wide range of amplification from SET all the way up to our massive Pass Labs monoblocks.
For now, consider the Focal Kanta no.2 speakers one of the best first dates ever.
More info here:
https://www.focal.com/en/home-audio/high-fidelity-speakers/kanta/kanta-no2