Bryston BHA-1 Headphone Amplifier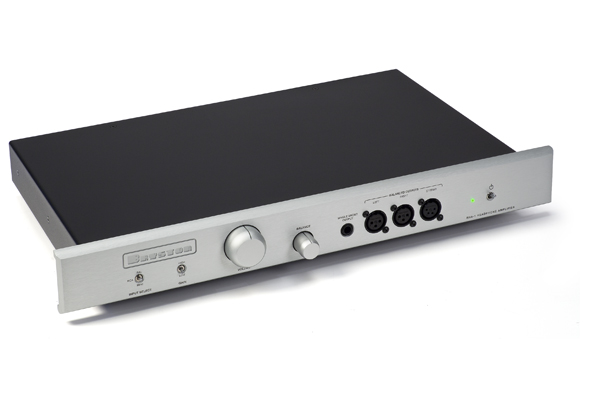 Bryston has always been known for making high-quality, high-value electronics.  The company has now addressed the continuing growth in the personal audio (i.e. headphone) world, with its new BHA-1 headphone amplifier.  It's instantly apparent that Bryston has done its homework on this one.  In addition to coming with Bryston's industry-leading 20-year warranty, the BHA-1 feels like a product you'd want to keep forever the minute you take it out of the box.
For many, the term "headphone amplifier" might conjure up a vision of something small and lightweight.  While the BHA-1 is indeed compact, only taking about 3 inches of rack height, it's densely packed and feels heavier than it's claimed 8-pound weight.  The inside is full of goodies, including a big torodial transformer, major power supply, Noble volume control and all discrete circuitry throughout.  If you're thinking that the BHA-1 looks more like a linestage, you're half right.  The BHA-1 can be used as a two-input (one balanced and one single-ended) linestage, with balanced outputs—which makes this a perfect unit for the headphone enthusiast looking to expand to a speaker-based hi-fi system (but I'll talk more about that later).
The front panel of the BHA-1 features individual balanced outputs, a stereo balanced output and a traditional ¼-inch stereo jack, so no matter what kind of phones are in your collection, you will be able to plug them in.

Playing the Field
The BHA-1 integrates perfectly into room two, with the Thorens TD-124 turntable, SME 3009 tonearm, Ortofon VMS 20 Mk II cartridge and Lounge MM phono preamplifier providing the analog signal; the balanced output of the new Oppo BDP-105 universal player handles digital duties.
Listening begins with the most difficult phones to drive in my collection, the HiFiMAN HE-6s.  While the BHA-1 has more than enough current drive to handle the HE-6s, this is not my favorite combination, with the top end sounding crunchy and slightly compressed—but this is an extreme torture test.  I've never found these phones to sound stellar on anything but HiFiMAN's own amplifier, which is purpose-built for these cans.
Tracking through Richard Thompson's latest LP, Electric, with my faithful Sennheiser HD 650s (recabled by ALO Audio) proves much easier on the ears—a smoother high-frequency balance and a more dynamic presentation.  The Grado GS500s and a highly modded pair of SR60s from ALO Audio also prove easy to drive, both of them exhibiting a good tonal balance.  It's amazing how addictive a modest analog setup can be through headphones!
However, my favorite mate for the BHA-1 is the Audeze LCD-2.  The dead quiet presentation of the BHA-1 and the lightning-fast transient response of the LCD-2s make it feel as if I'm wearing a pair of Magnepan speakers.  The sound rendered is airy, transparent and big.
I move on to the latest MoFi release of Duke Ellington's Ellington at Newport, which underscores the dynamic ability of this headphone amplifier.  With the interplay of the musicians and the horns blasting about the soundstage, this mono recording has so much depth that it sounds like stereo—even more so through phones.
Regardless of the phones you choose, the BHA-1 will impress you with its ability to throw a soundstage that is both wide and deep.  Dark Side of the Moon is still bitchin' with headphones on, and just to take a trip in the way-back machine, I try the album out with my original set of Koss Pro4AA headphones, which I've had since high school.  They sound amazing playing this rock classic through the BHA-1.  What fun!
Vocalists and acoustic instruments are rendered with ease and accuracy.  I won't bore you with the list of male and female vocalists auditioned, but suffice it to say that the BHA-1 provides a high level of midrange clarity and transparency.
Thanks to its big power supply, the BHA-1 not only provides fantastic bass response, but also a low noise floor.  Build quality is robust throughout, with a solid chassis and top-quality connectors, which are a must when one is constantly plugging and unplugging headphones.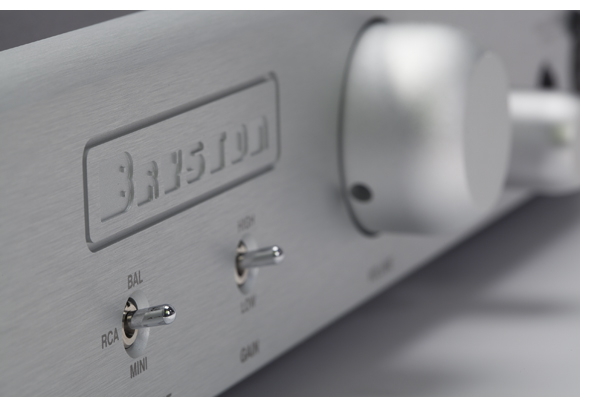 Double Duty
Used strictly as a headphone amplifier, the BHA-1 is well worth the $1,395 MSRP on the basis of its sonic performance and flexibility.  However, those wanting to make it part of a traditional linestage/power, amplifier/speakers type of audio system just got a free linestage thrown in with the deal.
Setup thusly in room two, with a handful of tube and solid-state power amplifiers from Van Alstine, PrimaLuna, Pass Labs and Simaudio, the BHA-1 is an excellent linestage, offering the same characteristics described in headphone mode.  It has no problems driving a 20-foot pair of interconnects and its compact profile will integrate easily into your décor or rack setup.
The overall sound is very much like that of the Bryston BP1.5 phonostage we reviewed in 2012: clean, dynamic, neutral and to-the-point.  The BHA-1 does not embellish or color the sound delivered.  Mating the BHA-1 to the KEF LS50 speakers and the PrimaLuna ProLogue Premium power amplifier makes for a wonderful combination within the financial reach of most audiophiles.  Even at high volume, the BHA-1 (especially in the context of a system utilizing a tube power amplifier) contributes no noise of its own.
The two inputs should be all that most people need to incorporate a digital and an analog source into the system.  I'm sure some have suggested that Bryston add remote control, a motorized volume control, etc., and while I'm sure the company's engineering team did ponder these questions, the addition of this functionality would bump the sticker price up considerably.
At $1,395, this has to be one of the best audio buys going.  The tonal quality, versatility as a headphone amplifier and the fact that it makes a killer preamplifier are three great reasons why the Bryston BHA-1 deserves one of our Exceptional Value Awards for 2013. -Jeff Dorgay
The Bryston BHA-1 Headphone Amplifier
MSRP: $1,395