Oppo HA-1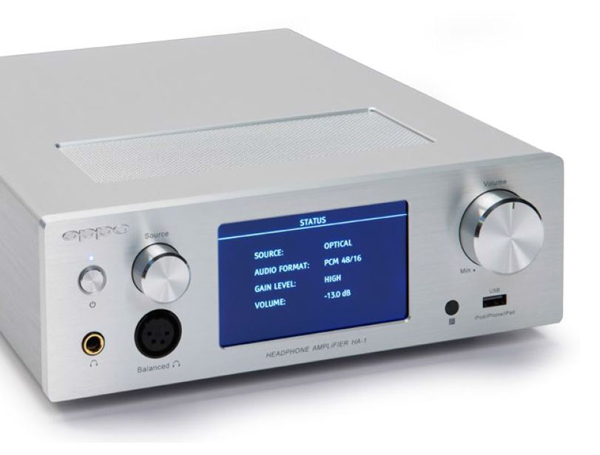 Listening to the complex timbre of Joni Mitchell's voice, it's hard to believe that the $50,000 hifi system I'm listening to is utilizing the OPPO HA-1 headphone amplifier as its front end. Headphone amp you say? It's more than a headphone amplifier, but if the HA-1 were only a $1,199 headphone amplifier, it would still be a screaming good deal.
As the classic TV guy likes to say, "but wait, there's more…" A lot more. The HA-1 also includes a fantastic DAC, capable of decoding every kind of file you might have on your computer or music server, including DSD and a full-function, fully balanced line preamplifier. Running a set of Cardas Clear balanced interconnects to the Nagra 300B power amplifier via the Alta Audio speakers that are also reviewed in this issue, I'm floored by how much music this compact, yet powerful, preamplifier lets through.
While I must confess to only being an armchair headphone enthusiast, I love the concept of the HA-1, because it's the perfect segue to a great in-room system for the advanced headphone enthusiast. Start out with a system built around a pair of premium headphones (like OPPO's own PM-1), a source for digital music files and add an amp and speakers when the mood strikes you.
Precious little the HA-1 can't do
The tidy rear panel of the HA-1 contains one single-ended RCA and one balanced XLR input along with one of each for the output, but that's only part of the story. In addition to the four hardwired digital inputs (Toslink, USB, SPDIF and AES/EBU) the HA-1 can accept signal via Bluetooth as well, taking advantage of the aptX codec, if your device supports it, making the HA-1 a handy streamer. And, for those of you living in Apple world, the front panel USB input is Apple MFi certified, so it will grab the digital bitstream from any iDevice, allowing a first-class combination between the two.
Removing the cover of the HA-1 reveals a tidy layout, densely packed with a massive power supply and a full class-A headphone amplifier built with discrete transistors, while the linestage uses high quality, balanced op amps. The front panel's LCD readout can be configured in a number of different ways, either displaying inputs, volume level, a spectrum analyzer, or a pair of classic VU meters. Of course, the purists can turn the display off, but why would you want to? The display adds a nice touch of fun to the HA-1, and in homage to the '70s, I left it in spectrum analyzer mode, always a conversation starter at a party.
As with OPPO's physical disc players, the HA-1 has an app to control all major functions. While the included remote is sleek and easy to use, controlling the HA-1 via your phone is a no-brainer. Rather than implementing this via Bluetooth, as OPPO has done here, I'd love to see this work via your network, as Devialet has done. This is my only complaint with the HA-1, and it's minimal, as I suspect most users will use it as a headphone amplifier instead of a control preamplifier, in which case the limited range of Bluetooth is more than adequate. You just can't adjust the volume of the system when you're soaking in the bathtub at present.
Let's put some phones on, shall we?
As awesome as the HA-1 is as a preamplifier and DAC, it really is a headphone amplifier. Again, front panel functionality wins the day here, with an output for balanced and ¼" headphone cables, along with a USB socket, in case you're listening to some of your favorite tunes via an iDevice.
A firm believer in class-A operation and discrete output stages, the HA-1 delivers great sound from every phone I plug in, from my reference Audeze LCD-3s to OPPO's own PM-1, which was reviewed in Issue 64. As you might suspect, the HA-1 provides not only perfect synergy for OPPO's headphone, but it proves equally exciting with everything else in my headphone arsenal. If you have a balanced cable for your favorite phones, there are a few more molecules of music to be revealed via that output, but it's not a deal breaker either way; it's more about compatibility. I applaud OPPO for incorporating both outputs neatly on the front panel.
The overall presentation is consistent, regardless of phones used, indicating a robust output stage. Even my old AKG 701s – which are notoriously tough to drive – and the HifiMan HE-1s don't prove problematic loads to the HA-1. The HA-1 is as close to perfection as it gets for the price asked, with nary a glitch – it's great across the spectrum, offering a smooth frequency response, excellent transient attack, and a solid, linear response at both extremes of the frequency spectrum.
The solid-state design provides another plus: virtually unmeasurable background noise, critical when listening to headphones. If there were ever a place you didn't want noise creeping in, it's here. Those listening to a lot of electronic and rock music might not notice, but classical lovers will really appreciate the dead silence provided by the HA-1.
Easy listening
Again, not being a headphone maniac, the highest compliment I can pay to the HA-1 (or any solid-state amplification product, for that matter) is that it is resolving, yet non-fatiguing.  The sonic signature is much closer to what I am used to with my reference Burmester and Pass Labs reference amplifiers than anything else I've auditioned. Where the competitors from Benchmark and Bryston have a slight bit of edge and glare in comparison, the HA-1 is smooth sailing all the way.
Tracking through some of my favorite classical pieces via digital recordings, the absence of background hiss makes this ultimately more pleasurable than switching to analog, even though the highest frequencies are smoother when rendered from an LP.
The HA-1 has more than enough resolution to easily tell the difference between analog and digital signals. Utilizing the Rega RP10 turntable in for review, via the Simaudio LP610 phonostage is particularly stunning. Keeping a bit more in line with what someone might spend on a system built around the HA-1, swapping the Rega/Sim combination for the Lounge Audio LCR phonostage and our Thorens TD-125 (lovingly restored by Vinyl Nirvana) is delectable.
Grooving on some of my favorite headphone records is a total blast with the HA-1. Going for big stereo separation, I can't resist a '60s and '70s marathon of Pink Floyd, Genesis, Hawkwind and a little Cheech and Chong, to make it complete. Cheech and Chong's classic Big Bambu is funnier than it's ever been with all the little sound effects floating around the room. The massive three-dimensional soundstage rendered by the HA-1 is completely immersive, giving you that special presentation that you can rarely achieve with even the world's best speakers.
Much like Porsche's incredible Cayman S, the OPPO HA-1 offers balance as its highest virtue. Yes, there are a few headphone amplifiers providing more resolution or more bass extension and grip, yet they cost so much more – it's tough to justify the stretch to any but the most maniacal of headphone listeners.  If you aren't going to lay down the big bucks for something like the ALO Studio Six, or those massive 300B monoblocks from Woo Audio, I can't see spending any more than the $1,199 price tag on the OPPO HA-1. It's that good. OPPO could easily unbundle the HA-1, sell the DAC and pre as standalone components for about $2,000 each, and they would still be class leaders.
OPPO has always stood for solid engineering, great audio performance and smart packaging. The HA-1 headphone amplifier continues this tradition, and if anything, takes OPPO's version of performance to an even higher standard than they have on their past award-winning components. I can't suggest this component highly enough.  -Jeff Dorgay
Oppo HA-1
MSRP:  $1,199