AURALiC Gemini 2000 Headphone Amplifier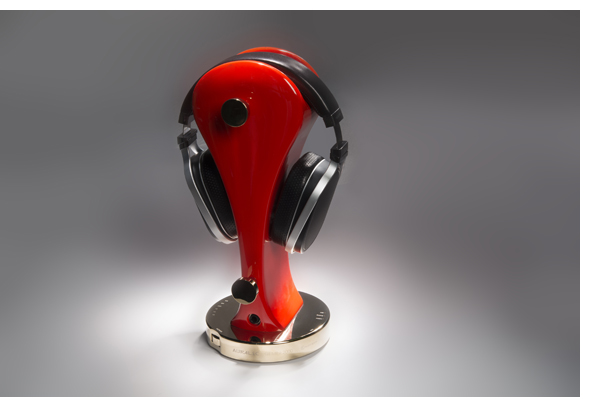 Is the Gemini 2000 a headphone amplifier? Is it a headphone dock? Is it a DAC? Well, yes. Through the Gemini, Hong Kong-headquartered AURALiC creates a design that manages to pack all that into an attractive and great-sounding component. For those seeking a headphone-based desktop system, this AURALiC offers a turnkey package.
Headphone stand
At first glance, the most eye-catching and unique feature of the Gemini is its headphone stand, licensed from Klutz design. Standing about a foot tall with graceful curves, the stand not only looks great, but it offers a secure way to display your favorite headphones and keep them at the ready. AURALiC offers a lot of color options including a glossy white, black, yellow, blue, and the bright red of our review sample. In addition, there's a choice of a shiny gold or silver base finish. With so many choices each prospective owner is bound to find some color combination to his or her liking.
Acting as a headphone stand, the Gemini certainly has stability and heft. The base of the unit is quite heavy, and lifting the unit makes me feel as if I'm accepting a hefty Oscar statue. The Gemini is not likely to tip over with your valuable headphones draped over it. Another really nice feature of the stand is the ability to wrap the headphone cord onto it, keeping the desktop tidy. Metal pegs at the top and bottom facilitate the process, acting in a similar fashion as the electrical cord holder on an upright vacuum cleaner.
The business end…
The stand element by itself may look impressive, but the real design feat is squeezing the DAC and amp into base of the unit, about an inch tall with 5.5-inch diameter. Each Gemini comes equipped with a 4GB SDXC card which includes Windows computer drivers, a manual, and some sample music.
The Gemini 2000 we reviewed also has a little brother, the 1000. The main difference between the two is the option of a balanced headphone output on the former, and the amount of power output. The Gemini 1000 offers 1000 milliWatts (a.k.a. one watt), and as you might guess, the 2000 offers double that. We didn't have the opportunity to compare both units side-by-side, but I expect the 1000 would have adequate power to meet the requirements of many headphones.
The lower, narrow part of Gemini 2000's stand offers ¼" headphone output on one side and a balanced output on the other. Those who desire a mini-output will need to use an adapter.
Tiny red LEDs grace the circumference of the base's top, indicating the user-selected volume, input source, and file resolution. Equally diminutive buttons on the side of the base facilitate power-up and source changes, while the knurled edge of a scrolling wheel adjusts volume. AURALiC doesn't label "Volume" as such though. Instead, it humorously claims, "Niceness."  Moving the wheel, I have to agree with the nomenclature. Until you get used to placement of the controls be sure to bring your reading glasses because these labels are almost microscopic.
DAC
With some trickle-down technology from AURALiC's marvelous Vega DAC, the Gemini's DAC is capable of decoding high resolution files including CD-standard 44.1k, 48k and DSD, double DSD and DXD.
In addition to the standard USB connector, there's the uniquely shaped digital input for Android phones and tablets.  Finally, those with a Toslink-enabled CD player or Astell & Kern player can purchase the appropriately terminated cable for connection with the Gemini. As mentioned earlier, Gemini sports a SDXC card slot, and depending on the card's capacity, quite a bit of music can reside within the amp itself, controlled by the connected computer with included software.
Connecting the Gemini to a MacBook Pro laptop proves a breeze. After tethering the Gemini to the computer via the included USB, simply go to the System Preferences, and under the sound options AURALiC appears as a selectable option. Once done, iTunes recognizes the change immediately and diverts all sound to the Gemini. For those using Windows-based computers AURALiC provides a Gemini driver to facilitate the interface between the two machines.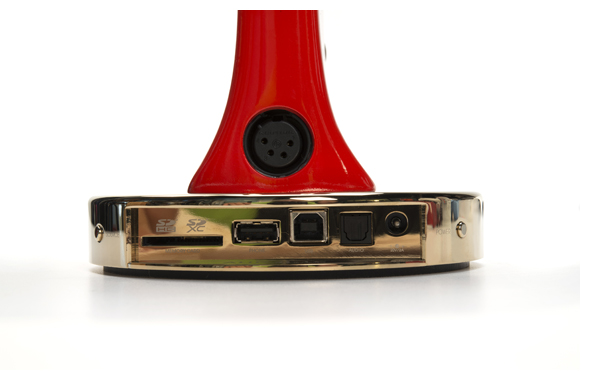 Amplifier
Gemini 2000's shiny base sports a class-A amp design that takes all the DAC, feeds it, and generates great sound. As with the DAC section, the amp benefits from trickle-down technology borrowed from AURALiC's Taurus II headphone amp. Class-A circuits, in addition to great sound, generate a lot of heat and the Gemini is no exception. Seriously, if the amp remains powered up for an extended period you won't want to handle the metal base. That's one hot potato! Don't worry though; it is designed to act as a heat sink and to handle the temperatures safely.
Listening
Borrowing a few pairs of headphones for this review, I had the opportunity to listen though Audeze LCD-X, Sennheiser HD-650, and others on hand. Two watts produced by the Gemini 2000 proves more than enough for the driving power needed to make all the headphones sing. Trying both the single-ended (1/4") and balanced outputs, sound is quite similar, but with a bit more detail retrieval and bass substance though the latter.
CD-quality 44.1 KHz or 48 kHz songs render very nicely through the AURALiC. There's never the singe of high frequency edge, and midrange portrays both vocals and instruments well. Piano, trumpet and cymbals on Enrico Rava Quintet's "Tears for Neda" demonstrate the Gemini's prowess with the nuances of instrumental jazz.
When listening to some rock tracks with Apple Lossless files, bass through the Gemini can appear slightly subdued. It's not quite as robust and punchy as some other amps I've heard. However, what's there is both tuneful and enjoyable. To my ears, the Gemini's overall sound signature is well-voiced and slightly warm, focusing on the bigger musical picture more than every minute, ambient detail. Switching to the Sennheiser HD-650 reveals similar sonics from the Gemini.
Listening to higher fidelity DSD files truly gives the Gemini a chance to sing. Listening to Bob Marley's "Three Little Birds" with high res, the soundstage opens up, and every aspect of the musical spectrum comes further to life, bass included. Similarly, listening to the title track from Paul Simon's Graceland on DSD offers a sonic treat. Background vocals, various types of percussion and other instrumentation float into the soundstage and with a more pronounced attack and decay. The driving guitar and bass give a sense of speed and energy to the recording, and Simon's voice remains very upfront.
For those who have invested in DSD-quality files, you'll definitely get more mileage out of them through the Gemini. If your digital collection does not yet have any, this amp is a very good incentive to take the plunge in purchasing a few favorite albums.
Is the Gemini 2000 right for you?
After experiencing the Gemini 2000, I find myself a fan of its modern, practical design and the very good sound it produces. Indeed, there's a lot to love! However there are three considerations a potential buyer should be aware of. First, the Gemini is designed primarily for use in a desktop scenario. There's no battery-powered option so the electrical tether is a must. Obviously, this isn't the kind of portable setup you will take with you on a plane.
Second, for those who want to bypass the Gemini's DAC and input an analog source from an iPod or a turntable directly to the amplifier, you are out of luck. The unit does not offer an RCA or a mini-jack input, so many portable sources prove incompatible with a Gemini rig. To be fair though, the Gemini's DAC is quite good, so there's not a lot to be achieved from bypassing it anyway.
As a last minor quibble, there's not a manual impedance selector to help optimize the feed to a variety of headphones. While the Gemini is no slouch regardless, it's nice to have some options to experiment with to ensure your 'phones are giving a listener the best sound they are designed to provide.
If those caveats are no concern to you, the Gemini 2000 could become your new best friend at home or at the office. The form factor is elegant and practical, with options to match any décor or preference. The sound it offers is very good, and it pairs well with the headphones I had on hand for testing. A key benefit with the Gemini 2000 is price-performance. In the often-expensive world of hi-fi, $1,995 is a reasonably small investment. Heck, the Audeze headphones cost almost that much. For all the technology packed into this marvel the price tag is very reasonable. Trying to buy a top-of-the-line headphone stand, DAC, and amp as standalone units will cost a lot more. Do keep in mind that the Gemini 1000 costs $995, so if you need only a single-ended ¼" headphone output and can get by with less power, it might be a more economical alternative. Either way, if you seek an all-in-one solution for personal hi-fi, do yourself a favor and check out the Gemini!  –Jerold O'Brien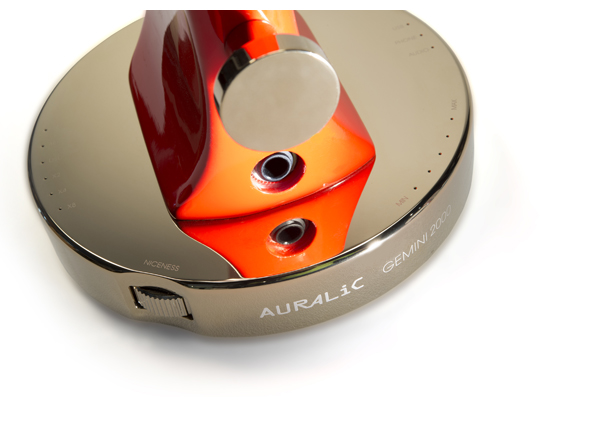 Further Observations
It's rare that Mr. O'Brien and I agree on things like this, as he's more of a "performance is everything" kind of guy and I'm more of a "but it's gotta look cool" kind of guy.  And though we enjoy the Gemini 2000 for different reasons, I was hooked the minute I saw the cool shape.  Knowing what AURALiC has accomplished with everything else we've auditioned, I had a strong hunch it would sound great – and I was not disappointed.
I don't think I've ever had a more conversation-provoking piece of audio gear.  It looks marvelous sitting front and center on the Noguchi table in my living room with a pair of Audeze headphones perched on top.  Guests to my home always beg to play with it, and for me, that's what the world of audio needs – more "ooh, can I touch it?"
Think of the Gemini 2000 as a headphone hookah.  Display it in a prominent place and let everyone partake!  While the performance is world class, the style points are off the chart.  Get the party started.  –Jeff Dorgay
AURALiC Gemini 2000
MSRP: $1,995