Dynaudio Evidence Platinum loudspeakers
Dynaudio's Ultimate Rendition
By Jeff Dorgay

As the sound-level meter bounces above 105 dB during playback of the title track from Iron Maiden's The Number of the Beast (and I see nods of approval from the non-audiophile buddies present to take this all in), I'm reminded that you need big speakers that can move a substantial amount of air to really enjoy this kind of music. The same can be said for Mahler's Symphony No. 5 or Deadmau5, if Maiden is not your favorite faire. Dynamic swing and contrast is a big part of recreating the illusion of live music in your listening space, and a large pair of speakers with the appropriate amount of power gets the job done.
In the day where $200,000 speakers are becoming more and more common, Dynaudio's top speaker tips the scale at only $85,000 per pair. Yes, yes, the word only is going to offend a lot of people, but if you happen to be in the market for a six-figure pair of speakers, this level of greatness for $85K is a bargain—it's all relative. After living with the Evidence Platinums for some time now, I see no need to drop $200K on a pair of Wilson XLFs. And that's enough money left over to put a new Porsche GT3 in your garage. I know what I'd rather buy.
A number of things make the Evidence Platinum speakers unique. Though they are over 6 feet tall, they carve a very small footprint in your listening room, and thanks to a wide range of wood finishes, along with piano black, they should blend in with any décor. While minimalist yet tasteful grilles are included, the precision craftsmanship of the front sculpted baffles beg them to be left uncovered. Those without large pets or small children will have an easier time leaving the grilles off.
No Limitations
Much like a high-performance supercar, the Evidence Platinums have few limitations. And just as an Aston Martin feels different from a Porsche or a Ferrari, all three cars still provide stellar performance way beyond that of normal transportation. Sticking with the automotive metaphor, the Evidence Platinums remind me of the Audi R8: a new concept that offers similar if not better performance than its contemporaries—and with a bit more style. The Dynaudios are definitely one of the most svelte large speakers around.
Having lived with Dynaudio's much smaller Confidence C1 Signatures for a few years, I notice a striking parallel between the two speakers. The comparatively diminutive C1s, with their highly optimized front baffle, present a musical picture almost like a point source, while the massive Evidence Platinums simply disappear. In a small room at low volume, with equally high-quality electronics driving the speakers, you'd be hard pressed to tell the difference, other than on the deepest low-frequency excursions.
However, in a larger room, when the sound level comes up and dynamic expectation increases exponentially, the Evidence Platinums justify their price tag. Queuing up the Stereophile test CD reveals solid bass performance at 25 Hz, which is lower than what you'll need for most program material. Playing Mickey Hart's "The Eliminators" at high volume confirms the measurement; these speakers can punch you in the chest—hard. The four 7-inch woofers move more air than a single 12-inch unit; yet, because of their small size, they are faster, providing mega bass with maximum tone and definition.
The Evidence Platinums make it a breeze to discern between bass players and their respective styles: The difference between a Hartke bass-guitar amp with aluminum cone drivers and a vintage Ampeg amp with paper cones is now easily apparent. This is what adds so much to the musical experience, making your music so much more immersive. And that's what you should get when you write the big check.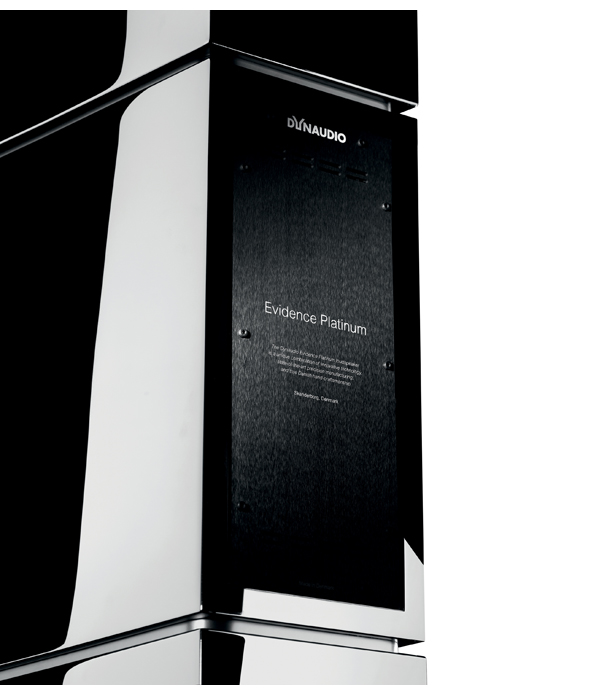 Top-of-the-Line Technology
Dynaudio has left no stone unturned with the Evidence Platinums, taking advantage of the company's top technological advancements. Relying on silk dome tweeters since the beginning, Dynaudio's design requires a very labor-intensive process that involves shaping the fine-fabric dome and treating it with a specially formulated coating. The "Precision Coating" used throughout the Platinum range is Dynaudio's latest refinement to that process. The higher uniformity of the dome's shape results in a smoother high-frequency response and even more dispersion of mid and high frequencies.
This is clearly evident when comparing female vocals through the Confidence C1s and the Evidence Platinums. A quick spin of Ella and Louis Again uncloaks the difference in the timbre of Ella's voice, which is already silky smooth and convincing when played through the C1s. By comparison, the Evidence Platinums dematerialize completely, even though they are so much bigger physically. This is truly the magic of these speakers: They vanish like a mini monitor and are transparent like an ESL, yet they have the drive of an enormous cone speaker.
The Evidence Platinums throw a soundstage that is staggeringly wide and deep, but they also get the height aspect right—probably due in part to their physical height. While playing the MoFi copy of Frank Sinatra's Nice And Easy, I feel as if Sinatra is standing right in front of the speakers, with his voice coming from where his mouth would be.
Custom drivers, check. Precision optimized crossover network, check. Premium electrical and mechanical parts throughout, check. The combination of all these technologies is certainly present in most flagship loudspeakers, but Dynaudio's DDC (Dynaudio Directivity Control) system is the heart of what makes these speakers perform the way they do.
The combination of the finely shaped front baffle, driver placement and matching the phase response of the individual drivers makes for a more focused dispersion pattern that does not require nearly as much room treatment to sound their best as do many large speaker systems. This is all trickle-down technology from Dynaudio's professional division, taking advantage of what the company has learned building studio monitors.
Another benefit of this optimization is the ease of setting up the Evidence Platinums. We've spent hours (sometimes a day or more) to get reference-caliber speakers to sound their best. The Evidence Platinums sound great right out of their crates before much attention is paid to positioning. About an hour's worth of fine-tuning brings the speakers to the point where, when Dynaudio USA's Michael Manousselis stops by to check my work, he merely makes a few fine adjustments and then I'm on my way. These are not finicky speakers by any stretch of the imagination. Even the machined plinth offers a choice of footers for hard and soft surfaces. Once unpackaged, the Evidence Platinums only take a few days of 24/7 play at modest volume to open up and sound their best.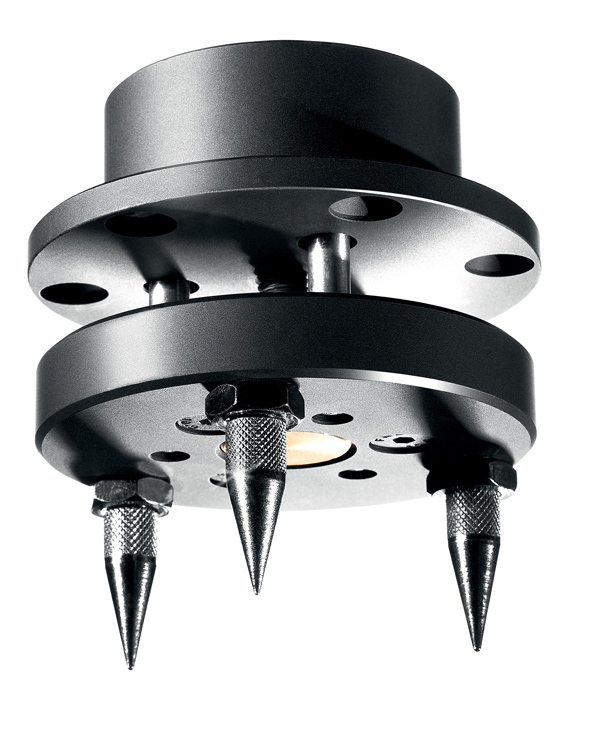 Still Solid, Months Later
After listening to these speakers day in and day out for months, I am still amazed and impressed. It's easy to get carried away with premium speakers after first listen, especially after running through a number of well-recorded audiophile classics.
This is not the case with the Evidence Platinums. I go out of my way to dredge up even the worst-sounding selections in my music collection, and these speakers do a fantastic job with any program material. There is nothing I can throw at them that trips them up. Regardless of the program material and volume level, we simply cannot drive the Evidence Platinums hard enough to invoke listener fatigue.
With a sensitivity rating of 89 dB and a crossover network of 6 dB per octave, the Evidence Platinums are very easy to drive with either tube or solid-state amplification. Even in my 16-by-25-foot listening room, more than adequate volume levels are achieved with the 20-watt-per-channel Nagra 300i integrated amplifier. I would suggest about 100 watts per channel or more for best results, especially if you like to hear your favorite music reproduced loudly.
While these speakers can reproduce some great dynamic swings, they are highly linear, with their massive stereo image still intact, even at very soft volume levels—again, not unlike a great mini monitor. Chrissie Hynde's signature vibrato comes through clearly on the original Pretenders album. The delicacy present in "Private Life" puts Hynde in the room, right near the center of the listening position.
Coupled to the amazing Pass Labs Xs300 monoblocks, with nearly boundless power on tap, the Dynaudios really come to life. As I blast Lou Reed's The Creation of the Universe, there isn't a point at which the wide, vivid stereo image ever collapses—no matter how high the volume. Much like the Focal Maestro Utopia speakers that we just got done auditioning, the Evidence Platinums excel at reproducing large-scale music, especially drums and percussion—and they do so without fatigue.
You Need a Pair
If you are looking for a statement loudspeaker, look no further than the Dynaudio Evidence Platinum. After six months of constant listening (and punishing) on an incredibly wide range of musical program material, I can tell you that there is nothing that the Evidence Platinums can't handle, if you have enough amplifier power on tap.
Along with their musical performance, the Evidence Platinums offer a level of fit and finish that is in keeping with a speaker of this level. They exude luxury and will be an excellent fit for the world's finest listening rooms, a fact that can't be overlooked when spending this kind of money. Lastly, Dynaudio is a major player in the speaker industry, so this is a purchase that can be made with confidence, knowing the company will be around to support these speakers.
With so much capability, the Dynaudio Evidence Platinums should be your last speaker purchase.
Dynaudio Evidence Platinum loudspeakers
MSRP: $85,000 per pair