The Questyle CMA Twelve DAC/Headphone Amplifier
Removing the Questyle CMA Twelve from its black cloth bag is instantly exciting. Aficionados of fine design, machining, and assembly will really appreciate the exquisite detail and high level of finish the CMA Twelve offers.
It's no coincidence that Foxconn, the same people who make the iPad and iPhone, build Questyle products and finish the level equally. The tight tolerances are beautiful to behold, with Questyle claiming a machining tolerance of .02mm. The few other manufacturers in the high-end audio world building at this level all have five and six-figure price tags attached.
The CMA Twelve is $1,495, with a $1,995 CMA12 "Master" version. The premium version uses a ROGERS Ceramic PC Board, which Questyle claims to "ensure ultimate performance," though there is no other indication of upgraded parts in the owner's manual. Like all other Questyle products, the CMA Twelve is available in a matte black and matte warm gold finish. Its slim form factor of only 1.38 inches (55mm) tall, 12.99 inches (330mm) wide, and 7.87 inches (200mm) deep, makes it easy to integrate into your system and environment. A 5mHz module is also on the rear panel, perhaps anticipating a return of Questyle's wireless amplifiers.
The front panel features outputs for 4.4mm BAL, 6.35mm (standard ¼") UNBAL, and 4-pin XLR headphone cables. Moving around back, optical, digital, SPDIF (RCA), and AES/EBU (XLR) inputs should take care of any potential digital source you might have. This is not a streaming DAC, so there is no Ethernet input, and there are no analog inputs either. If you're using the CMA Twelve as a self-contained, personal listening station, there is no provision for plugging in a phono stage or going line in from your preamplifier.
With several good disc transports on hand from Cambridge, Technics, and dCS to choose from, along with a vintage SONY ES player (with optical output) and Aqua's new streamer, it was easy to put the CMA Twelve through its paces. When in Rome…
The dCS Vivaldi transport revealed the outer boundaries of the CMA Twelve's performance envelope and was used for most of our disc-based listening sessions. The Aqua streamer was called in to play Tidal and Qobuz files via ROON. Anyone with a bit older CD player can expect an incredible upgrade to their players' sound. Even if you never use the headphone section, the CMA Twelve is easily worth well more than its asking price used merely as a high-resolution DAC.
Favorite phones from Audeze (Orig. LCD-2), Focal (Stellia and Utopia), and Grado (RS-60s) were on hand for nearly all of the listening sessions – with excellent results. There is no adjustment for headphone impedance anywhere, but this amplifier has no problem driving any load. Questyle claims an output of 2 watts per channel via the XLR output. I was incredibly tempted to plug them directly into our Zu Audio Dirty Weekend speakers (with their 97db/1-watt efficiency rating) to try the CMA 12 as an integrated amplifier!
A big part of the sound (or nearly complete absence of it) of the CMA twelve is its utilization of current-mode amplification, a Questyle patented technology. Those wanting an in-depth explanation of this amplifier orientation can click here to go to the Questyle website. Bottom line, Questyle claims that operating in current mode makes for lower distortion and faster transient response. Running through our usual set of phones, this is a valid claim, especially on musical selections with solo, breathy vocals. Using Johnny Cash's American Recordings to further investigate this, his signature huskiness is clearer, with more of a resonant ring. Drums and percussion have more power and distinctiveness, without feeling harsh or brittle. Tracking through a number of our favorite Blue Note tracks (high res and CD res versions) easily show off how well this DAC does with acoustic drums, piano, and percussion, offering up a convincingly real presentation of tone, timbre, and attack/decay.
Digital adventures
Taking advantage of the AKM AK4490 chip, and Questyle's True Direct Stream process does not require any PCM conversion. Music lovers with large DSD collections will experience a higher level of signal integrity than they would with a DAC that must convert the data. Unfortunately, we do not have enough DSD selections here to really comment, other than to say that what we did audition sounded excellent.
As mentioned earlier, the CMA Twelve's digital performance is so much more refined than any of the other $1,500 DACs we've experienced, even if you aren't a headphone listener, this device is well worth it, as a DAC alone. Using it in this context, with the Aqua LinQ streamer turns the CMA Twelve into an impressive music server, though nearly everything we used in this manner dwarfs the Questyle box in physical size. Merely flipping the front panel switch from Headphones to DAC to get a fixed output and bypass the front panel volume control, again offering slightly more resolution and musical clarity.
With so much emphasis put on high-resolution files, it's easy to forget about 16/44. Considering that most of us still either have or stream the bulk of our music at this resolution level, it's important to note that Questyle hasn't abandoned CD quality resolution in pursuit of high res. Whether we were playing files from a streamer or disc transport (and we highly suggest the $599 Cambridge CXC for this task) the CMA Twelve shows just how engaging CD playback can be in the year 2021.
The overall sound of the Questyle is dynamic and neutral – neither embellishing nor detracting from the music being played. You can easily fine-tune to your personal preference with your choice of headphones. Questyle offers a high/low bias switch on the CMA Twelve's front panel, offering more current drive for lower impedance phones. Even with a few lower impedance phones, we struggled to hear a difference with this switch in either position, in this case, your mileage may vary, and this is worth investigating.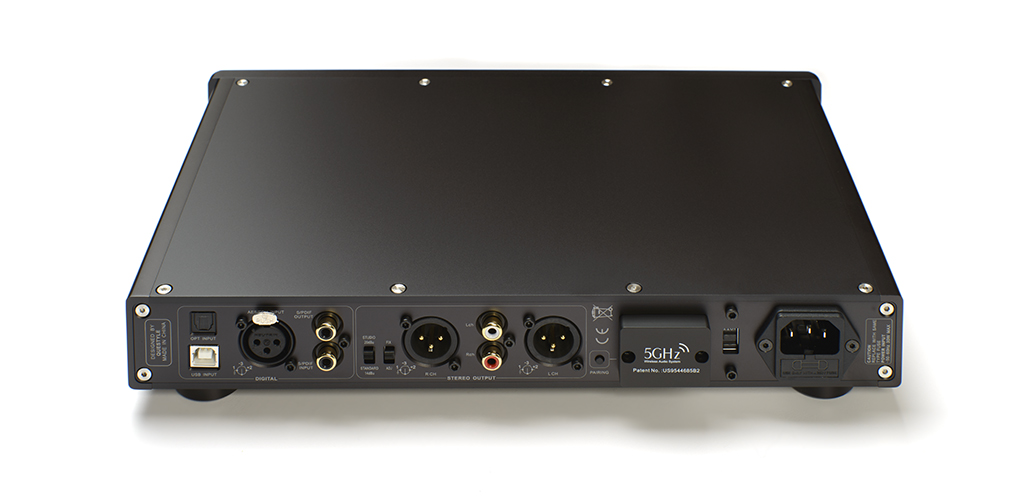 Going out of my head
Taking advantage of the variable outputs makes the CMA Twelve the perfect building block for a two-channel system, which leads to the only real complaint about this box. With its sonic quality as good as it is, it's a shame there isn't a single analog input, so an analog source could be added.
That said, using the CMA Twelve with a handful of solid-state and tube amplifiers from PrimaLuna, Pass, C-J, and BAT was a lovely experience. This is an excellent linestage preamplifier. If you're a music lover that is purely digital in your musical pursuits, don't overlook using the CMA Twelve as your core component. Driving a 30-foot pair of Cardas Clear interconnects (RCA or XLR) proved to be a snap for the CMA Twelve, so its small footprint makes it easy to set up close to your listening position and running a long-ish set of cables to a power amplifier and speakers.
A lot to love
In the end, the Questyle CMA Twelve DAC/Headphone Amplifier gets an A and our first Exceptional Value Award for 2021. Would I love a CMA Fourteen, with an analog input and maybe a matching form factor Questyle phonostage? You bet. However, used within its intended purpose, the CMA Twelve is at the top of similar offerings.
Engaging as the CMA Twelve's sound is, this component's build quality is without peer at any price. We've unboxed enough five-figure components that look like they were made in shop class by comparison. There's something wonderful about using a component that is this well made, and I hope we see a wider range of products from Questyle in the future.
www.questyle.com (manufacturer)
www.bluebirdmusic.com (US and Canadian distributor)