McIntosh MHA100 Integrated Headphone Amplifier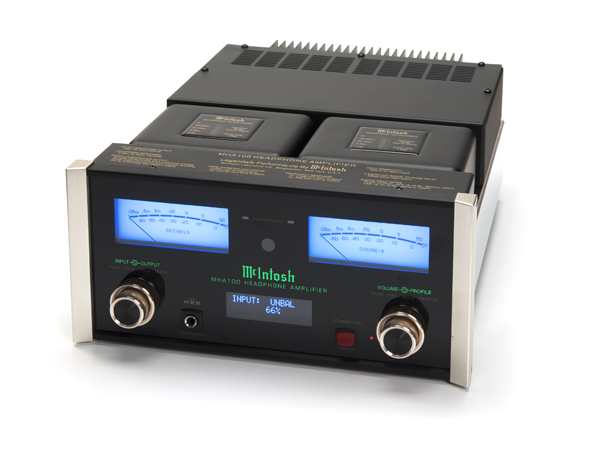 I can't believe what I'm hearing from my little pair of Energy satellite speakers, which I think I paid $150 for about a decade ago. Dr. Dre's 2001 should not be thumping like this through these speakers. The cause of this magic trick? McIntosh Lab's new MHA100, which delivers 50 potent watts into 8 ohms for speakers.
The bass on "Forgot About Dre" is surprisingly deep and crisp through the Energy speakers' tiny drivers. I didn't think they were capable of such low-frequency response—but, of course, I can only turn the volume knob on the amp so far, to where the iconic blue decibel meters just barely start swinging, before I have to stop for fear that the Energys will explode.
The big, clean power that this little solid-state amp delivers to speakers is truly astounding—especially considering that it was designed as a headphone amplifier. As most TONE readers know, McIntosh doesn't really do anything small or halfway. As such, the MHA100 is no mere desktop audio accessory. With a set of sturdy speaker terminals on the back panel, along with a wealth of inputs, this is a pretty serious integrated amplifier. Inputs include USB, coax, and AES/EBU on the digital side—the onboard DAC can facilitate digital files up to 24 bit/192 kHz—and balanced XLR and unbalanced RCA for analog (plus an RCA preamp output), so this amp can take pretty much any source you throw at it.
This also isn't exactly something you'd want on your desktop: It's about a foot wide, a foot and a half deep, and 6 inches tall, and it weighs more than 26 pounds. The cost for this not-so-little wonder is also in line with what our readers likely expect from McIntosh: $4,500, which is probably more than most people are willing to spend for a headphone amp—but considering that this really is an integrated amp (and a very capable one at that), the price tag isn't entirely unreasonable.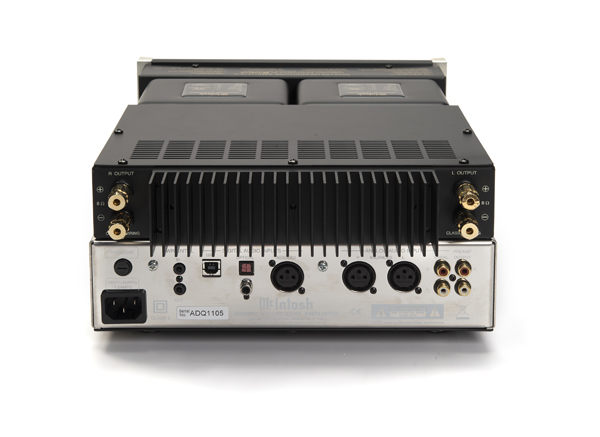 The MHA100 also does a solid job with the floorstanding ELAC FS249s—which, at $8,000 a pair and with a recommended power input of 30 to 400 watts per channel, are in another world than my little Energy speakers. Through the ELACs, the MHA100 delivers Jason Isbell's outstanding album Southeastern will all the finesses and soul that it requires, but on hard-hitting rock and pop from the likes of Vampire Weekend, Jack White, and Led Zeppelin, the McIntosh amp has no problem throwing down.
Of course, I would be remiss not to discuss the MHA100's greatest capability, its headphone section, which is among the best I've heard. Perhaps its most noteworthy feature is the ability to select from three headphone impedance ranges—8 to 40 ohms, 40 to 150 ohms, and 150 to 600 ohms—all powered by a version of McIntosh's famous output Autoformer, adapted for headphone use. These selections cater to a variety of headphones—everything from ear buds to ear cans. (Headphone impedance, input/output, volume, and limited bass adjustments can all be controlled using the two dual-level knobs on the front panel or with the small supplied remote.)
A 24/192 version of Dark Side of the Moon sounds downright eerie through the MHA100 and a pair of 600-ohm Beyerdynamic T1 headphones. The auxiliary sounds at the beginning of "Money" are so real and detailed that they almost induce hallucinations. Similarly, Songs of Leonard Cohen on vinyl through these headphones gives one the creepy impression that Cohen's lips are right next to your ear and he's whispering to you. The MHA100 reveals details on that record—such as distant backup vocals and various instrumental nuances—that are not present though most systems. The Mac amp illuminates them in the mix, bringing the listener deeper into the music.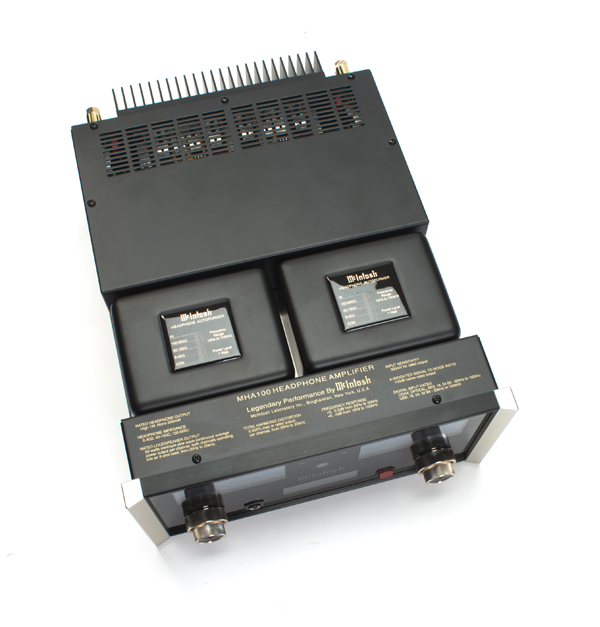 The soundstage this amp presents through headphones is big and lifelike, and its accuracy and clarity across the frequency spectrum are reference-level good. McIntosh has done a phenomenal job adapting its trademark amplifier sound for the headphone user.
I can't stress enough how wonderful the headphone section is—but at $4,500, the MHA100 isn't for everybody. Those who take the plunge will have a component that they can base a reasonably sized system around. Unless you're looking to drive gigantic or overly power-hungry speakers and run multiple analog and digital sources, the MHA100 will give you everything you need with all the power, finesse, and quality for which McIntosh is known. Oh yeah, and it's a kick-ass headphone amp.  – Bailey S. Barnard
McIntosh MHA100 Integrated Headphone Amplifier
MSRP: $4,500