Master & Dynamic MH40 Headphones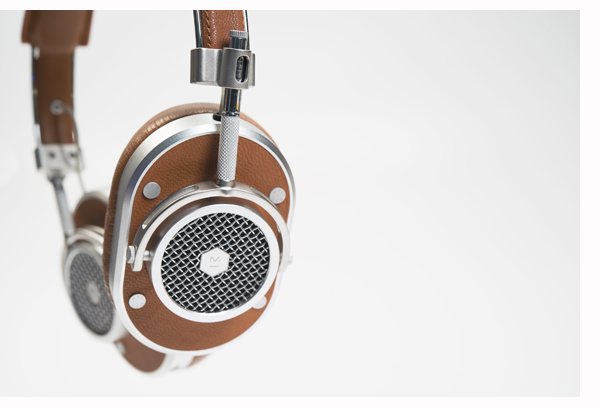 It takes the growling bass line of "Bitch, I'm Madonna" just 10 seconds to convince me that the MH40 headphones are winners, but not just because of their sound. Aesthetically, they seem influenced by cars like the Jaguar E-type and the Ferrari 250 GTO—unquestionably two of the most beautiful automobiles ever produced.
The earpads feel just right, with light-brown leather as soft as a Ferrari's wrapped around a brushed-aluminum frame, and all the high-stress bits made of stainless steel. No detail is ignored. Even the cable has a vintage vibe; it's covered in braided silk and not coiled. These headphones almost feel like they're from another era.
With so many mediocre headphones now on the market, it's nice to see a new contender offering a pair for $399 that seem like they should cost a lot more. Rather than taking an off-the-shelf OEM driver and building a pretty enclosure around it, Master & Dynamic has produced its own 45 mm neodymium drivers with their own signature sound, one that I think most music lovers will enjoy.
Going back to another era myself, the 1980s, I stream the System's Don't Disturb this Groove over Tidal via my recently updated Sooloos music server. It's abundantly apparent that the MH40s have more than enough resolution to expose the differences between Tidal's crystal-clear 16-bit/44.1-kHz data stream and those of files from Rhapsody or Spotify. These headphones also easily reveal the delta between CD-quality files and higher-resolution 24/96 and 24/192 tracks—not bad for a pair of headphones costing less than $400. (Can I remind you again that they are drop-dead gorgeous?)
Not all headphones are all things to all people, but these are damn close. For this writer, a solid-bass foundation is essential. While Madonna hinted that the MH40s can muster serious bass, Public Enemy's Yo! Bum Rush the Show leaves no doubt. These phones can deliver substantial low-frequency output without fatigue or overhang, never sounding sloppy on any of my favorite old-school hip-hop tracks. Equally enticing is Aphex Twin's latest, Syro, on which I'm rewarded with even bigger bass. The ethereal quality of this contemporary electronica album, chock full of slick synthesizer sounds, creates a massive sound ball surrounding my head.
The MH40s have enough weight to stay on my head, but not so much that they cause mechanical fatigue, making them easy to enjoy for hours on end. Unlike the synthetic material used for the ear pads of many phones in this price range, the leather pads of the MH40 offer breathability and don't make your ears sweat.
Cables either one or two meters long come standard, with an 1/8-inch mini headphone plug on each end; one to plug into the phones, the other into your portable device. (A 1/4-inch adaptor comes in the box.) Having a detachable cable makes it easy to upgrade the cable for improved performance. Both the Cardas Clear and Wireworld's latest Pulse headphone cables allow even more music to come through—and even though that's another article, it's nice to know that these phones don't have a dead end. Master & Dynamic even offers a headphone stand for $59 that is way more stylish than the banana holders I've been using and yet they're not crazy expensive like some of the ones I've seen.
So what's that other mini jack for on the other ear cup? For $129, you can get yourself a noise-isolating boom microphone that delivers voice with clarity and makes the MH40s the perfect choice for the home-office music lover. Just plug into your smart phone and rock! You'll never miss a call again when listening to headphones at your desk. And for the overly enthusiastic listener who never wants to take off the MH40s, a mute button is provided on the bottom of the right ear cup, for when you have to blot out the music and interface with other humans. And the vented design lets in enough of the outside world to thank the pizza delivery guy and get back to work designing your next masterpiece.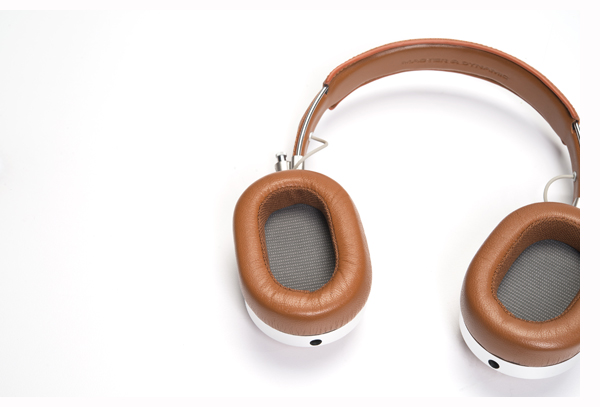 The Perfect Cocktail
The more time we spend with the MH40s, the more we all enjoy them, on every kind of music. They prove up to task with male and female vocals, providing a natural presentation of both, with a slight hint of upper bass bump that none of us finds unobjectionable. In a very informal comparison, our $500 Sennheiser HD 650s (with ALO cable) sound dark and the Sennheiser HD 700s sound thin, when switching back and forth to the MH40. If anything, the overall tonal balance of the MH40s reminds me more of Vandersteen 1Ci speakers than of something like the KEF LS50s.
Playing an exceptionally wide range of tracks through multiple sources reveals that there is nothing that the MH40s do not play well with. Their 32-ohm impedance makes them easy to drive, and while they will expose more music through a high-quality outboard headphone amplifier, they deliver rewardingly musical performances with both Apple and Samsung Galaxy phones, as well as with a variety of tablets and laptops. This is important, especially for the new headphone enthusiast, because you can get a major taste of what the MH40 can do with your laptop or phone; yet, when the headphone bug bites you deeply, an outboard amplifier will strengthen your enthusiasm.
My reference Simaudio MOON 430HA headphone amp takes the MH40s to an entirely different level than my iPhone 6+—but you can't take the Sim with you. For the mobile headphone user, OPPOs new HA-2 portable headphone amp, weighing in at about 8 ounces and having an incredibly good onboard DAC, has the sonic fundamentals of a mega headphone amplifier setup, but it fits in your pocket.
The only thing you don't get with the MH40s is the last bit of top-to-bottom smoothness and transparency that you get from a top pair of planar phones—but all of those have a much higher price tag. The Master & Dynamic website says the MH40s were tuned to complement a diversity of musical tastes, and I have to agree. The company has delivered a first-rate pair of phones in every respect—a home run for a new manufacturer and a testament to how sophisticated personal audio has become.
We are happy to give the Master & Dynamic MH40 headphones one of our Exceptional Value Awards for 2015.   -Jeff Dorgay
Master & Dynamic MH40 headphones
MSRP: $395