Bowers and Wilkins T7 Portable Speaker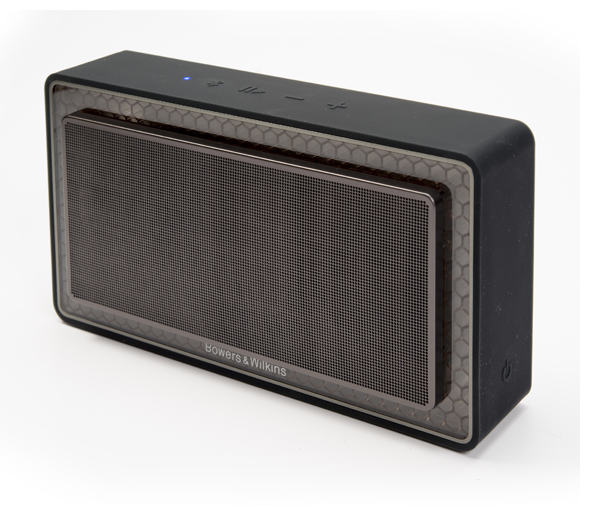 Listening to Bryan Ferry's recent release through the T7, it hits me.  Bowers and Wilkins has finally outdone Apple.  The fit, finish, quality and packaging exceed everything I've come to know and love from the Cupertino giant. Like Apple, B&W completely understands that in order for a product like this to be fully integrated into your life, it needs to be seamless in every way – and the T7 succeeds brilliantly. You'd expect one of these to be in a Grammy award ceremony gift bag.
An iPad like quick start guide is included, but setup is as easy as pairing a phone with your car's audio system.  Plug it in, turn it on, hit the Bluetooth button on top of the T7, enter the code in your device's Bluetooth menu and go.  It's that quick and that easy to enjoy music on the T7.  Those with non-Bluetooth devices can connect to the T7 via the analog mini jack on the rear panel, though this does take away from the compact ethos of the device.  Just for giggles, we hooked up a VPI Nomad turntable, going from the mini headphone jack out on the Nomad to the T7 and it made for a pretty cool, impromptu record spinning session.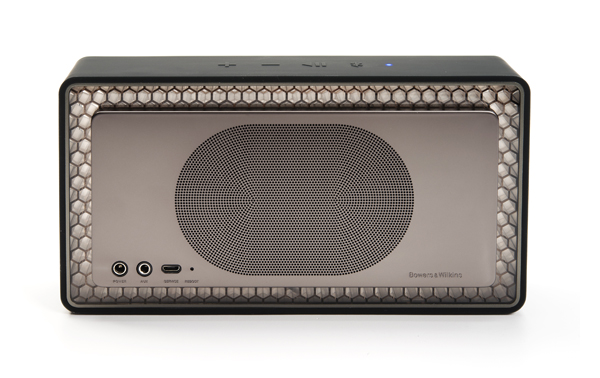 Streaming 16/44.1 content via Tidal through the T7 provides the highest quality playback, yet streaming 320kb/sec MP3s from various streaming provider isn't all that bad either –the T7 does have enough resolution to tell the difference.  Fortunately, the T7 uses the latest aptX Bluetooth drivers for the best sound possible.  Unfortunately Apple isn't using this Bluetooth protocol yet, so you'll get even better sound from your Android phone or other device so equipped.
With 12 watts per channel, the internal class-D amplifiers power a pair of bespoke 2-inch drivers with a pair of square, auxiliary passive bass radiators that produce ample low frequency output, especially in light of the T7s diminutive size.  This can be augmented somewhat when put on a tabletop or on the corner of room, to pick up additional room gain.  Brad Roberts's deep baritone on the classic Crash Test Dummies track "mmm mmm mmm mmm" is easily convincing with plenty of weight to adequately convey his quirky vocal style.
The T7 does have some limitations, but they are to be expected with such a diminutive enclosure.  You won't be playing Iron Maiden at earsplitting levels, but Pat Metheny at a moderate level will thrill you.  Kept within reasonable limits, the T7 is impressive, throwing a large soundfield into the room. Fortunately, battery life isn't a limitation.  We can confirm the claimed 18 hour battery life, so the T7 should outlast any party you can throw.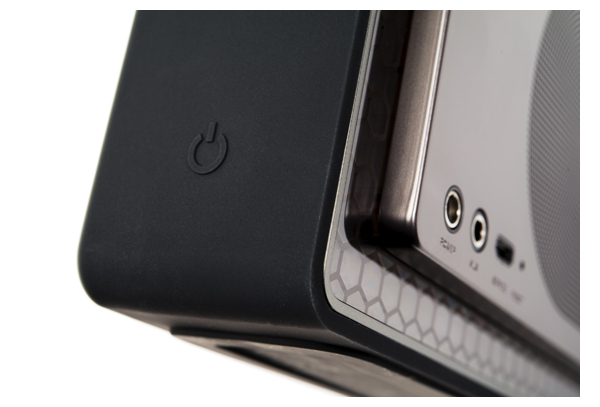 The only quandary facing the potential T7 owner is the price, at $349 it is a premium product and priced thusly, leaving you with the ultimate question:  supreme portability or the ability to play bigger and louder.  If you want B&W quality and ease of operation in a tiny package that you can put in a suitcase and take with you wherever you are, the T7 is unmatchable.  However, those really wanting to rock the house and have the additional counter space to do so will be better served with a B&W Zeppelin for $399 – but you can't take it with you easily. I know I want one.  – Jeff Dorgay