Woo Audio WA7 Fireflies Headphone Amplifier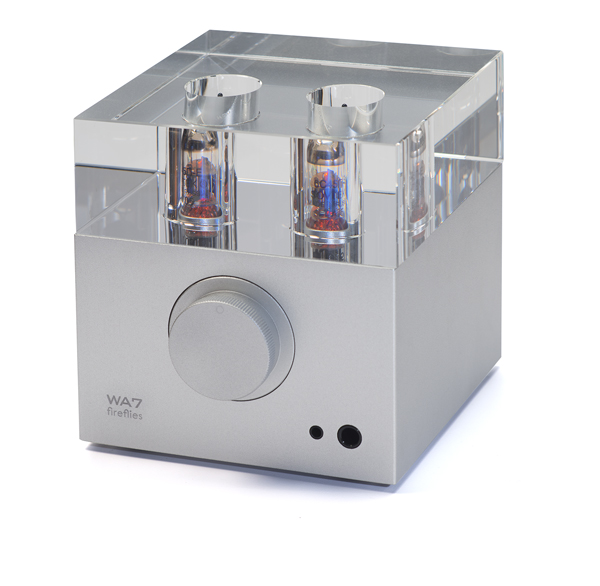 Woo Audio makes incredible headphone amplifiers in all shapes and sizes. The American manufacturer, which is based in New York, recently introduced its WA7 Fireflies headphone amplifier, which is especially cool. Priced at $999, it incorporates a 32-bit/192-kHz USB DAC and tube-based amplification into a cube that measures about 5 inches on all sides
The Right Phone
Regardless of headphone choice, there's plenty of tubey delight going on here, and the WA7 includes a big, beefy external power supply to keep its dual 6C45 tubes glowing. Getting funky from the start, with "Shaft's Cab Ride," from the Shaft soundtrack, shows the top end of the WA7 to be slightly harsh, which the plethora of horns in this piece exacerbates. Neither the Sennheiser HD 800 nor HD 700 phones do much to quell this harshness. Moving to the HD 650s (cabled by ALO Audio) proves a much more synergistic match, with a smoother response overall. And thanks to a high/low impedance switch on the WA7's rear panel, a perfect match is even easier to accomplish.
Sifting through the reference pool of phones at the TONE studio provides more insight. The HiFiMAN HE-6 phones lack dynamics with the WA7, but this is no slight to the cube—most headphone amps cannot drive these bad boys. The Grado GS1000 and PS500 phones have a nice, smooth and airy overall balance through the WA7, which even breathes a bit of life into the $15 Star Wars stormtrooper headphones.
Switching to the Audeze LCD 2 and LCD 3 phones is not a bad choice; however, this combination proves a touch recessed in the midrange and at low volumes, and flipping the high/low impedance switch has no effect on these phones. This pairing accentuates well-recorded musical selections. Jack White's Blunderbuss album comes alive with the LCD 2s, as does Iron and Wine's The Shepard's Dog. Led Zeppelin's classic "Stairway to Heaven" is brilliant, but Iron Maiden's "Public Enema Number One" falls short, deteriorating into a ball of midrange.
Before you start blaming the source, you should notes that I'm using our publisher's dCS Vivaldi stack as a digital source, via the line-level RCA inputs. High-res files are supplied by the Aurender S10 server via USB, which does not tilt the results terribly.  Putting the WA7's DAC through the paces via the S10 is indeed fruitful.
Bottom line: We observed the best results from the WA7 with modest-impedance, dynamic headphones. This is where it really shines.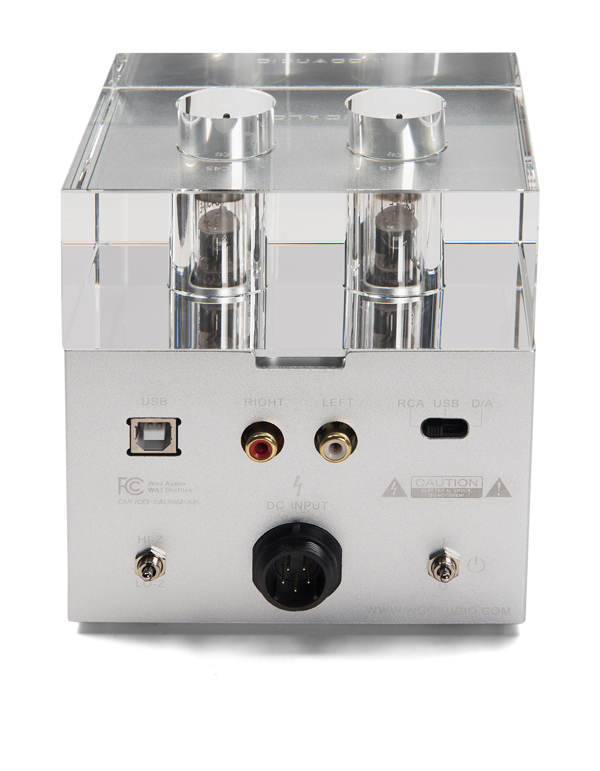 Down to the Sound
Judged strictly on amplifier performance, the WA7 will not be mistaken for a solid-state product, with a palpable and dimensional midrange that helps to make the headphones disappear. Once your phones of choice are settled upon, concentrating on the WA7 is relatively easy.
Overall bass response is solid and tight with good control. Thomas Dolby's "I Scare Myself" is weighty through the HD 650s, yet the WA7 keeps the pace locked down, never allowing the meandering piano line to wander out of coherence. Perhaps the weakest part of the WA7's tonal profile (as mentioned earlier) is the upper register. But again, considering that you are getting a wonderfully performing amp and a great DAC for just under a thousand bucks, the Woo is exceptional.
There really isn't a major substitution for the 6C45 tube, so this is not a tube-rollers dream amplifier in that respect. Sniffing around the web reveals the Western Electric WE437A as a suitable replacement; however, a pair of these in great shape will set you back half the price of the WA7, so this exercise will have to wait for another day. We are keeping the WA7 in the ever-growing fleet of headphone reference gear, so at some point we will report back if a pair of 437s can be acquired at a reasonable cost.
Midrange is the WA7's greatest strength, as you might expect for a tube amplifier, with its ability to stretch out into three-dimensional space being a close second. Tosca's "Me & Yoko Ono" feels as if the LCD 2s have earpads the size of garbage-can lids, with all the little electronic bits zooming past my head. And as Yoko Ono writhes through the title track of Yes, I'm A Witch, proclaiming, "I'm a witch, I'm a bitch," she sounds scarily larger than life.
Nice DAC
The MA7's 32-bit/192-kHz asynchronous USB DAC does a great job with all of the high-res files at our disposal, via the Aurender S10 server and a nearby MacBook Pro running Pure Music. While the external power supply is linear, it does benefit from power conditioning and an upgraded power cord. Adding a new Venom 3 cable from Shunyata and a Hydra 2 line conditioner removes a layer of grain and lowers the noise floor of this already quiet amp enough that the upgrades are well worth investigating, especially if you decide to invest in premium headphones.
The amp's high-resolution digital capability allows you to clearly hear the difference between standard and high-res files. Those with a major investment in HD material will be very happy with the WA7. Listening to practically every Rush album available in HD, I find it tough to go back to straight 16/44.1 files.
A single set of line-level RCA inputs makes light work of connecting the WA7 to an analog source. While it defeats the compactness of the setup, adding a VPI Traveler/Ortofon Rondo Red and Naim Stageline MC preamplifier makes for a more complete system that is arguably smoother than the digital presentation. Spinning the MoFi copy of Beck's Sea Change is eye (or rather ear) opening, revealing a few details that you'll never hear with your favorite $2,500 amplifier and $2,500 pair of speakers.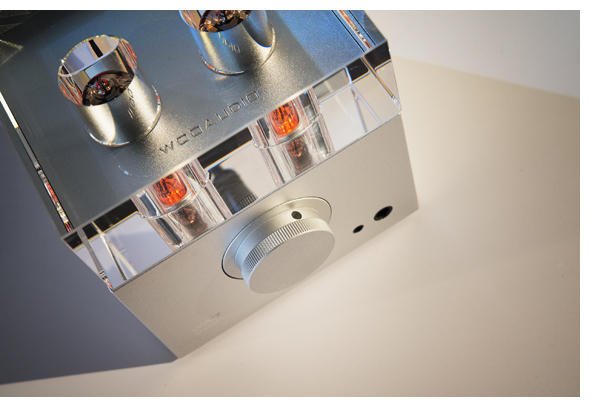 Fantastic!
For anyone wanting a high-performance, compact and aesthetically pleasing desktop or bedside headphone audio system, there's no better choice that the WA7. It doesn't matter whether you order it in black or silver; the Woo Audio WA7 Fireflies is a hot little number, with good looks matched by great sound and extreme ease of operation. The only thing missing is an S/PDIF input, which may irk some audiophiles, but as so many headphone listeners use their laptops as a source these days, it's probably a moot point.
Woo Audio WA7 Fireflies
MSRP:  $999